Scottish broadcast journalist Eddie Mair is a renowned face in the world of media for his long-haul association with the BBC radio and television network. He is famously known as the host of BBC Radio 4's long-running show, PM.
From grabbing massive media recognition to openly claiming his sexual preference, Mair has what it takes to be a gutted person. Besides basking on alluring professional career, Eddie shares a blissful bond with his partner, who not only shares the same gender but profession as well.  
You May Like: Babita Sharma Married, Husband, Boyfriend, Family, BBC, Salary
Eddie Mair's Bio, Career:
Eddie Mair was born on 12 November 1965 in Dundee to his Scottish parents. His father was a lorry driver whereas his mother served as a nurse for a long time.
Mair's amateur broadcasting career kick-started when he used the public address system in his school, Whitfield High School in the Dundee housing scheme, Whitfield. Meanwhile, his professional media career began when he presented on Radio Tay, a local Dundee station after rejecting a University place.
The career high for Eddie Mair came when he grabbed the post of sub-editor for Radio Scotland after joining BBC in 1987. Later on, he moved on to present Good Morning Scotland and the Eddie Mair Live for Radio Scotland.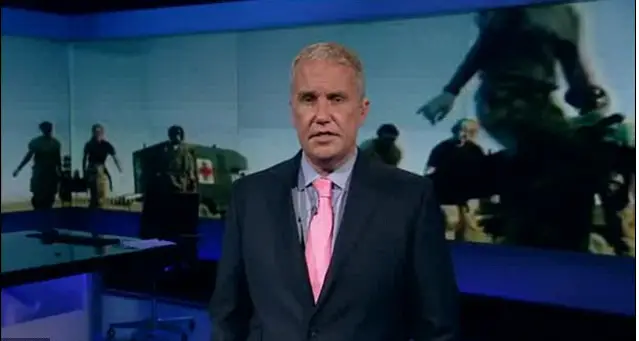 Eddie Mair reports on BBC's Newsnight programme (Photo: dailymail.com)
Besides, Mair hosted the Sunday current affairs programme Broadcasting House since its launch in April 1998 until 2003. Subsequently, he took charge of the BBC Radio 4's long-running evening news and current affairs programme, PM. He also occasionally presents BBC's current affair programme Newsnight, for which British broadcaster Jeremy Paxman is renowned. 
Presently, back at the start of July 2018, Eddie announced that he would depart from the BBC network, presenting his final PM show on 17 August 2018. The next day, he was declared as the part of LBC, a London-based radio station. He will present his first show for the network in September 2018. There he will be joined by British reporter Shelagh Fogarty. 
Eddie Mair On His Move To LBC!
After announcing his move from BBC to LBC at the start of July, Eddie was spotted making the statement on his first photo shoot at LBC recently.
As of the report from radiotimes.com posted on 24 July 2018, the charismatic reporter requested for a make-up for the photo shoot with LBC which took place a day ago. The occasion was when BBC announced his departure from PM and LBC was set to announce Eddie as their new member.
Mair rode in a massive car to the LBC building, which was sent by the office to pick him up from his home. Finally, it became official when he signed the contract with the network after a quick and efficient photo shoot.
Mair's Media Honors:
As the host of The Mair Interview, Mair has had the chance to share the highs and lows with many celebrities and personalities, who went through severe health illness.
Carrying on his famous show, Eddie was spotted sharing the experience with the Radio 4 presenter, Steve Hewlett, who was diagnosed with the cancer of the Oesophagus in early 2016. In the interview, Steve explained how the disease led to a fatal health issue, including an uncanny weight loss. Furthermore, he shared his journey from diagnosis to treatment.
For his hard work and continuous media dedication, Mair was awarded the News Journalist award at the Sony Radio Academy Awards in 2005. Besides, he also grabbed a Gold Award in 2012, for his interview with Julie Nicholson, who lost her daughter in the 2005's London bombings.
Married BBC Journalist?
Eddie Mair is a media personality, who fears none when it comes to revealing his sexual preference in public. Besides openly living as a gay person, Mair has announced his compelling bond with the BBC journalist, Paul Kerley.
Paul serves as a journalist for BBC online in Harrow, North-West London. Eddie met his partner in an annual function of BBC. Soon after, the couple clicked with one another and started living together as a resounding pair.
Read Also: Tina Daheley Married, Husband, Single, Height, Family, BBC Radio 1
As Mair has already opened about his sexual preference, the rumors regarding his possible wife or divorce is out of the context. He is in a healthy place with his same-gender partner and surely thinking of getting married to him shortly.