British television newsreader Babita Sharma got widely recognized as the documentarian and news anchor for the BBC. She is also the co-presenter of Supermarket Shopping Secrets on BBC One.
Though Babita's professional life is an open book for us, the presenter usually is tight-lipped when it comes to her private life. Nevertheless, her social media accounts introduced us to her new side; she is a happily married person. 
Secretly Married, Husband Is Irish!
BBC's reporter Babita's professional achievements overshadowed her personal information as she always kept the details of her dating status and boyfriends close to her heart. 
Don't Miss: Sarah Keith-Lucas Married, Husband or Partner, Pregnant, Children
However, her social media accounts appear to reveal a lot of her secrets.
Well, Babita's tweet that got posted on 17 January 2018 reflects that she is a married woman. In the tweet, Babita wrote that she is a married woman and revealed that her husband is an Irish man.

Babita Sharma reveals husband's ethnicity via Twitter on 17 January 2018  (Photo: Babita's Twitter)
Though Babita gushed about her man's ethnicity, she kept the name and identity of her husband concealed. She also didn't spill any beans on her wedding date.
Nevertheless, her tweet that was posted back on 29 August 2017 hints on the date of her marriage. In the Tweet when a follower asked Babita what was lined up for her in the coming days, she replied that her wedding was on her way. 
So, speculating at the post, it becomes clear that Babita married her Irish man after August 2017.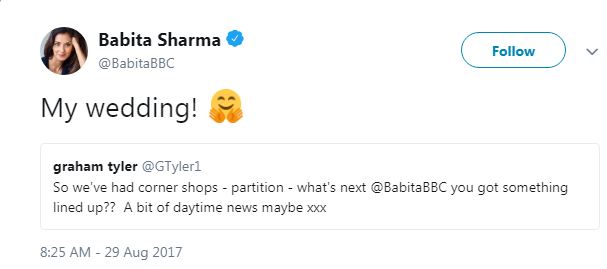 Babita Sharma states that her wedding is  next after August 2017 (Photo: Babita's Twitter)
Although it's evident that Babita is married, she is yet to share more of her family glimpses in her social media accounts. She is also yet to upload the pictures of the lucky man, her husband. 
Babita Sharma's Bio: BBC Affiliate Since Start 
41-year-old Babita was born on 23 April in Berkshire, United Kingdom. She holds British nationality but belongs to Indian ethnicity. 
Babita grew up in Berkshire and graduated in journalism, film, and broadcasting from the University of Wales. 
She initiated her career as a student working at BBC Radio Wales and Thames Valley Television.
Later on, she moved to Dubai and worked there on a radio for Channel 4 FM and for Ajman TV, where she presented a weekly music programme. In 2003, Babita returned to the UK and started her BBC career as a travel presenter and producer at BBC Radio Berkshire.
Afterward, Babita, who stands at the height of 5'6'' (1.68m), moved to the newsroom in Southampton. There she reported for the BBC South Today. In 2007, she worked as a video journalist and regular presenter of the evening bulletin at BBC Spotlight Channel Islands.
In 2008, she was transferred to the BBC News Channel as presenter of the Your Money programme. After a year, she moved to the BBC News Channel and BBC World News in her current full-time presenting role.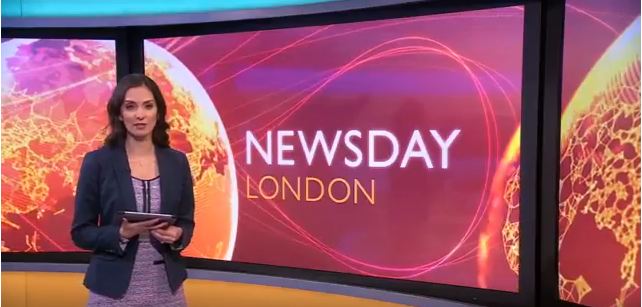 Babita Sharma presents Newsday on BBC World News Day on18 September 2017 (Photo: YouTube)
Babita has been presenting BBC World News show, Newsday since 2015. Not only that, but she has been at the forefront of major breaking news stories such as the death of Osama bin Laden, the Paris attacks, the Arab uprisings and the death of Kim Jong Il.
Besides that, Babita also hosted various ceremonies, such as the Angel Film Awards at the Monaco International Film Festival from 2011 to 2013 and the 2012 Wings of Hope Achievement Award ceremony. She also moderates panel discussions and speaks at conferences, such as the World Travel Market.
Babita is likely to enjoy the remarkable amount of net worth from her career as a documentarian, TV Presenter, BAME spokesperson and news anchor for the BBC. However, her net worth is not revealed yet.
Read Also: Reginald D. Hunter Married, Wife, Gay, Girlfriend, Dating, Net Worth, Tour
The average salary for the BBC Broadcast journalist dwells in the figure $36,000.
Babita Sharma Criticizes Racist Tweet Of Alan Sugar
On 20 June 2018, Alan Sugar, a business magnate was criticized by many people for posting a tweet about the Senegal World Cup squad, where he compared them to people selling sunglasses and handbags on beaches.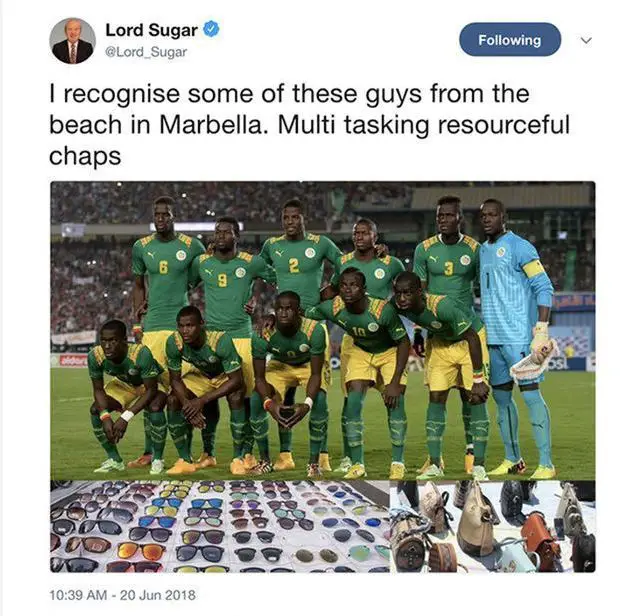 Alan sugar compares  Senegal World Cup team with the handbags and sunglasses sellers (Photo: express.co.ok)
The tweet featured a photoshopped picture of Senegal World Cup team looking as though they were selling counterfeit goods. Via post, Alan wrote 'I recognize some of these guys from the beach in Marbella. Multitasking, resourceful chaps.'
Babita Sharma was also among those people, who criticized Alan for his racist behavior.  She tweeted, 'A shocking, vile tweet that you take a screen grab of because you know it will soon be deleted.'
In response to her tweet, Alan responded by saying if it was vile then why she re-tweeted it.
Even BBC's Kelechi Okafor commented on the tweet in a series of messages. After getting so many tweets, Alan subsequently took down the image and said it was just a funny tweet and seemed people had interpreted it in the wrong way.
You May Like: Byron Langley Wiki, Age, Birthday, Height, Parents, Girlfriend, Dating, Gay
Moreover, after an hour posting the initial image, Alan apologized for his mistake and deleted the tweet.