It is a rare situation in which, a news presenter while reading the news becomes a headline herself. Accidentally, Victoria Fritz, a news presenter, reporter and business correspondent at BBC News, became a perfect example of such a situation.
On 15 November 2016, she was reading the news as usual for BBC. Suddenly, her labor pain started, which was supposed to happen five weeks later i.e. her delivery date was on the month of December.
She was urgently rushed to the St Mary's Hospital, Manchester by the BBC Breakfast team and Sally Nugent, her news reading partner at the moment.
As her husband Dan got stuck in the traffic, and could not reach the hospital in such an emergency situation, Sally Nugent accompanied Victoria to the hospital and remained there till the arrival of Victoria's husband.
Finally, Victoria gave birth to a baby boy. Due to premature birth, her son developed breathing problems and was shifted to dependency unit for two weeks. After some weeks, he revived to normal health.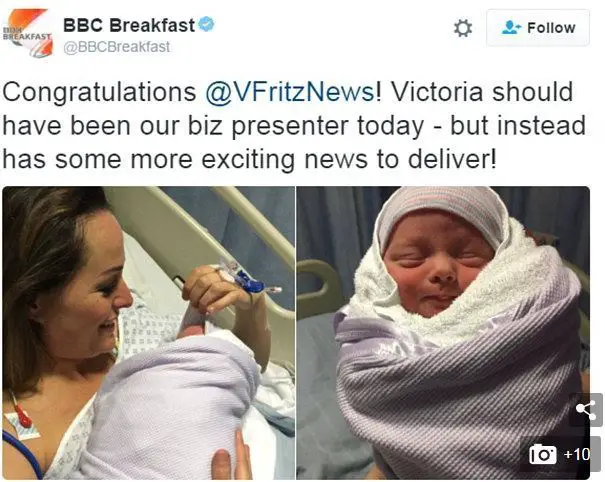 BBC Breakfast congratulates Victoria Fritz for her motherhood on 16 November 2016 (Photo: BBC Breakfast's Tweet)
On the occasion of her son's birth, BBC Breakfast tweeted and congratulated Victoria. In turn, she also expressed her thanks to Sally, St Mary's doctors, midwives, and BBC Breakfast Team.
Victoria Fritz In BBC
Victoria started her TV career with Reuters; anchoring 'Breaking News' from May 2008 to September 2008
After that, she joined BBC in September 2008 as a senior broadcast journalist in BBC News and worked in the position till April 2013. At that time, she covered business and economic stories and was involved in package making and field producing throughout the UK and the world.
Similar: Jenny Milkowski Married, Husband, Birthday, Age, Bio, Height
Her hard work and dedication towards her job upgraded her to the position of BBC news presenter and correspondent in March 2013. She started to present hourly bulletins at BBC News and reporting on breaking stories in the studio and on location.
Victoria's excellent skills and her dedication towards her job impressed her seniors so much that she was even promoted as Business Correspondent on January 2015. Since then, she has been serving as a presenter for BBC Breakfast, BBC 1, BBC News, and BBC World News.
Victoria Fritz Married, Husband
Victoria found a love of her life in Dan Fritz, to whom she is now happily married for seven years. The lovebirds tied the wedding knots exchanging vows of lifelong togetherness and happiness on 8 July 2011.
Dan Fritz, who is a barrister, sportsman, pancake enthusiast, writer, dog-lover, hails from a Jewish family.
She maintains a very close bond with her husband's family and gives immense respect to them. For instance, she made a tweet on 27 January 2015 stating that she was remembering her husband's family, Russian Jewish refugee, who fled to the USA to escape from Nazi.
Victoria Fritz Bio
34-year-old Victoria Fritz was born on 4 May 1984 in England, UK.
Brought up by an English father and an Irish mother, she shows immense love and cares towards her parents. Such that, she took a day off and paid a surprise visit to her mom on her Mom's birthday on 11 May 2018. In this way, time and often she nurtures her relationship with her parents.
You May Also Like: Raphael Rowe Age, Married, Wife, Partner, Net Worth, Parents
She attended Woldingham school between 1996-2002 and earned degrees in-laws and economics from the University of Cambridge between 2006-2007. Also, she holds her MBA degree from Judge Business school in 2007.