Jenny Milkowski is a Chicago-born host, reporter, and content creator. For her professionalism and quality work, she has become a respected media personality.
Moreover, she has once won an Emmy award for her writing stints and twice nominated for her impressive on-air work.
Jenny, age 35, recently moved to San Diego from Chicago which she informed through her Facebook on 6th September 2018.
In San Diego, she works for KFMB-TV, television station, where she appears in News 8's morning show, and radio show, Jenny Milk And Jay.
Is Jenny Milkowski Married To Husband?
One of the difficult matters to dig out is the information related to Jenny Milkowski's relationship life. 
Back on 24 January 2011, Jenny tweeted that her husband asked to steal toilet paper from her work to bring home. Was she serious? Or was it a piece of sarcasm? Only Jenny knows.
Don't Miss: Betsy Woodruff Wiki: Bio, Age, Married, Husband, Engaged, Mother, Father, Height
Besides, she had mentioned boyfriend on her 24 January 2015 Facebook post posted on Fish Bar Chicago's timeline. She stated,
"Was here Friday night with my boyfriend and friend---had the Lobster Roll and Infield Fly Rule---SO good! Plan on coming back."
Often than not, Jenny always mentions her celebrity crushes claiming them as her boyfriend and future husband.
One such instance was on 23 October 2015, when Jenny tweeted the picture of actor Ryan Reynolds wishing him on his birthday.
She further mentioned that he would be her boyfriend for forever. Also, Jenny's 7th February 2017 Facebook post saw her claiming American actor Charlie Day as her future husband. 
Clearing all the confusion away, she posted an Instagram post on 2019's valentines day where she addressed all the singles and revealed her relationship status by saying, "table for one, but drinks for two."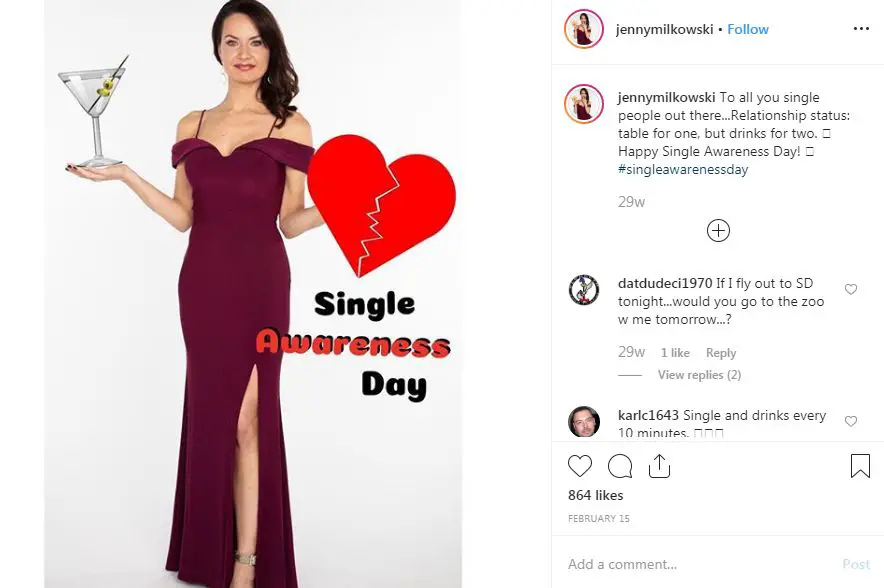 Jenny Milkowski wishing Valentine's Day to all the singles on 15th February 2019. (Photo: Jenny Milkowski's Instagram)
This post clearly hints that she was single as of 2019's Valentine's day.
Her Bio: Family Background, Education
Jenny Milkowski celebrates her birthday on 14th January every year with her friends and family members.
Speaking about her family, her family comes from the Northern side of Chicago, which is a heavily Polish neighborhood.
Her parents were born and raised up in Poland. Jenny's mother came to Chicago when she was 21 years old in the 1970s. Her mom had just completed nurse training in the Tarnow area of Poland when she moved to the States. 
As of Jenny's father, he came to Chicago on a boat with his mom and his brothers, when he was seven years old.
Jenny's parents started dating and shortly got married after meeting at a shop owned by Jenny's grandfather.
Jenny Milkowski sharing her childhood picture with her parents through Instagram on 8 August 2019 (Jenny Milkowski's Instagram)
Since her parents were Polish, Jenny and her sister, Diana, had a lot of trouble speaking English at first.
They were fluent in Polish though, and only got a full idea of the English language only after attending the school.
Read Also: Heidi Przybyla Married, Husband, Family, Height, Salary, Ethnicity
In preschool, Jenny found difficult to understand the English language fluently. She used to go to Polish school every Saturday at St. Constance on the Northwest Side, in addition to her regular school at Loyola Academy in Wilmette.
Later on, Jenny graduated from the University of Illinois with a Bachelor's degree in Broadcast Journalism.
Jenny Milkowski looks stunning with a perfectly postured body and her intense eyes. She stands tall at the decent height of 5 feet and 3 inches (1.6 m) and looks gorgeous with an alluring smile. 
Jenny Milkowski's Career
Jenny Milkowski has amassed a lot of popularity as a broadcast and digital media personality.
Previously, Jenny served as the morning traffic anchor at WFLD-TV in Chicago as well as the radio traffic reporter for several major Chicago stations. Famed journalists David Novarro, Tamron Hall and Maurice DuBois are also known for their association with WFLD-TV.
Besides, American reporter Amy Freeze previously served at the network.
Running along with her career in broadcast journalism, Jenny worked as a producer for CLTV and WGN Channel 9 from November 2007 to September 2012.
She then went to CBS Channel 2, where she served as a writer and producer from 2012 through 2015.