Raphael Rowe is best known for his contribution to BBC network as a reporter.
He started his career as an investigative reporter serving the BBC Panorama network in September 2001 for the Radio 4 News. After working there for about five years, Raphael resigned from his job in October 2006.
Then in the same year, he served as a reporter for BBC Panorama. He worked there for nearly a decade.
According to the sun.co on 30 March 2018, Raphael ended his journey with BBC Panorama Network claiming he was "pushed out." He also said that there was a lack of diversity among BBC employees.
As of now, Raphael has been working as a presenter and journalist just like Carrie Gracie on the BBC One Show, Sunday Morning Live on BBC1 since January 2016.
In addition to this, he is also a presenter in Netflix Series, Inside The World's Toughest Prisons since 6 July 2018. With his whole heart dedication.
On 15 September 2018, Raphael Instagrammed a picture that gave a glance at his upcoming activity. The picture was captioned stating the interview is coming soon.
Imprisonment For 12 Years; Raphael Rowe's Bio
Raphael, who was born in 1970 in south-east London, celebrates his birthday on 11 March. He is a self-educated personality in the criminal justice system and belongs to British nationality.
Raphael was raised alongside three sisters by his parents whom he appreciates with a whole heart. He made an appreciation post for his parents on 22 June 2018 on Twitter and thanked them for his existence.
Related: Brett Raymer Wiki, Divorce, Married, Girlfriend, Net Worth, Bio, Age
At an early age of 18, Raphael faced a tragedy that changed his life forever. 
He was accused of a murder case and robbery on 16 December 1988. His then-lover Kate Williamson blamed Raphael of theft and murder due to which he was imprisoned for 12 years. After some years, Kate wrote Raphael admitting she lied about the case, but later changed her word stating she was compelled to confess.
Even though Raphael was behind bars, he didn't waste his time. Instead, he studied journalism through a correspondent course. During his 12 years of imprisonment, Raphael, who stands at an attractive height, fought hard for his justice.
He was finally freed in July 2000. Afterward, he returned to the UK with a motive of becoming a successful media personality in his life.
Though Raphael has moved on his life now, he still wants freedom from the blame. He even gushed about his innocence during an interview with irishexaminer on 9 July 2018. Raphael stated that he spent all his time fighting to get out as an innocent man. He also added that he never forgave the people, who falsely imprisoned him.
However, he claimed that he had no grudges for the wrongdoers as he has inspired people to reach the height of success even after the big bad luck. 
Raphael Rowe's Fatherhood Amid Mystery 
Raphael's personal life is as mysterious as his reason to go to prison.
While talking to theguardian.com in July 2000, Raphael had spilled the beans that he had a girlfriend named Nancy Stanley. On top of that, he added that he had a 12-year-old son, who had never seen him.
From Television Personalities: Harlan Hill Married, Wedding, Wife, Gay, Height, Salary, Award
After four years, during an interview with the guardian.com on 4 April 2004, the 50-year-old revealed that he met his girlfriend before heading to jail. He even claimed that he met his partner two months after he was freed from the prison. But he did not verify the woman he was talking about was Nancy or not. 
Moreover, he also talked about Kate Williamson. Raphael said that he does not know where Kate is doing right now, if she is married, had kids but he still expects she might come up to him and tell the truth.
What he did reveal was that he was expecting a baby with his partner in May 2004. And this time again, he did not disclose the identity of his lady, also did not mention anything of his precious son.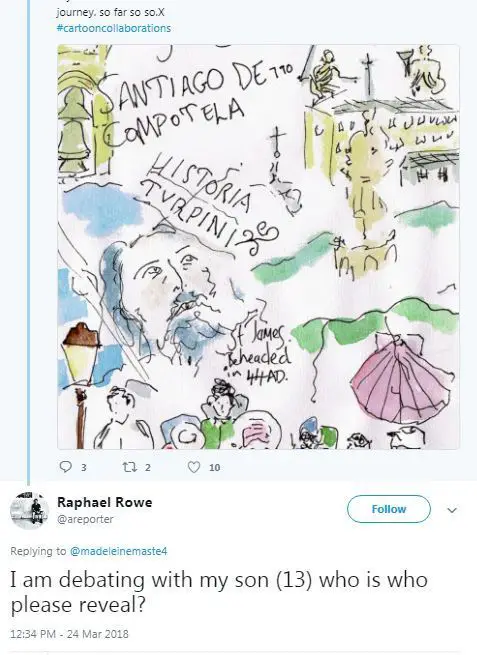 Raphael reveals his son's age on Twitter on 24 March 2018 (Photo: Raphael Rowe's Twitter)
Well, the controversy regarding Raphael's wife and married life is yet to be solved as he has not hinted anything of his marital relationship till date. 
Don't Miss: Joanne Feldman Wiki, Age, Birthday, Married, Husband, Family, Instagram
But the thing that remains clear is that he has a 13-year-old son, who he was expecting as per the interview of 2004. He timely mentions his son on his social media accounts and flaunts his fatherhood. 
Fun facts On Raphael Rowe
As Raphael belongs to London, he has a soothing unique tone, style, and accent.
After being a part of BBC for two years, Raphael Rowe became BBC Three's launch current affairs reporter on many programmes such as Movers Shakers and Crack Takers, the exploitation.
While Raphael was at the prison, he wrote an article that explained the story of his imprisonment.
Raphael also makes a regular appearance on his new series Pilgrimage: The Road to Santiago on BBC Two which started on 10 March 2018.
Apart from his profession as a reporter, Raphael gives his quality time into paintings. His painting can be seen from his recent Instagrammed pictures on 14 September 2018.