Peter Switzer is an Australian Business and Finance analyst/commentator, Entrepreneur, Television presenter, Radio Jockey, Journalist, Author, and Lecturer. Peter is an award-winning journalist and author and is well-respected Business and Finance veteran in Australia, active in this field since 1970.
Peter Career & Net Worth
Peter is currently the host of Australian Television Program 'Switzer,' aired on the Sky News Business Channel, which he has been hosting since 2010. This program provides information and analyzes topics such as the Australian Economy, Business news and is aimed mostly at investors and small business owners. Switzer is also an award-winning broadcaster, awarded for his work on both Television and Radio.
Also Read: Norma Gibson Bio: Nationality, Age, Tyrese Gibson
He is also a weekly Columnist for Yahoo!7 Finance, Regular Contributor to The Australian Newspaper, ABC radio, 2GB radio and former columnist for The Daily Telegraph and The Sun Herald. He is also a well-known author of books like 'Who's afraid of GST?', '350 Ways to Grow your Small Business.
Peter also launched his business 'The Switzer Group' where he is The Founder, Chief Executive Officer and Chairman of the Board of Directors. Founded 20 years ago, this Organization has now grown into three successful companies which expertise in Media and Publishing, Business Consultation, Planning, and Financial Services. Switzer also operates his online website Switzer Daily, on which he frequently posts articles on burning topics of World Economy, Business and his insights on such topics. This website also features contributions from famous Australian Media Personnel, of which Janine Perret, Steve Price, and David Spears are a few to name. Peter is also an author for Switzer Super Report, another Subscription Based website that provides education and information for self-managed super funds. He also posts Business and Finance related interviews and Podcasts on Qantas in-flight service and Talking Lifestyle. In addition, he is currently the Business Advocate for The Advocate. Peter is also a Former Lecturer of Economics at the University of New South Wales, the same university he obtained his Ph.D. degree from. Peter is also a well known public speaker and frequently speaks on topics like Business and Economy.
Being one of the prominent business and financial commentator he earns quite a decent salary. However, he has not disclosed the actual figure of his net worth. Looking at his success, he might have garnered a million of net worth. 
Married - Wife
Peter is married to his wife, Maureen Jordan Switzer. She is the owner and director of Switzer Financial Services and Group Publisher at RUSSH Magazine. He has kept his wedding date under a wrap but looking at him and his wife they seem to be together ever since.
Check Out: Zoey Tur's Ex-Wife Marika Gerrard Bio, Age, Net Worth
They have enjoyed their marital bliss throughout their married life. He and his wife bought Sydney eastern suburbs village of Woollahra for about $1.8 million. Later in 2003, he started renovating the villa.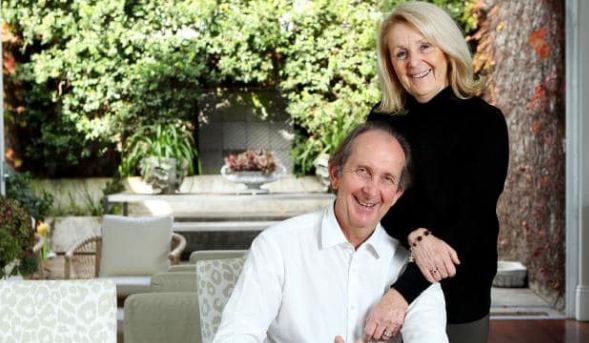 Peter Switzer with his wife Maureen Jordan Switzer on 1 July 2017 (Photo: theaustralian.com.au)
He is not only a loving husband but also a proud father of four children, two sons, and two daughters Marty and Jess. One of his son Alex is married to Renee and has two children Sloane and Teddy. 
His married status shows that he is straight and not gay. 
Peter Switzer Short Bio
Peter Switzer bio reveals that he grew up in Sydney, Australia. He has not disclosed his actual date of birth and his age. He does not speak much about his family, early childhood and siblings. However, he is relative of Jess Blanch and Renee Carl. 
Speaking about his education, he graduated from the University of New South Wales.