Marika Gerrard is a renowned American journalist and a photographer who co-founded the news company Los Angeles News Service with her now ex-husband/newscaster Zoey Tur.
But before Marika's success, she worked equally hard to reach her career height. She kick-started her career by working at the LA Times, where she made a name for herself by covering some major topics including The Laurel Canyon Murders. Marika soon established the news company, Los Angeles News Service with her ex-husband in 1983, where the company produced audio, video recordings of major events and even televised a high-speed police chase.
Worth The Read: Find Out Orla Chennaoui Bio, Age, Husband, Wedding & Parents Info
Marika loved photo and videography from a young age, which led her to step into videography as well. She worked as an ariel videographer for a company until 1997, where she even video graphed the OJ Simpson road chase in 1994, and the attack on Reginald Denny during the 1992 riot. Their news channel changed stations several times from KNX and KCOP to KCBS-TV. The company had over 10 thousand licensed tapes, but it shut down around the 2000s. Marika's hugely successful career has garnered her a fantastic sum of net worth.
Marika Gerrard Married, Zoey Tur
Marika's love life has been an unusual ride. She met her ex-husband Bobby Tur who was also a journalism major in the summer of 1978. The first time she met him at Westwood's Bruin Theatre, where she worked, Bobby was five years younger than her. But, that didn't stop Bobby from asking Marika out as he fell in love with her at first sight.
The couple went for their first date by attending a flying lesson. Marika and Bobby took their relationship to the next level as they started living together very soon. And it wasn't long before they were showered with happiness as Marika got pregnant with their first child, Katy in 1983. Marika and Bobby got married after Katy's birth. This couple welcomed their second child, James Tur in 1985.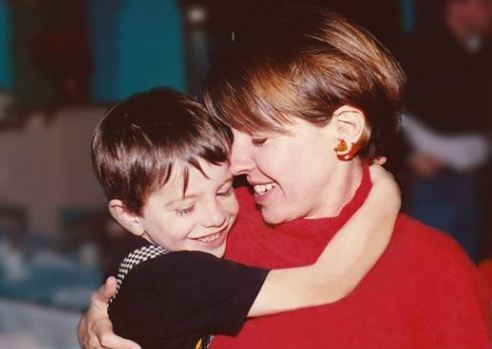 Marika Gerrard post a picture of her and her son James Tur during Thanksgiving on 22 November 2018 (Photo: Marika Gerrard's Facebook)
The couple was happy in love until one day their married life got shattered in 2003. While they didn't reveal the reason, everything became clear in 2013 when Bobby came out as a transgender. Changing his name to Zoey Tur, he stated how he had always felt like a girl from a young age. Zoey has made a massive name for herself in the news and entertainment industry.
Don't Miss: Washington Post David Nakamura Bio Disclose Age, Education, family
As of now, Marika has retired as a journalist, photographer and is living a single life. Her children are all grown-ups now; her daughter Katy is an author and broadcast journalist while her son James works in the medical field.
Bio, Age & Ethnicity
Born in 1955, Marika Gerrard was raised by her parents in Los Angeles, California. She always loved studying and worked really hard as a student. As per her bio, Marika went to the University of California, Los Angeles, where she graduated with a Bachelor's Degree in Law. Merika then graduated with a Masters Degree in Philosophy.
Marika who has an average height holds a white ethnicity. She celebrated her birthday recently by turning 63 years of age.