David Nakamura is a known reporter and White House correspondent for The Washington Post. His excellent reporting to notify the public about the changes taking place in the country made him reach the peak of his career. Alongside his successful career, David embraces a perfect life with his wife behind his profession.
David Nakamura Family, Wife
David met the woman of his dreams and ended up marrying her. After meeting his non-journalist wife, Kristine back in time, David had already felt a connection with her. Kristine, a Vietnamese-American who is a graduate of the School of Foreign Service at Georgetown University and David who was a staff reporter fell for each other's undeniable charms.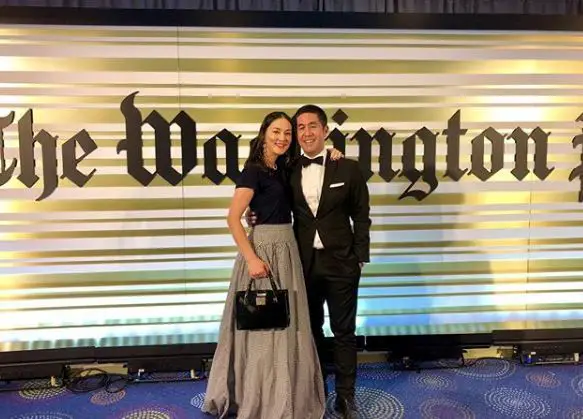 David Nakamura attends Washington Post's pre-party at White House Correspondents Dinner with his wife Kristine on 29 April 2018 (Photo: David Nakamura's Instagram) 
The friendship turned into a relationship after they eventually started dating. After deciding to go along in life as life-partners, the couple tied knots in Montana. David and Kristine now are living a happy family life with their three daughters.
Learn More: Krystal Klei Biography: Married Status, Age, height, Salary
Washington Post / Salary
David's career at journalism and reporting wasn't secure from the beginning. He had to work very hard to reach the peak of his career. David who loved writing from a young age had decided to do something in the journalism field which led him to take Journalism as his primary education.
He started working at The Washington Post as a summer intern in 1992. He eventually joined as a full-time staff member in 1993. He spent four years with the publisher as a sports reporter after the end of his internship. It wasn't long before the journalist moved to the local news staff to cover stories in Washington, Virginia, and Maryland.
David also spent a year teaching English in Hiroshima in 2001. In 2006, David participated in a two-week reporting fellowship program through the Foreign Press Center Japan. He also reported from places around the world like Japan, Afghanistan, and Pakistan.
In 2004, David Nakamura and his team uncovered high levels of lead contamination in Washington, D.C.'s drinking water. This led his team to win the Selden Ring Award for Investigative Reporting. Adding to that, David won the Merriman Smith Memorial Award for excellence in presidential news coverage under deadline in 2016.
As of now, David actively reports about the state of America daily in The Washington Post. He earns an average salary of $199K as a reporter working in The Washington Post.
David Nakamura Bio & Age
David Nakamura who was born in the U.S.A comes from American-Japanese nationality. David's parents who have been married for over 40 years pass him down the Japnese ethnicity he holds. David respects his father very much because of the struggles he had faced in the past and for the man he has now become. His father retired from his job as a math teacher at McLean High School in Fairfax County after ten years of teaching there.
Dive In: CNBC Mike Khouw Bio: Age, Married, Wife, Family & Facts
Now of average age, David has always been a hardworking student who takes his education pretty seriously. He graduated from the University of Missouri with a Bachelor's degree in Journalism. David also had a camaraderie at Keizai Koho Center at the Japan Institute for Social and Economic Affairs.