Maya Wiley is an American Civil Rights activist and a renowned expert on racial justice and equity. She is also the senior vice president for Social Justice at The New School and the Professor of Urban Policy and Management at The New School's Milano School of International Affairs, Management, and Urban Policy.
She was also the board chair of an independent agency called NYC Civilian Complaint Review Board (CCRB).
Maya was named one of 20 Leading Black Women Social Activists Advocating Change by The Root in 2011. She was also honored as a Moves Power Woman in 2009.
Maya Wiley Parents, Age
Maya Wiley was born on 2 January 1963 in a low-income background neighborhood. She was raised there alongside her younger brother until she was ten years of age. Later, her family moved to Washington, D.C., where she spent her remaining childhood. She was raised alongside her brother in a political family by her late parents, George A. Wiley and Wretha Wiley. Her mother always encouraged Maya to lead a regular life, and her father was a civil rights leader.
You May Also Like: Kelly Berning Married, Husband, Divorce, Boyfriend, Net Worth, Bio
Her father, George A. Wiley was arrested continuously for his activism, and the family had an extensive history of racial politics. Maya's father drowned tragically by falling overboard while sailing. Maya was trying to push him on the line. She witnessed her father's death and was disturbed by the trauma for a long time.  
But she got herself together and shaped up to her father's passion, which led her to follow his footsteps. 
Even now she remembers her father and is proud of his work and continually posts about him on social media.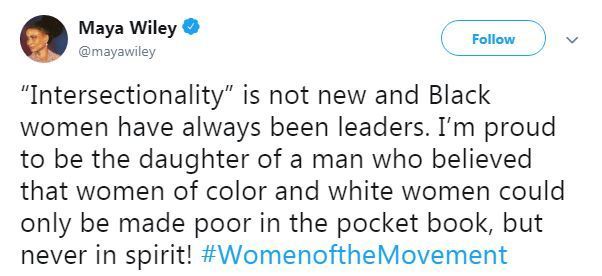 Maya Wiley says she is proud to be the daughter of George A. Wiley on 12 July 2018 (Photo: Maya Wiley's Twitter)
Maya was extremely involved in ECAs during her time in college. She gained a degree in psychology from Dartmouth University and Juris Doctorate from Columbia University School of Law.
During her career, Maya has also worked as a chairperson in the NYC Civilian Complaint Review Board, co-chairperson in the School Diversity Working Group and as a senior Vice-president for Social Justice. Now at the age of 55, Maya has heightened herself as a respected activist working for NBC News and MSNBC as a Legal Activist.
Maya Wiley Husband / Partner
Maya is married to her long-term partner Harlan Mandel. Her husband Harlan is the CEO of the Media Development Investment Fund. Maya and her husband live a blissful life together with their two daughters, Naja and Kai. One of her daughters is a feminist, working in the footsteps of her mother.
Worth The Read: Grace Dent Married, Partner, Husband, Boyfriend, Dating, Divorce
In a March 2019 interview, Maya mentioned that she and her daughters always had a joke going on about Maya's hair. As Maya's hair looks differently curled, people often compliment her hair as a good braid and ask her to touch them once. And she and her daughters keep telling people to not touch her hair just for the matter of humor.
Maya is very proud of both her daughters and regularly posts pictures with them on social media. She shares a close relationship with both her daughters.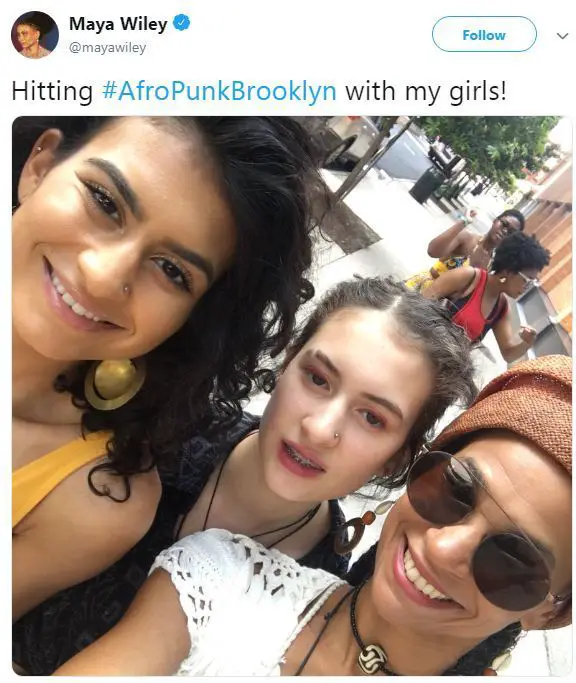 Maya Wiley attends Afro-Punk festival in Brooklyn with her daughters on 26 August 2018 (Photo: Maya Wiley's Twitter)
She resides with her family in Brooklyn, New York City. Given that Maya continually talks about her husband and daughters on social media, it can be assumed that she is living a happy married life teaching all the progressive lessons that she learned from her parents. The family also has two cats, Romeo and Maxie.