British journalist and documentary maker Emily Maitlis was born on 6 September 1970 in Canada. She was raised alongside her two sisters in Sheffield.
Emily comes from a Jewish family. Her mom is Marion Maitlis while her father is Peter Maitlis, a professor. For her academics, she went to King Edward VII School and later attended Queens' College, Cambridge University to study English.
Emily Mailtis's Career Plus BBC Salary & Net Worth
Emily, who stands tall at a height of 5 feet and 7 inches (1.70m), started her career as a journalist from an early age. She joined BBC Network in 1991 at the age of 21.
Before being a journalist, Emily served as a documentary maker in Cambodia and China. She made her prominent remarks in NBC Asia, Channel 4 and Sky.
Her fame as a journalist enriched when she started working in BBC London News in 2001. In addition to this, she presented the show BBC Breakfast from May 2006 to July 2007, where Steph McGovern now serves as a business presenter.
Moreover, the talented journalist made appearances on BBC One, BBC News.
As of now, she is recognized as one of the main presenters in Newsnight of BBC Two that she has been serving since January 2014. With near to three decades of experience, Emily owns a handsome amount of net worth. Her salary ranges from 220k dollars to 230k dollars annually.
Harassment Makes Negative Impact On Emily's Married Life
Emily is happily married to her banker husband, Mark Gwynne. She shares two children with him; both sons. Emily gave birth to her first son named Milo in July 2004 while her second son named Max was born in 2006.
As her husband belonged to a Catholic background, it was quite hard for Emily to raise her children in her Jewish faith. Despite complications, Emily managed a healthy life with her family members.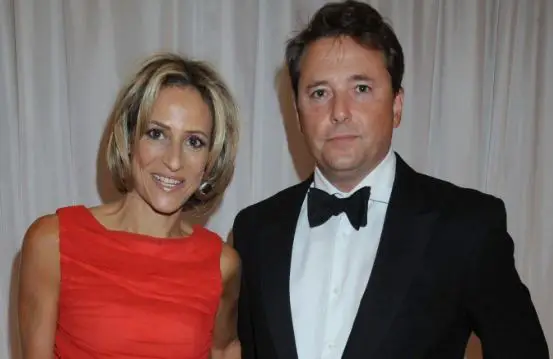 Emily Maitlis poses with her husband Mark Gwynne (Photo: telegraph.co.uk)
However, ethnicity was not the only problem lingering in Emily's family. Her colleague named Edward Vines had been stalking and harassing her for many years.
Edward and Emily had attended the same college, Cambridge University. Since those days, Edward was harassing her by appearing at her workplace and trying to contact her despite her disapproval. 
Because of his mischievous behavior, Edward was warned with a restraining order to stay away from her in 2009.
But Edward did not take it as a serious matter and wrote Emily time and again. He even wrote letters to Emily's mom on 26 June 2015. For breaching law, he was imprisoned for a year in 2016. However, he never stopped bothering Emily even when residing in a bail hostel. 
He even threatened his family. So, in January 2018, he was sentenced to jail for four years. 
Also See: Rick Lagina Bio, Age, Married, Wife, Net Worth, Family
While talking about the incident with the Telegraph on 18 January 2018, Emily disclosed that the 20-years of harassment have hampered her personal life a lot.
She shared that she is still scared of coming out of her home because of her past incidents. She also revealed that the threatening made her husband upset and her children's scared due to which her married life got affected. 
Emily's Display Of Leg Invites Scandal
Emily has a prosperous career but her grief and scandals seem to never leave her side as she became a victim of one in 2018.
Don't Miss: Victor Blackwell Married, Wife, Gay, Bio, CNN, Age
While shooting for her show Newsnight in March 2018, Emily was shot inappropriately by the camera. According to an article by dailymail.co on 3rd March 2018, she was shot putting her legs on display, which mistakenly revealed her undergarments.
While talking to dailymail.co, Emily said that it is uncomfortable to sit on her show's chair and she needs to remind the cameraman to maintain the angle of the camera.
She also added that one needs to cover everything while shooting at the show as you never know where the angle is coming from.