Rick Lagina collaborated with his brother, Marty Lagina, and formed a power-packed force that has taken the reality TV by storm.
The two brothers received equal praise for their teamwork on History Channel's reality series, The Curse of Oak Island as both of them came lively for their role as a producer and star on the mysterious treasure hunt on the 140-acre island.
Rick and Marty use art equipment and experts to dig out the mythical hidden treasures that are believed to be on the Oak Island. The show continues as the Lagina brothers go along their hunt and at the same time discuss the 'curse' of the Island.
It is evident that Rick has paved a noble career path for him with the sufficient TV exposure. His career achievements entice the audiences to have a closer glance at his life behind the screen.
Rick Lagina's Bio
Rick Lagina was born as Richard George Lagina on 25 January 1952. He grew up in his hometown of Kingsford, Dickinson County, alongside his beautiful family. Rick is 66 years of age and carries American nationality.
Don't Miss: Rick Dale Wiki, Bio, Age, Wife, Divorce, Fired, Net Worth
Rick is the son of George Jacob Lagina and Ann Lagina. His parents died in 2010. Rick shared a wonderful childhood with his brother, Marty Lagina, and his sister, Matina Lagina. Marty is famous for his TV appearance and has served as a petroleum engineer before.
Rick's Career, Net Worth
Rick began his career serving as a United States postal worker. After retiring from his job, he was approached to appear in the History Channel's reality TV series, The Curse of Oak Island along with his younger brother, Marty Lagina. The show first aired on 5 January 2014.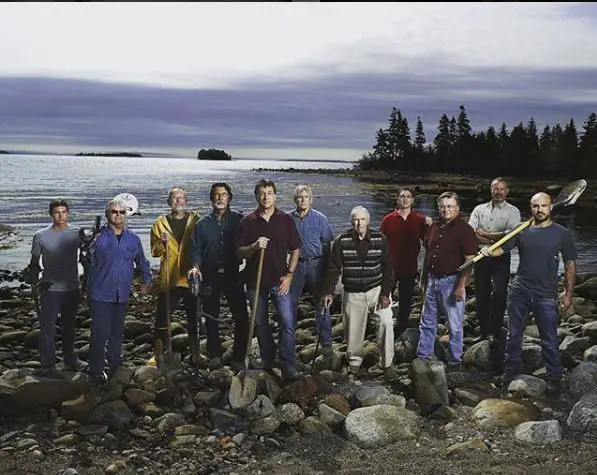 Rick Lagina appears alongside The Oak Island team on 17 December 2015 (Photo: the_oak_island_mystery's Instagram)
Risk's interest in Oak Island was since he was 11-years-old when he first read about it in Reader's Digest. Eventually, Marty also had an interest in the same field,  which instigated both brothers to pursue their career as a reality TV star shortly after they were proposed for the reality series.
Apart from The Curse of Oak Island, Rick is also best known for his stints on The Curse of The Oak Tree: Drilling Down (2016) and The Late Show with Stephen Colbert (2015).
For his tremendous work as a reality television personality, Rick Lagina enjoys commanding earnings. His actual net worth is estimated to swirl around $2 million.
All About Oak Island
The reality series airing on the History Channel is all about the Lagina brothers, who are the producers as well as the stars. The show follows Rick and Marty's hunt for the possible treasure on Oak Island. The Island, which is situated in Nova Scotia, Canada, has been the subject of mystery since 1795.
Read Also: Is Craig Hutchison Married? Wife, Family, Net Worth Details
The Curse of Oak Island completed its fifth season on 6 March 2018. Its fifth season premiered on 7 November 2017, with the sad news reading that Drake, the brother and best friend of fellow Oak Island star Jack Begley, dies at the age of 16.  The teenager, who previously made an appearance on the show, passed away following a seizure condition in March 2017.
Rising from the sad news, Rick and his team continue to dig deep in solving the mystery of the Oak Island.  
Is Rick Lagina Married?
Rick Lagina has made a name for himself with his tremendous work as a producer and star in The Curse of Oak Island. However, excluding his professional charisma for a while, Rick never cares to venture on his mysterious life behind the camera lenses.
Despite amassing a compelling recognition, the veteran TV personality has never mentioned whether he is married or single in public. Besides, he hasn't been linked to anyone on social media, which makes it even harder to explore his relationship life.
You May Also Like: Shelby Stanga Wiki, Bio, Age, Wife, Divorce and Net Worth
Rick's silence on these matters hints that he is more of a career-oriented person. If that's the case, then the secret identity of his possible wife or girlfriend is going to take much more time to surface on social networking sites.   
Three Facts About Lagina's brother
1. A close-knit family
The Lagina's family belongs to Kingsford, Northern Michigan. The Lagina's family have always been a close-knit family, which makes it easy for the brothers to work together on the Oak Island project. Marty's son, Alex Lagina has also made his appearance on The Curse of Oak Island.
2. Lagina brothers own much of Oak Island
The two brothers Rick and Marty visited the island in order to find treasure and to investigate. They started a tour company, which leads guests through Oak Island's mysteries, items found, and tours of the entire island such as the "Money Pit" and "Borehole 10-X". The tour includes a small museum, but they do not allow guests to photograph or see the "War Room" which contains mysterious artifacts found on the island.
3. Rick and Marty's Net worth
Since the start of the production of the History Channel's reality series, The Curse of Oak Island, the Lagina brother's net worth has grown immensely. When the program was first aired in 2014, Rick had a net worth of $500,000 while Marty a net worth of $2 million. However, those amounts grew substantially through the 4 seasons of the show, Rick having the estimated net worth of $2 million, and Marty nearly $40 million.