Ana Navarro is a famous American political commentator and Republican Strategist. She is pretty renowned for her political comments in many news channels like Cable News Network(CNN), CNN in Espanol, ABC News Telemundo and The View.
The Nicaraguan native first opened her eyes on 28 December 1971. Born to the Nicaragua minister of Agriculture, Augusto Turo Navarro, she and her family fled to America due to the revolution of Sandinista.
At the time of leaving her native country, she was just seven years old. 
With time being, Ana Navarro earned her a degree in Latin American Studies and Political Science from the University of Miami in 1993. 
Ana Navarro Married, Husband
Not yet! But, Ana Navarro is on full steam ahead to be soon married as it is revealed from the posts of her social sites. On 13 October 2018, she Instagrammed a picture in which, she wore a diamond ring in her ring finger. The photo confirmed the news that she was engaged. 
You May Also Like: Matt Drudge Married, Gay, Report, Net Worth, Wiki
Though the identity of her husband-to-be has not been disclosed, Ana revealed that she was busy with the wedding plans. Moreover, she asked the bridal magazines to publish articles and guidelines for "imperfect, older, chubbier, and busier brides" via her Instagram feed.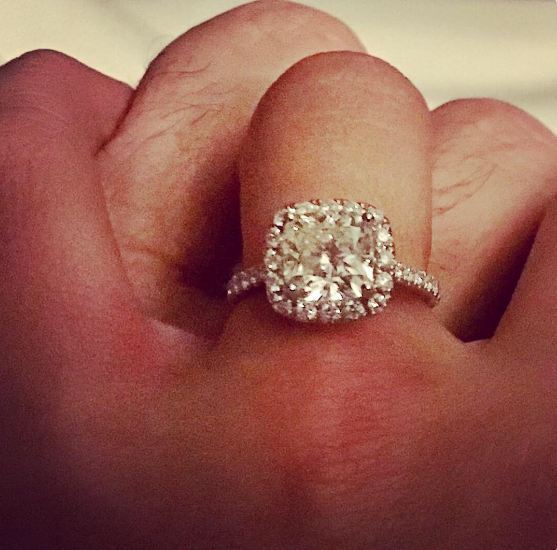 Ana Navarro flaunts her engagement ring on 13 October 2018 (Photo: Ana Navarro's Instagram)
Before, the happy news, she was in a relationship with Gene Prescott, President of the Coral Gables Biltmore Hotel and Principal shareholder of Seaway Hotels Corporation.
It is not much known when Ana started dating Gene. But, both of them shared a beautiful relationship and lived together in Coral Gables.
Much to surprise her followers, Ana flaunted a picture of her engagement ring on her Instagram on 16 May 2015. It was a matter of happiness as Ana and her partner became officially committed to taking their bond to the next level.
But, another happy news never made it to the headlines as the couple stopped being spotted together. 
Ana Navaro soon released her wedding pictures on 2 March 2019 which revealed that she was not married to Gene, but her groom was someone else named Al Cardenas. Apart from the lavish wedding pictures, Ana also occasionally posts pictures with her husband on Instagram.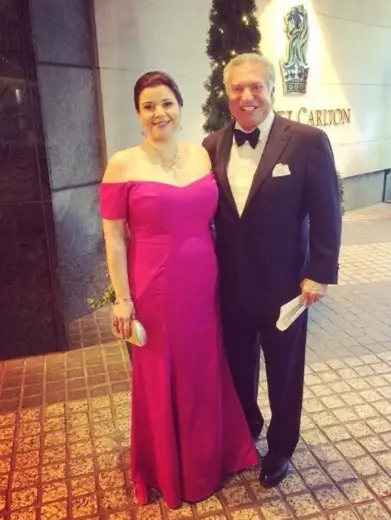 Ana Navaro congratulates her husband on receiving an award on 27 March 2019 (Photo: Ana Navaro's Instagram)
Ana Navaro also revealed in an interview that her husband treats her like a princess and she is more than happy to share the married life with him. The pictures depict the happiness in Ana and her husband's face, which makes it clear that they are anticipating the lifetime of adventures together.
Ana Navaro Age, Family
According to Ana, she achieved her excellent argumentative skills and interest in politics from her father. At 47 years of age, Ana is very close to her parents and regularly posts pictures with her family. She never misses an opportunity to wish her parents on special occasions like anniversaries and birthdays, which shows that she shares an outstanding bond with her parents.
She also considers her family to be her greatest inspiration for her career. Had her parents not been supportive enough, she would never have had amassed such a great fortune.
In the early phase of her career, she remained in the position of special advisor to the Nicaraguan Government in the year 1997. Afterward, in 1999, she served to various public and private clients regarding immigration, trade, and policy.
Apart from it, she also contributed as an ambassador for the United Nations Human Rights Commission in 2001. 
Read Also: Jessica Tarlov Age, Birthday, Married, Husband, Height, Measurements, Net Worth, Weight
Talking of her career, she worked as National Co-Chair of the Hispanic Advisory Council for John McCain in 2008 and Jon Huntsman Jr. in 2012. As of now, she currently works as a commentator and news reporter for CNN Network. 
From her successful professional life, she bags a handsome annual salary of $66K. Regarding her net worth, exact information is confined. But, with her experience, she is likely to owe a promising sum of money as her net worth. 
Though she is a Republican, she often expresses her dislike for president Donald Trump.