Agnes Hailstone is someone, who prefers a nomadic lifestyle over modern luxuries. She caught the attention of people after appearing in the show Life Below Zero along with Andy Bassich and Sue Aikens. The show is broadcasted on the National Geographic Channel or simply Nat Geo. 
Agnes Hailstone's First Relationship
She was once in a relationship with a man. However, it is not known whether he was her first husband or her boyfriend. Only it is known that she was with him for a couple of years and she also welcomed two sons with him. 
Her sons are named John and Doug. But, the family and children couldn't save their relationship as they broke apart and ended their relationship. Since then, Agnes' parents her sons. 
Agnes Hailstone's Married Life, Children
Agnes failed in her previous relationship, but she got lucky to find a life partner in Chip Hailstone. Chip was initially from Montana, but he was so attracted to Alaska that he ended up coming in the place to start an adventurous life. And in Alaska, he not only found adventure but a partner to relish whole life. 
Discover: Rania Abouzeid Wiki, Age, Married, Husband, Family
As if destiny was set to pair Agnes and Chip, the duo interestingly met each other and started their friendship. And, when they began hunting together, they fell in love. It took only some time for their friendship to blossom into romance as they soon married.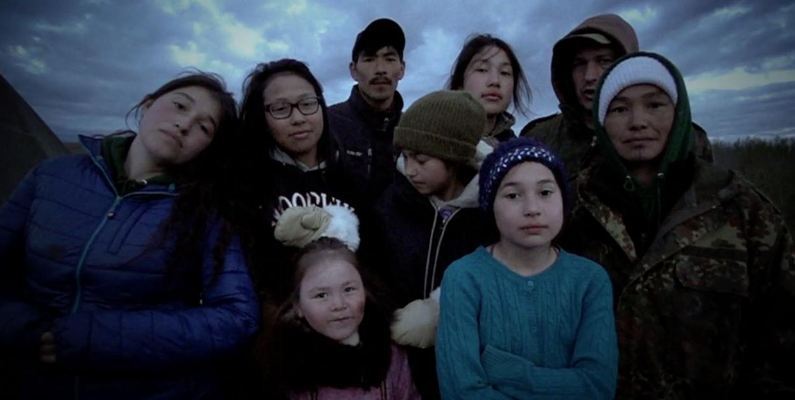 Agnes Hailstone' (far left) with her husband (behind her) and children on October 2018 (Photo: distractify.com)
Agnes broadened her family circle with her husband by giving birth to five daughters: Quatan, Tinmiaq, Iriqtaq, Caroline, and Mary. She also provided them childhood education and handed down all of the survival skills to her children.
Now, Agnes __ with her husband and seven children __ reside beside the Kobuk River in the North West of Alaska. They hunt and ice-fish to manage their food, and use bow and arrow, lance, rocks or bare hands to make a kill. 
Agnes Husband Convicted Of Perjury
Agnes' husband Chip was convicted of two counts of perjury and two counts of making false statements to law enforcement officers in the Second Judicial Court in Kotzebue. On 27 July 2012 jury found him guilty of all four charges due to which he might face a multi-year prison term during his sentencing hearing.
He was convicted after he alleged a state trooper physically assaulted his then 17-year-old daughter and their action left his family in fear of bodily harm. Again on 13 July, he was charged involving another family in Noorvik where he claimed the resident pointed a rifle at his daughter. Later, in November 2012, he was charged with perjury. 
Later, in 2014 he continued his fight to clear himself. But according to Kerry's appeal document showed that the statement made by Chip were false. However, even now he is still fighting for his convictions.
Net Worth
Agnes, age 46, is an inspirational hunter having skills to survive in any hindrances. Her skills flaunted in the reality show Life Below Zero is the primary source of her income. From the show, she makes a handsome salary and enriches her net worth that is estimated to be $250 K. 
But, the freedom and adventure she seeks costs risk and danger. So, she carries a rifle and knife that help her in surviving and getting daily necessities. Also, Agnes uses her rifle Mosin Nagant, which is a five-shot military rifle with a range of 500m while hunting. 
Agnes Hailstone's Biography
An Inupiaq native of Alaska, Agnes was born in 1972. Her name was inspired by her birth year's tropical cyclone that was named Hurricane Agnes. 
You May Also Like: Misfit Garage's John Klump Bio: From Age, Net Worth To Family Status
Since childhood, she grew to be brave and strong. And her bravery and courage were tested when she lost her parents, brother and his girlfriend to icy water. Battling through the trauma, Agnes prepared herself mentally and learned more skills to survive in a harsh environment.
All credits to her determination, she today lives a free traditional life with her family. 
Her Tattoo, Tattoo Meaning
Agnes can be easily recognized as a team member of Life Below Zero, thanks to her tattoo of the chin. She has four lines tattooed below her lips which count as her distinctive feature. 
As every body mark has its meaning, her tattoo meaning is maturity. The lines are the traditional mark that is inked on all Eskimo women which signifies that they reached puberty. In the 19th century, the tattoo tradition was banned by missionaries, but credits to Agnes, the stripes tattoos are making a comeback in people's life.