If you have ever watched the famous documentary television show, Life Below Zero, then you undoubtedly know about the brave and furious adventurer, Sue Aikens.
Despite her age, Sue has never failed to impress her fans by her bravery and has already established her name in the top list of reality stars.
Sue Aikens' Bio Plus Net Worth
Sue was born on 1 July 1963 in Mount Prospect, Illinois.
As a child, she always had things set in her mind by older people that a woman is only limited to being a mother or wife.
But, unlike others, she was genuinely interested in taking risks and adventures just like reality star Otto Kilcher.
Sadly, her parents separated when she was at the age of 12. Afterward, she started to live with her mom in Alaska.
She was left alone by her mother to pursue her own life in the cold.
Therefore, she spent 16 years earning her livelihood in the snowy wilderness of Alaska, where she used to run a small wilderness camp.
Because of her dedication towards her work, Sue was noticed by a BBC's producers, who decided to turn her experience of a wild voyage into a reality show.
Her interest turned into a successful career as she is now widely known for her prominent contribution to the show, Life Below Zero.
Know About: Michelle Hassan Wiki, Age, Married, Husband, Partner, Dad
Because of her notable remarks for the show, Sue makes a handsome net worth.
Though her net worth remains to be confined, she is estimated to have a net value that sums to millions of dollars as a reality star.
Journey to Life Below Zero
Sue made her fans curious after she decided to move from her home to the Kavik River Camp. She left her home, where she spent 17 years. 
When she was asked why she left her house and chose to live in a cabin, she said she is not bound by the rules from society.
And she does not understand the society that tears itself down, belittles each other.
All those things are out of her reach, and she preferred her own world where she could get snacks, naps, and can play and run around. 
Even though after surviving in a situation wherein a day of 24 hours, it was cold and misty, Sue felt more comfortable living this life than living in a society. 
But now, due to her age, things are changing, and Sue might also have planned something else for her future.
Sue Aikens Married Thrice
Sue's married life turned out to be complicated and risky just like her career.
Nevertheless, the 55 years old reality star is now married to her husband, Michael G. Heinrich. But, before Michael, Sue was married to two husbands.
Recommended: Marcus Rosner Wiki, Age, Married, Wife, Partner, Height, Net Worth
She spent her 17 years of married life with her first husband, who lost his life because of a brain tumor.
Sue shared two children with him. Her children are all grown up now and have already become parents too.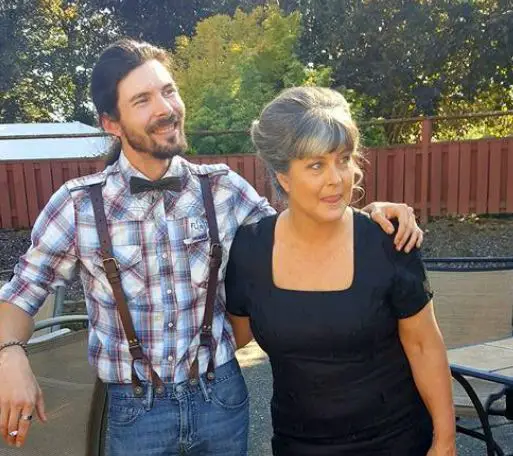 Sue Aikens poses with her son on 2 October 2016 (Photo: Sue Aikens' Twitter)
Speaking of her second husband, he has passed away too.
But Sue had already separated from him at the time of his departure as he had left her for a younger woman.
As Sue's career life is more on focus than her personal life, it is hard to state if she is still with her third husband or not. 
Nevertheless, Sue timely tweets about her children and reflects the bond she has with her family.
Sue's Injury On Life Below Zero
Sue undoubtedly received massive recognition as part of the series, Life Below Below.
But it was not an easy journey for her as she underwent some hurdles in the show.
According to adn.com on 2 December 2017, Sue was forced to drive her snow machine at the speed of 60mph.
As a result, she crashed the vehicle and suffered severe injury.
Sue allegedly stated that she was verbally abused and intimidated by the producers.
As of now, Sue has fully recovered and is busy with her 5th season of the show that was premiered in February 2018.