Abby Philip is a journalist and news reporter who currently serves as a White House correspondent for based in Washington D.C.
The White House correspondent was born on 25 November 1988 in Bowie, MD, to parents June C. Phillip and Carlos W. Phillip.
As per bio, her father is the psychology program manager for the District of Columbia Public Schools in Washington, while her mother is a Realtor and real estate investor with Fairfax Realty.
After graduating high school, Abby earned a Bachelor degree in Government from Harvard University in 2010. She went to college with a mindset of getting a degree to become a heart surgeon. However, her career path changed when she decided to get involved with the journalism industry.
Abby Philip's Bio: ABC, CNN, Washington Post
Abby started her first journalistic position as an internship with ABC Channel 7 News.
After her internship with ABC, she then worked as a White House reporter and a Money & Politics Reporter. During the time, she wrote about several topics like foreign policy, education policy, and political strategy.
You May Like: Rob Nelson Married, Girlfriend, Gay, Family, Salary
However, after gaining experience at several other journalist positions, Abby eventually worked full time at WJLA from 2012 to 2014.
In 2014, Abby started writing for the Washington Post. In 2016, Abby worked as a campaign reporter for Hillary Clinton's presidential campaign.
Since President Donald Trump 's inauguration in January 2017, Abby has focused on several subjects related to his administration including the president's efforts to repeal and replace the Affordable Care Act, his overseas trip to Poland and Germany for his first G-20 as per wiki.
Later in 2017, Abby joined CNN as a White House Correspondent. 
Know About: Jamie Gangel Wiki, Birthday, Husband, Children, Family, Net Worth
Besides that, she has regularly appeared on television and radio with local and national media outlets like WDEL, Fox News, MSNBC, and News Channel 8.
Abby Philip Married Managing Consultant Husband At Historic Anderson House
After getting engaged on 26 December 2016, Abby Philip finally got married to her fiancé, Marcus Glenn who is a managing consultant at nVisium in Herndon, Va. (web and mobile app security company) on 26 May 2018.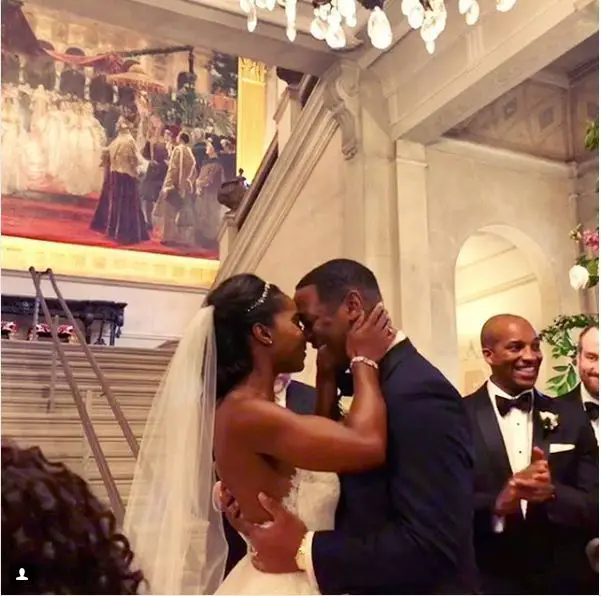 Abby Philip weds with her husband Marcus Glenn in the historic Anderson House on 26 May 2018 (Photo: Abby Philip's Instagram)
The couple exchanged the wedding vows in the historic Anderson House, a museum in Washington, in front of their close friends and families.
After a month of their marriage, the newlywed couple went to the exotic place in Vietnam for the honeymoon in June 2018.
Before dated for six long years, the beautiful couple got to know each other in 2011 in Washington at a party thrown by a mutual friend.
Also See: Patricia Karvelas Bio, Married, Partner, Husband, Age, Family
As an active user of her social account, Abby timely shares the picture of herself along with her husband. For instances, back on 6 June 2018, Abby shared the photo of two enjoying their honeymoon at Bai Tu Long Bay in Vietnam.
Judging from her post, it looks like Abby is enjoying her blissful married life with her husband to the fullest!