Rob Nelson is a news anchor and reporter for Channel 7 Eyewitness News of WABC-TV. 
Over the course, his extended reporting and broadcasting have taken him all over the globe. Be it covering Nelson Mandela's release from the hospital a few months prior to his demise, the arrest of ill-famed Boston-mobster Whitey Bulger, the accusation of celebrated athlete Oscar Pistorius or the murder case against former New England Patriot Aaron Hernandez: Rob has excelled at all sorts of story-telling.
What Is Rob Nelson Doing Now?
The native of Mt. Laurel, New Jersey, is still intact by his long haul career with New York's #1 news, Channel 7.
Anchor At The Same Network: Terrell Brown Has Wife Or Partner? Married, Wedding, Family & More
He shows an impressive presence on his social media, keeping his followers updated on the worldly happenings or his news reports in case they miss out on them.
Married Or Dating Girlfriend?
Rob, together with Jen, welcomed their first child, Gabe, amidst late October and November in 2019.
Rob had announced: "It's a Boy!" in one of his tweets back on the 9th of October 2019.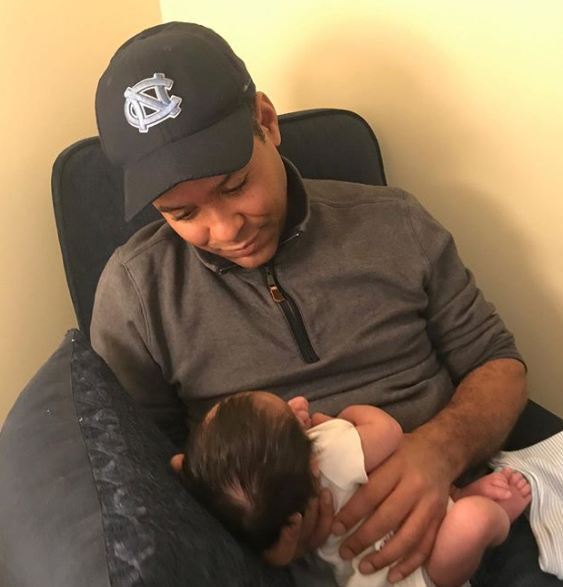 Rob Nelson shares the picture of his son, Gabe for the first time on 29 November 2019 (Photo: Rob Nelson's Instagram)
And, as a follow-up, he, for the first time, shared the picture of his newborn boy, Gabe, on the 29th of November 2019. He captioned this to the father-son picture-
Of the many reasons to be thankful this year, this little guy tops the list. Thankful, honored and humbled to be a new father to this beautiful, healthy baby boy (and his insane amount of hair!! Lol) Welcome to the world, Gabe. We love you, son.
However, when it comes to Rob's relationship with Jen, there has not been any marriage talk, or Rob referring to her as his wife.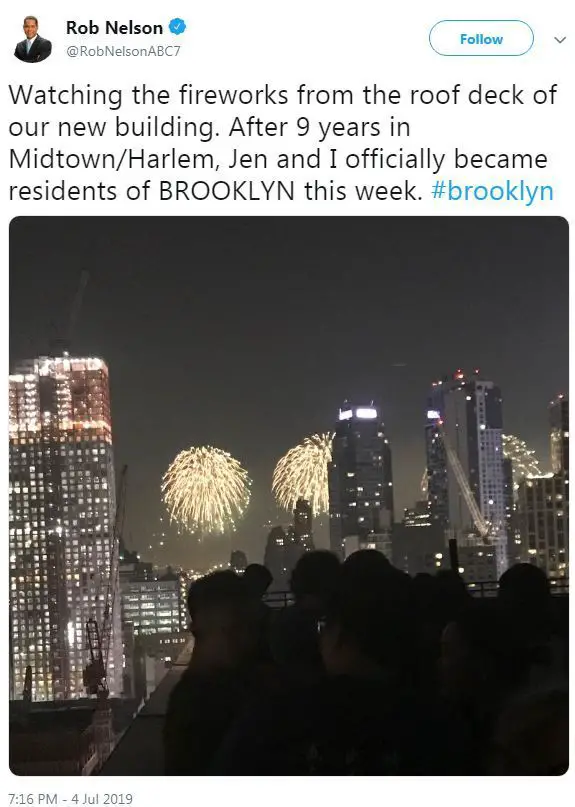 Rob Nelson talks about his son's mother, Jen on 1 July 2019 (Photo: Rob Nelson's Twitter)
But then, it is apparent that they have been together for moreover nine years, residing in Brooklyn as of July 2019.
Age, Family Background
Rob was born on the 5th of June in 1978. His parents are named, Bob Nelson and Sharon Nelson. His father, Bob, celebrated his 75th birthday on the 27th of February in 2019. Also, bob "well earned" his retirement back in August 2014.
Interesting Facts On Rob Nelson
Rob graduated with degrees in Journalism and Political Science from the University of North Carolina on a full academic scholarship.

Rob also anchored breaking news coverage on the death of Osama bin Laden, the disastrous Japan earthquake, Colorado movie theater massacre, amongst others.

Rob commenced his television journey as a morning news anchor and reporter for WWL-TV in New Orleans.