American anchor Julie Grauert is well-known as a Morning Traffic anchor at Boston 25 and has marked her fame as an excellent journalist with her outstanding performance in the media industry.
Julie is one of the outspoken celebrities, who are open about their romantic life in public. She proudly shares her love story with her better-half to her fans setting major couple goals and making them more intrigued about her personal life. 
Julie Grauert Married Or Dating?
Well, the Boston 25 News anchor, Julie Grauert is not married yet.
But, she is blissfully dating her boyfriend Rob Summers, an exceptional athlete, who once had quadriplegia. 
Entertain Yourself With: Who Is Suzanne Virdee's Husband? Ethnicity, Family, Now Details
Julie first met her boyfriend, Rob Summers in the year 2014 at the PIX 11 Channel. Without any physical judgments, Julie instantly clicked with Rob and got into a relationship. Since then, the pair has been inseparably together.
Julie even timely uploads the pictures with her boyfriend in her social media accounts. 
On 10 February 2018, Julie uploaded a picture with her boyfriend and expressed her feelings towards him. In the captions, she wrote they fell in love at first sight when they met each other in 2014. She also recalled that they faced many challenges and triumphs during their togetherness, but always stuck close and fortified their bond.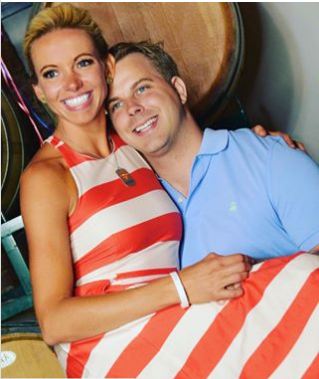 Julie Grauert with boyfriend, Rob Summers (Photo: Julie Grauert's Instagram)
Weaving their bond tightly, the couple also took part in 2017's New York City Marathon and reflected their relationship strength. 
Julie with all her heart cherishes her time with boyfriend, who will probably be the most generous and loving husband for her in future. She even wished her boyfriend a happy birthday via Instagram on 12 July 2018 and uploaded their together clicked pictures since 2014. 
As of now, the lovebirds live together in Boston. Apart from all the bumps in life, they share a precious moment and are very supportive of each other, which undeniably helps to maintain bliss in their relationship. 
Boyfriend Aspires Physically-Challenged People
Rob Summers was a Division I Oregon State Baseball pitcher and an MLB prospect before things changed for him. 
In 2006, when Rob was standing in the driveway, a hit and run driver veered off the road and struck Rob. The accident broke Rob's neck and hospitalized him in the ICU as a quadriplegic: paralysis in all four limbs. 
When Rob got his conscious back, he was devastated to find out that he could move only one finger in all his body. 
Don't Miss: Dan Abrams Married, Wife, Family, Health, Illness, Cancer, Net Worth
All dreams were shattering in front of his eyes when the hopes of getting better emerged. The Christopher & Dana Reeve Foundation started experimenting with Rob's treatments. After the experimental epidural stimulator surgery, and regular treatment, Rob became able to move his hands, toes, ankles, and hips. 
He eventually became able to stand with the support of a walker. 
With such aspiring story to those, who have lost faith in their special physical conditions, Ron was featured on popular news channel like NBC, CBS, ABC and The Wall Street Journal.
Julie Grauert's Bio: Career, Net Worth
Julie Grauert, age 35, celebrates her birthday on 29 January of every year. She is not the only child in her family as she has one brother and sister as her siblings.
Julie, who stands at the tall height of 6 feet, graduated from Georgetown University with a degree in Bachelor of Arts in English Language and Literature in 2005.
Right after graduation, she began her career as morning anchor/producer at KNBN Newscenter1. She started to work as a reporter at KPTV Fox 12. During the time, she got appointed as a general assignment and breaking news reporter for WPIX-TV from 2013 to 2014.
Likewise, she started working as Morning Traffic Anchor at WFXT Boston 25 News from 2015. Later she became morning news anchor at Boston 25 News.
On 20 July 2018, Julie even hosted the Boston 25's Zip Trip series, a programme for the local people to advertise their city, with co-hosts Sara Underwood, Shiri Spear, Daniel Miller, Gene Lavanchy, Elizabeth Hopkins and Michele Lazcano. 
Julie is likely to enjoy the remarkable amount of net worth from her work as an anchor at Boston 25 News. However, she has not disclosed her exact figure of net worth to the media. Nevertheless, the average salary of Fox 25 news dwells around $ 62K.