Reshmin Chowdhury is a well-recognized face in the world of media with her association with BBC and BT Sport as an English sports journalist and broadcaster. She previously served as a sportscaster on Real Madrid TV. 
The sports anchor has undoubtedly amassed a tremendous professional height as a Muslim sports reporter. Meanwhile, she also possesses a joyous marriage bond with the company of her two beautiful children. 
Reshmin's Married Life; Enjoys Companionship Of Two Children!
It is incredible to see how Reshmin Chowdhury has vowed herself in the field of sports commentary. Her peculiar love for the game attracts most of the male followers, who wish to be her partner for life. 
However, their wish appears to be never coming true as Reshmin is already enjoying a happy married life with the man of her dreams, Asif. Not much, but Reshmin has revealed that her husband is a Manchester City fan. 
Besides shortly revealing about her husband via her Twitter post, Reshmin has kept the information regarding her initial bond and exact date of wedding off-the-radar on social media. Instead, she is busy flaunting the moments with her TV partners as well as players. 
Know About: Jedediah Bila Married, Engaged, Boyfriend, Partner, Ethnicity
One such instance was on 1 April 2017 when Reshmin tweeted the picture with her BBC TV correspondent Olly Foster mentioning him as her television husband. 
Besides, she was spotted reuniting with her Champions League coverage partner, Matt on her 2017's Twitter post. Apart from her profession, Reshmin is a proud mother to her two children. 
She has a daughter and a son. Her first child, a daughter was born prematurely at 29 weeks in 2011. However, the child was able enough to breathe and thrived. 
She gushed about her daughter on World's Prematurity Day via Twitter in November 2017 and revealed that her girl is now healthy.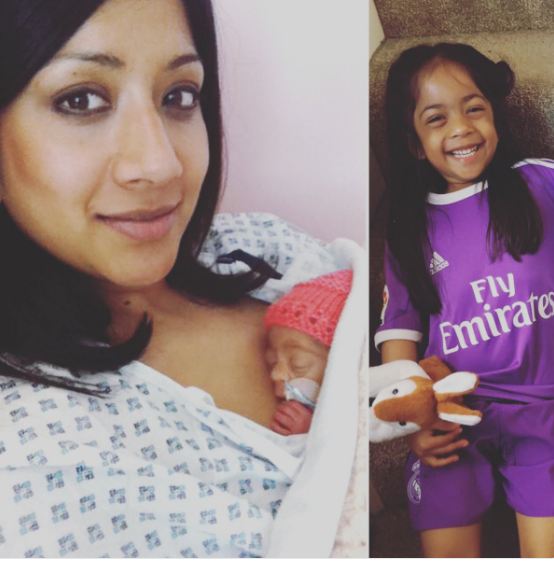 Reshmin Chowdhury commemorates an emotional journey of her prematurely born daughter via Twitter on 17 November 2017 (Photo: Reshmin Chowdhury's Twitter)
Reshmin timely flaunts her family moments on her tweet. She mentioned her kids in her tweet posted on 6th March 2018. She wrote that she watched a few Top20 Zidane goals compilations on YouTube with her daughter and son, and disclosed that her son was four years old.
Despite the hectic schedule, Reshmin as a commentator, she somehow manages her time for her children. On 28th September 2018, she talked about her children when she took her son in Royal Festival Hall while her daughter decided to snuggle up at home.
Don't Miss: Lucy Verasamy Married, Husband, Family, Bio, Salary, Height
Despite keeping the information of her husband secretive on media, it seems quite clear that Reshmin enjoys a resounding bond with her loving kids and family.
She alongside her husband and two children live in London. Reshmin is not only a devoted wife and mother, but she has also maintained her relationship with her in-laws as well. She equally treats them as her parents and during her free time she fully contributes her time to her family. 
Reshmin Chowdhury's Bio: Famed Muslim Journalist!
Reshmin Chowdhury, who was born in 1977 in London, England, celebrates her birthday on 16 December every year. She carries a British nationality and belongs to Bengali ethnicity.
Chowdhury grew up in an exceptionally open-minded and progressive Muslim family. Her Bengali parents never put any objections on her career path. It was her supportive family, who gave Reshmin the foundations of education, culture, religion, and music during her upbringings.
As a child, Reshmin was raised alongside her brother who happens to be only 14 months older than her. Therefore, she shares a special bond with her brother, which can be speculated from Reshmin's social media.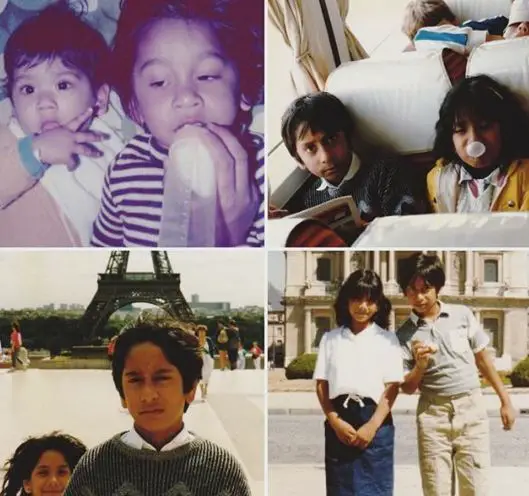 Reshmin Chowdhury wishes her brother on his birthday on 2 October 2018 (Photo: Reshmin Chowdhury's Instagram)
On 2 October 2018, she wished her brother on his birthday on Instagram. The picture reflected the beautiful childhood memories Reshmin commemorated on her brother's birthday.
For the academics, Reshmin attended Woodford Country High School for Girls and later graduated with a BSc (Honors) in Politics with Economics from the University of Bath in 2000. Later on, she studied for an NCTJ Post-Graduate Diploma in Newspaper Journalism at Harlow College in 2003.
You Might Also Like: Lisa Boothe Age, Married, Husband, Parents, Bio, Salary
To the place, Reshmin has reached in the present, she has definitely justified her education.
Not just because she has reached a peak in the sportscasting career but for the fact that the lady has encouraged many, likes of her, into the field.
In July 2019, Reshmin collaborated with several networks in order to give insights to the young Bengali girls for a career in sportscasting.
She went to Mulberry School in east London, where her mother was a teacher, for the purpose.
No doubt, the strong, competitive and motivating nature of Reshmin definitely helps the lady bring about greater changes in the world.
Reshmin Chowdhury Career & Salary
Before receiving her degree, Chowdhury initiated her television career appearing for numerous TV networks across the United Kingdom. However, her major sportscasting break came when she served as a presenter and reporter for Real Madrid TV on September 2008. She became the first journalist to interview Cristiano Ronaldo following his record signing for Real Madrid.
Later in May 2010, Reshmin left Real Madrid TV and joined the BBC Sports news team, where she regularly serves as a sports presenter. Besides, she is a reporter on BT Sport and hosts the coverage of two of the biggest football leagues UEFA Champions League and the UEFA Europa League.
Reshmin reported on the UEFA Champions League for BT and the Rio Paralympics in 2016 for BBC 5Live Sport. She also worked behind the camera for some major broadcasters, before indulging in her passion for sports broadcasting with Real Madrid TV.
Further, in 2019, Reshmin joined talkSPORTS and bestowed her excitement for her work from the new channel, in the new season of The Premier League. 
Also Read: Jessica Tarlov Wiki, Bio, Age, Married, Husband, Height and Weight
Besides, reporting career, she also performed as a professional singer during her youth period alongside the multi-award-winning musician, Nitin Sawhney. She became an ambassador for The British Asian Trust in 2016 and attended the dinner party with her parents. 
As a Muslim reporter, Reshmin has strongly represented her religion with global recognition. She has become an inspiration for all the Muslim women who still are not allowed to show their face in the world.
Because of her hard work and dedication, she has made herself honorable by receiving the Media Award at the Asian Football Awards and also got nominated for the Media Award sponsored by FC business magazine at the Asian Football Awards. 
Apart from her profession and motherhood, Reshmin makes time for herself as well. Her social media hints that she is very conscious of her physique as she timely shares her fitness journey with her Instagram family.