A father's decision to put his daughters upfront completely changed the trend and encouraged many women to explore their inner talents and redefine their roles in contemporary Mexican society.
Vicky Terrazas is a frontier member of Los Horóscopos de Durango, one of the longest performing groups in the Regional Mexican genre performing Duranguense banda. The group was assembled and formed by Vicky's father in 1975 in Chicago, the city that boasts the largest Mexican-American population in the Midwest.
Vicky Terrazas Career & Controversy With Sister
Vicky (vocals, trumpet) and her sister Marisol (vocals, accordion, keyboards, sax) were opted as leads for the group by their father after being identified with male vocalists for years. His decision was questioned by many, as women would do the lead singing. And, most of all, the mindset of people of the time was completely male-dominated.
On 8 November 2007, the group received a Grammy award for Best Banda Album, led by Desatados at the 8th Annual Latin Grammy Awards in Las Vegas. Armando, Vicky, and Marisol marked their presence on stage by accepting the award in the ceremony.
You May Also Like: Linda Perry Wiki, Married, Husband, Ethnicity and Net Worth
Vicky and Marisol's leadership was a complete game-changer for the group. They led the group to the heights which marked the ladies busier than ever. Thus, it was evident that they didn't have much time for their families as they were often engaging with tours and performances.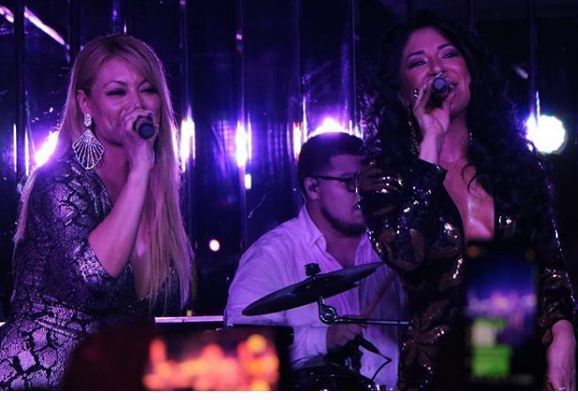 Vicky and Marisol Terrazas perform with the group on 19 January 2019 (Photo: Vicky Terrazas' Instagram)
In May 2010, in the middle of their tour, Vicky's sister, Marisol, came out to the public about her 14-year-old daughter`s sexual harassment. In addition to the incident, Marisol also urged the parents to keep better vigilance.
In November 2012, Vicky was arrested along with her sister after a scuffle broke out at their show in Okeechobee, Florida. They were later released after they paid $75,000 each for their bail.
In 2016, Vicky and Marisol were offered to coach one of the two teams of the show, La Reina de la Canción that translates for The Queen of Song. It was a singing show that sought to crown the next great female voice of regional Mexican music. 
In 2016, Vicky and Marisol got to coach one of the show`s two teams, La Reina de la Canción that translates for The Queen of Song. It was a singing show that sought to crown the next great female voice of regional Mexican music. 
During the show, Vicky opened up about her depression to a contestant. She confessed that she had to face judgments for her physical appearance, and people were referring to her to be quite chubby even within the group, which led her into depression.
Is She Dating Or Married?
See Also: Karen Fairchild Bio, Husband, Divorce, Married, Net Worth, Height, Family
Vicky Terrazas holds the hand of her rumored boyfriend, Luis Medina, on 24 January 2013 (Photo: Latin gossip)
During an interview in October 2018, Vicky expressed her desire to getting married and having a family. It is possible that Vicky is still in a romantic form with Luis. However, in recent times, there have been no official reports of Vicky dating anyone.
Vicky Terrazas Wiki, Age
Born to Armando Terrazas, Vicky Terrazas' birthday dates on 21 July. She was born in Chicago to Mexican parents. She holds an American nationality.
The 39-year-old performing artist started off as a vocalist for the band at a very early age.