Tucker Halpern is a singer and producer best recognized as one half of the American electro-pop duo, Sofi Tucker. The band got its name fused with the respective band members' names- Sophie Hawley-Weld and Tucker Halpern. 
Together, the bandmates have aced in their performances thus far, landing on the prestigious Grammy nomination for Best Dance Recording for the breakout single, 'Drinkee'- they wrote and performed a week before their graduation. 
Moreover, it was their song, 'Best Friend' that was featured in the commercial that escorted the launch of the iPhone X. 
What's more, is that their music has topped charts from Belarus to the United States several times. 
Tucker Halpern's Bio, Career's Turning Point
Tucker went onto Noble and Greenough School in Dedham, Massachusetts for his foremost education.
Tucker thought that he was bound for a career in basketball until the passion was snatched away from him halfway because of his collegiate career. However, the days to come to had something else planned out for him.
Keep Reading: Mechie So Crazy Bio, Family, Dating, Net Worth
Everything was going accordingly, and he even received All-Ivy honorable mention honors during his freshman year in 2011. But then, persistence fatigue came in between his passion for basketball.
In the beginning, Tucker thought that he was going through some persistent case of mononucleosis, which led to months of hospital stays and several medical tests.
The prolonged illness, which had no name of such made him so tired that he took a big decision to let go of his athlete career once and for all.
The 6 feet and 8 inches tall Ivy League star at Brown University withdrew from his enrollment.
He then returned to his family home in Brookline, where he isolated himself from almost everything, coming out from the bedroom's shell only on rare lunch outings with his mother.
Then, on a particular day in 2013, when Dr. Scott Hammer, an infectious disease specialist, confirmed Tucker that his basketball career was over, the athlete stopped at a music store and bought a D.J. setup and speaker, and there began his musical journey.
Married To Wife Or Gay?
Tucker has openly been in a relationship with the gorgeous model, Amanda Googe, who started drawing and painting since childhood.
Having wrapped a dual concentration in Visual Arts and Environmental Studies at Brown University, Amanda tried her luck in modeling never realizing she would be doing it for the rest of her life.
Tucker and Amanda often flaunt their chemistry on their respective social media pages with beautifully captioned pictures letting their fans know just how much they are meant for one another.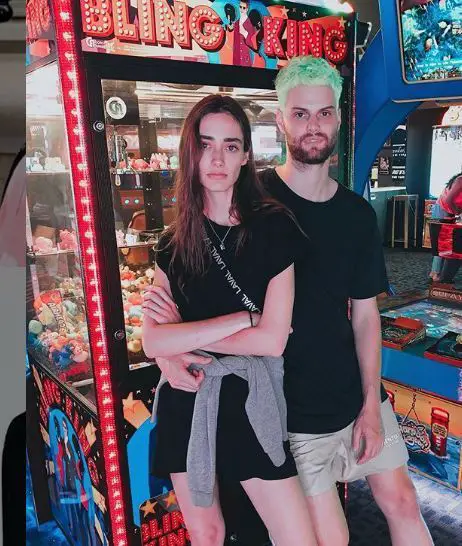 Tucker Halpern with her girlfriend with his girlfriend, Amanda Googe, on 29 July 2019 (Photo: Tucker Halpern's Instagram) 
However, they are yet to reveal their future plans. For now, it is mostly speculated that they might take a while before they turn into husband and wife.
Tucker, who admittedly loves anything pink and fluffy, has always been vocal about his straight sexual orientation.
There may have been the rumors to his being gay as per the relatively greater support he gets from the LGBTQ+ community at the most of his shows.
His Net Worth
Tucker, age 29, previously got paid for his scoring balls while today he makes money for engaging his audiences for his stage performances.
Know More: Katelyn Jae Wiki, Age, Parents, Net Worth, Husband
However, the figures to the chunks laying on accounts to his net worth remain under wraps. It is not some news, that the star D.J. is affiliated to a great many projects and endorsements. While his finances and profit from all the ventures of his stays shadowed.
Amongst all of it, one of the income sources of his that he shares with his bandmate would be the YouTube earnings.