Mechie So Crazy, a crazy name indeed for ordinary people, but typical for crazy talented musicians.
Mechie is a Hip-Hop/R&B artist and an original member of the group 4EY The Future. He and the group are famous for their hugely successful single, Scoot Ova. Mechie is also popular on Instagram with more than 410K followers.
Through the release of many popular songs, the singer must have managed to accumulate a significant net worth from his career.
And as of 2019, the singer continues to work on his songs and videos.
Mechie So Crazy Bio: Age & Family
Mechie So Crazy was born as Demetrius Harris on 12 June 1993 in Washington, D.C.
Talking about his family, Mechie considers his mother as his everything and is grateful for her. The singer's mother supports him through thick and thin moments of his life and is there for him despite all of his mistakes.
On the other hand, Mechie hadn't seen his father for years till his surprise birthday party on 9 June 2018.
Get To Know: Trill Sammy Age, Net Worth, Girlfriend, Wiki, Mom, Ethnicity
His father had never been present on his birthday, and never even wished him a Happy Birthday. But, he showed up in his 2018 birthday bash and told that he was proud of Mechie.
Furthermore, Mechie, age 26, stands at an average height of 5 feet 7 inches (1.73 meters).
Mechie So Crazy Dating Life
Mechie found himself tangled with the famously twisted life of The Kardashian clan when he started dating Blac Chyna.
Blac Chyna is an American model and entrepreneur who was once dating Rob Kardashian and gave birth to their daughter named Dream in November 2016.
Blac was never in a good relationship with The Kardashians and splitting with Rob made things worse for her.
When Mechie was in a relationship with Blac, she shared a post on her Instagram, where Mechie kissed her while flaunting his BC tattoo on his neck. Both looked very smoochy and smitten with each other.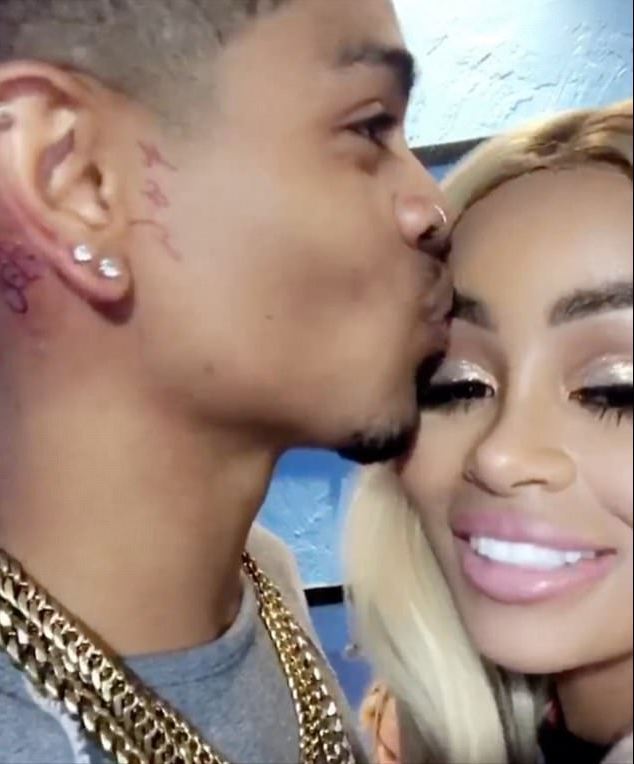 Mechie So Crazy with his girlfriend, Blac Chyna, in July 2017 (Photo: dailymail.co.uk)
But they were no more smitten by each other and split up after dating for a short period when Blac got angry with Mechie's constant flirting on social media. After their split, the X-rated clip of him and Blac got leaked, which the singer was not pleased to see.
Blac's ex-boyfriend Rob Kardashian took revenge by releasing the explicit video, which The Kardashians claim that Blac sent the footage to anger Rob. 
Sneak A Peak Into His Life: Richard Camacho Bio, Wife, Family, Net Worth
Messing with The Kardashian led Blac into many problems and troubles along with Mechie, who didn't have any direct connection with them.
The singer claimed that he never had a copy of the video with Blac performing a sex act and planned to take the matter to the authorities. 
Even Blac's lawyer warned that the revenge crime would not be taken lightly. 
After the huge scandal, Mechie has kept his love life a little low profile compared to his relationship with Blac Chyna.