Dominican-American singer Richard Camacho is a member of the famous Latin boy band, CNCO.
He shot to fame after being discovered with a unique set of talents. Richard's urge to sing, compose, as well as dance, came effortlessly in him, due to which he became one of the well-known public figures.
As for his band, it is just as successful as the CNCO's very first single, Tan Fácil, was even charted at the number 1 spot on Billboard's Latin Airplay and the top charting single on iTunes.
Richard Camacho's Bio - Age, Family
Born on 22 January 1997, Richard Camacho was raised in Santo Domingo, Dominican Republican. He stands at the height of 5 feet 9 inches at the age of 22.
He spent his first few years in the Central American republic before his family migrated to the US.
As of now, Richard resides in the Bronx, New York City with his parents and two younger brothers Yashua Camacho and Dairan Camacho. 
Exclusively: Grace Larson Brumley Age, Husband, Family
Richard's father is an acclaimed musician while his mother is a dancer who encouraged Richard to flaunt his talent in singing and dancing.
His younger brother Yashua is also a professional singer, and Richard spent a lot of time together with his brother, fine-tuning their raw talent. 
Married To Wife / Girlfriend?
A peek into his personal life hints that Richard is not married to a wife, yet. However, he was previously dating Yocelyn Mirella Alexander.
His then-girlfriend is an Instagram star and model, best known for posting a variety of aesthetically pleasing content featuring light colors and fashionable clothing. 
Richard and Yocelyn had a rather low-key dating life as they never shared the story behind when their romance started.
Even though they did not let the people in on their personal life, the lovely couple did not hesitate to reveal the news of their baby daughter, Aaliyah Sofia's arrival on 1 August 2016.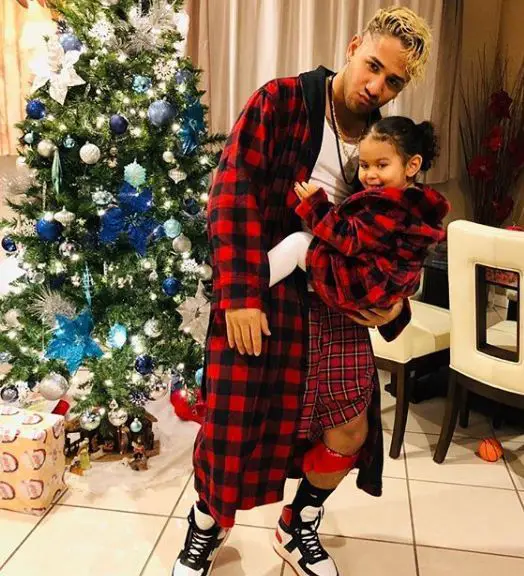 Richard Camacho celebrates Christmas with his daughter Aaliyah Sofia on 25 December 2018 (Photo: Aaliyah Sofia Camacho's Instagram)
Richard and Yocelyn had already split when Aaliyah was born. As of now, the two parents are doing their best to give their daughter a peaceful childhood.
Richard and his then-girlfriend often flaunt their adorable daughter on their respective social media, showing that they are happy with their roles as parents. 
Richard's Net Worth
When Richard was a teenager, he went for auditioning in the La Banda (The Band), a musical competition created by Ricky Martin and Simon Cowell, alongside his brother, Yashua. 
However, in the competition, Richard's younger brother got eliminated in the 2nd round, but Richard sailed through the middle rounds. 
Richard was successful in impressing the judges with his talent. It was finally on 13 December 2015 when Richard formed CNCO alongside other four members, Christopher Velez, Joel Pimentel, Zadbiel de Jesus, and Erick Colon. The band wasted no time to receive a recording deal with Sony Music Latin.
The band has achieved several awards and honors from their hard work and unity.
Richard, on the other hand, is successfully pursuing his dream and might have also garnered a hefty net worth. While Richard has not disclosed the actual figure of his income, the average income of the band from their YouTube views ranges from $150.5K to $2.4 million.