American television personality Ronnie Ortiz-Margo rose to prominence after he starred as one of the eight main casts of the MTV reality television series, Jersey Shore for all six seasons.
During the show, Ronnie became the center of attraction because of his arguments with the on-and-off girlfriend Sammi 'Sweetheart' Giancola. Among the audience, Ronnie and Sammi were the heartthrobs during the entire show.
Among the women who admire Ronnie, his daughter, Ariana Sky, is the one who respects and loves Ronnie more than anyone. 
Ronnie Ortiz Magro Married To Wife? Family With Baby
Ronnie, who is the media sensation, lived quite a roller coaster during his love life. In 2009, during the first season of Jersey Shore, he started dating his co-star, Sammi 'Sweetheart' Giancola.
In the first season, when Sammi had to choose between Ronnie and Mike, she ultimately chose Ronni, and the summer fling began.
While the show was the first thing to bring Ronnie and Sammi together, it was also the platform for their split. During the show, the couple entertained the fans with their break up and makeup. 
Also Read: Sarah Davenport Bio, Age, Parents, Boyfriend
After the show, Ronnie's girlfriend wanted to change her tag from girlfriend to wife, but Ronnie was not ready for the commitment, and eventually, he blew up things between them and cheated on her. 
It didn't take long for Ronnie and Sammi to go different ways and move on in their lives. 
A few months after Ronnie's breakup with Sammi, he started dating TV personality Malika Haqq. The couple relished their relationship and even made several public appearances attending multiple events. 
However, Ronnie's relationship with Malika also did not work, and eventually, they split.
The fact which makes Ronnie's life interesting is that he soon found love in another woman named Jen Harley. 
Interestingly, Ronnie and Jen also announced the news of them expecting a baby on 26 December 2017. The couple welcomed their baby girl Ariana Sky Margo in April 2018.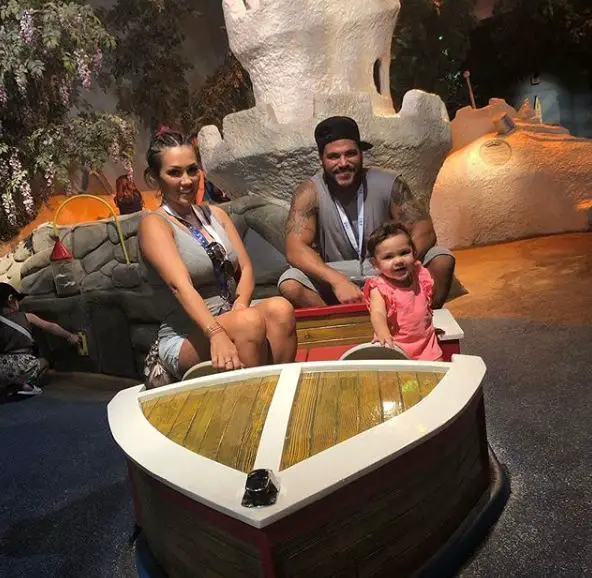 Ronnie Margo enjoys his Disney World trip with his girlfriend Jen Harley and daughter Ariana Sky in June 2019 (Photo: Ronnie Margo's Instagram)
However, soon after the arrival of the baby, the couple ended their relationship. 
Keep On Reading: Alicia Loxley Bio, Married Life, Family, Salary
Surprisingly, Ronnie got back together with Jen in March 2019.
Ronnie's foremost priority has always been his daughter, which encouraged him to step forward to co-parenting with Jen. The two reunited for a certain while and enjoyed their being a family, alongside their daughter. However, in early September 2019, Jen accused Ronnie of having an alleged relationship with another woman.
Jen presented her claim with some proofs from the family vacation pictures of Jersey Shore. In the pictures, Ronnie was seen getting another woman inside their house and enjoying with her in the garden and pool during the night time.
These claims had already ensured the fact that Ronnie and Jen were no longer an item after their short-time reunion for the sake of their daughter. Although the couple had been having hard times in their relationship, the fans were hopeful that their daughter never felt left out in the arguments between the two.
And, now a new drama surrounds the on-off exes. Ronnie was ordered by the police to stay 100 yards away from Jen following his arrest for reported domestic violence.
Ronnie was arrested on the 4th of October 2019 from the couple's Airbnb rental home in Los Angeles. He professedly chased Jen around the property with a knife, and some source revealed that the police had to break down the door and use taser before arresting him on kidnapping charges.
Meanwhile, the man of the very incident denied using a knife against his once upon a time lady-love. The investigation is in the process and the fans are eagerly waiting for it to come on-air. And, all the hot happenings, it is assumed that the pair have split for good!
Charged With Domestic Violence
Ronnie is well known as the most troubled Jersey Shore Star, decided to deal with his demons head-on and entered rehab in January 2019, for both depression and alcohol abuse. 
Upon completing his stint in rehab, Ronnie recommitted himself to co-parenting his daughter and tried to live a healthy lifestyle.
Don't Miss: Andrea Bock Bio, Age, Wedding, Net Worth, Ty Pennington
But while everything was going fine, in early October 2019, Ronnie was arrested after a physical altercation with his daughter's mother, Jen Harley.
According to the documents, Ronnie allegedly slapped and punched Jen before chasing her around the rental home with a knife while Jen was carrying their daughter.
Following the incident, he was hit with seven different charges such as domestic violence, child endangerment, brandishing a weapon, criminal threats, false imprisonment, and two counts of resisting arrest. 
After the incident happened with Jen, the court has approved a request for a protective order for Jen and the little girl Ariana. 
Ronnie's Net Worth
Before coming into the entertainment industry, Ronnie worked in real estate for his father. After appearing in the series, Jersey Shore, he has been in the entertainment industry. 
Ronnie has also made his appearance in the film, The Three Stooges, which was nominated for a Razzie Award. He also made contributed to Xendrine ads and TNA Wrestling's Impact Wrestling. 
As of now, from his career, Ronnie has made a net worth of $3 million as per the celebritynetworth.com.
Short Bio
Born on 4 December 1985, Ronnie Ortiz-Margo holds the birth sign of Sagittarius. He spent his childhood in The Bronx, New York City with his family, creating some fun memories. 
Holding American nationality, Ronnie embraces Italian-Puerto Rican ethnicity, as his father Ronald Margo is Italian and mother Constance Ortiz is Puerto Rican.
Ronnie, who stands at the height of 5 feet 6 inches (1.68 meters), has not disclosed the details about his education.