American fitness cover model Paige Hathaway was ranked second in the 2012 Ronnie Coleman Classic and FLEX August 2013 and was even named the Bikini Model Search winner.
Paige has also graced the covers of many prestigious magazines like Fitness Gurls, Women's Health and Fitness, Oxygen, Inside Fitness, MOST, Livid Magazine, Muscular Development, Dakini Magazine, and many more. 
Paige Married To Her Boyfriend / Husband? 
While everyone is eager to know about Paige's relationship status, she is not yet married to her boyfriend, Jason Moritz Sebastian, but is happily engaged. 
On 7th June 2019, Paige posted a picture together with her boyfriend announcing about her engagement. She flaunted her engagement ring after she happily said yes to the love of her life.
Moreover, her engagement was not the only joyous moment as Paige, and her husband-to-be are were expecting a new human into their little world.
See More: Jackie Warner Workout & Diet Plan, Arrested Info | Who Is Girlfriend?
On 19th April 2019, Paige posted a picture with her boyfriend and a sonography photo of her baby, telling the world about their happiness.
The couple was all smiles, and their excitement knew no bounds. The girlfriend carried the sonograph of her baby while her man, soon-to-be a baby daddy wore a cap with a bold "DAD" written over it.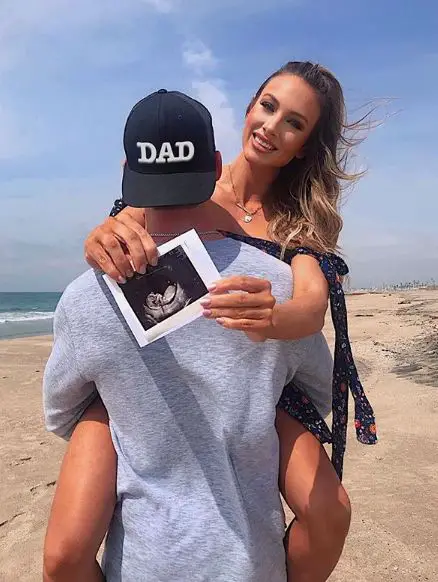 Paige Hathaway shares the news of their soon-to-be baby for the first time with her fiance, Jason Moritz Sebastian, in Texas on 19 April 2019 (Photo: Paige Hathaway's Instagram)
Paige and her boyfriend-turned-fiance have been relishing their life ever since they have been together.
But they seemed even more ecstatic with the new development in their life.
Big Day: Baby Daughter's Arrival!
"Never seen anything more beautiful in my entire life"- captioned Paige and her fans and followers could not agree more.
Together, Paige and Jason welcomed their firstborn and named their little bundle of joy, Presley Marie Sebastian.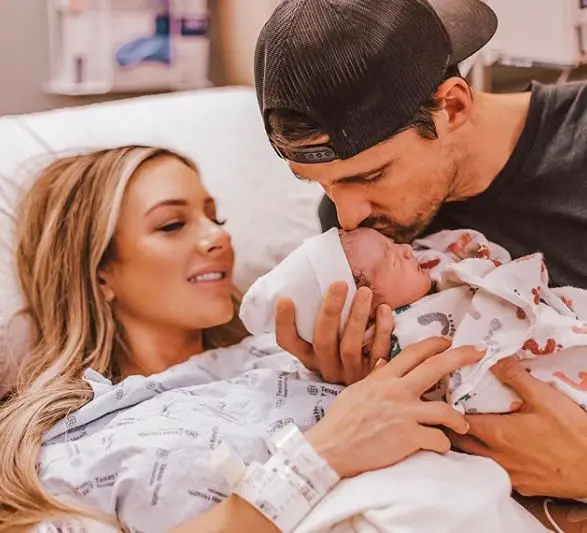 Paige Hathaway and her fiance, Jason Moritz Sebastian overwhelmed with the arrival of thier baby girl, Presley Marie Sebastian on 13 September 2019 (Photo: Paige Hathaway's Instagram)
Born on a particular Friday on 13th September 2019 precisely at 4:49 am, their adorable one would sure change her parents' life once for and all.
With the announcement, the new parents also promised that they would soon be sharing more about thier delivery journey. Up until then, it is only best that we become happy for the family.
Paige Hathaway's Bio - Age, Family
Born in 1987, Paige Hathaway celebrates her birthday every 31st July, holding the birth sign of a Leo.
The model spent her childhood in the United States with her family, but she did not have a memorable childhood because of her alcoholic father and family dispute.
Then, her childhood got affected when her parents divorced. During a fierce custody battle, she had to move from one parent to another. 
Paige and her mother lived in a trailer while surviving on government aid. Later, her mother disobeyed a stay order and fled to Texas with someone she met online.
It wasn't long until the police tracked Paige and her mother, and Paige was handed over to her paternal grandmother. 
But that did not end Paige's misery, and she spent her time moving between the foster family and two families. When Paige reached the age of sixteen, she decided to live on her own while settling in the state of Oklahoma. 
Don't Miss: Qimmah Russo Bio, Age, Net Worth, Boyfriend
She worked several jobs and funded herself through college.
Paige, who stands at the height of 5 feet 4 inches (1.62 meters), weighing 125 lbs, possessed a passion for working out from a young age. During her university days, she used to train in the campus gym and whenever she could. 
Paige never paid attention to her diet but embracing a god gifted body Paige, never gained weight. With an hour-glass figure, she has perfect body measurements.  
Her Net Worth
Paige's life took a turn when a local trainer at a gym requested her to compete in a fitness show. Due to her misery in childhood, she accepted the offer and started her diet, training exhaustively, and following a strict schedule.
Her hard work paid off, and Paige was ranked 2nd in her division of the 2012 Ronnie Coleman Classic.
As of now, Paige has not only made herself successful but has also gained an enormous fan following on her social media accounts.
Throughout her career, Paige has garnered a net worth of $5.5 million.