Jackie Warner is an American fitness trainer, who appeared in the Bravo TV reality show, Work Out from 2006 to 2008. She was born on 17 August 1968 in a family, where both of her parents were mentally ill. Her father committed suicide when she was at the age of 18. In May 2018, she announced that her mother had cancer; Lymphoma in two lymph nodes. Thankfully, the cancer was not too serious and was easily treated.
Jackie Warner Workout, Diet
Jackie took a turn in her career as a model and became a personal trainer. She launched Sky Sport and Spa in 2004. It wasn't long before the Bravo network aired Work Out, Jackie joined the cast. The first season of the show gave glimpses of Jackie's daily routine. She also appeared in Bravo network's promotional commercials in 2010 alongside Hannah Ferrier and Asa Soltan Rahmati. Jackie left the network temporarily after making controversial remarks on a cancer survivor.
In July 2010, it was announced that Jackie would return to the network with Thintervention in September 2010. The fitness show followed the trainer as she helped her clients to maintain their diet and involve in workouts in order to lose weight. The list of clients also included former Real Housewives of Orange County star, Jeana Keough.
Another Fitness Model: Is Tracy Anderson Pregnant? Husband, Divorce, Married - All Details! 
Jackie gives out online workout tips on Fitness Magazine's website. She also gave out tips on the proper diet to the perfect weight loss plan. The fitness freak has published many workout plan books. From her career, Jackie boasts a net worth of $10 million at the age of 50.
But, with the ascending number of age, Jackie gained a noticeable weight in late 2018. She admitted about her bloats via an Instagram post and cited that she would continue her workouts and diets to be fit and healthy. 
Jackie Is Lesbian, Who Is Girlfriend?
It's not a new thing to notice that Jackie is openly lesbian. And, it shouldn't also be new that she has a long list of lesbian girlfriends.
Her first girlfriend was Milenna Saraiva a.k.a Mimi. The two had been together for four years when they appeared on the first season of Work Out in 2006. Jackie and Mimi parted ways at the end of the season. But they remained on good terms.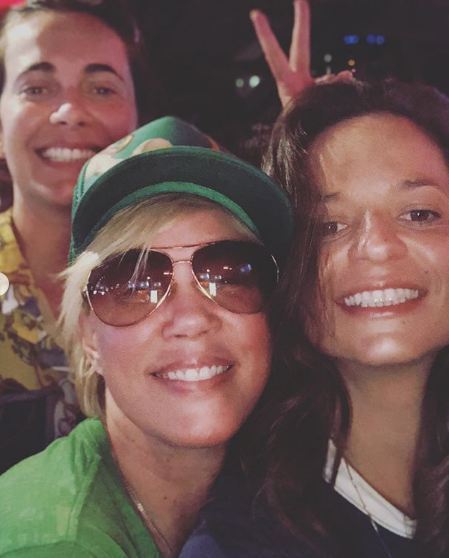 Jackie Warner enjoys a night out with her ex-girlfriend Milenna Saraiva and a friend on 10 July 2018 (Photo: Jackie Warner's Instagram)
After Mimi, Jackie got romantically involved with trainer Rebecca Cardon in 2007. Rebecca was in a relationship with her boyfriend at the time. But, she was attracted to Jackie and even claimed her as her 'soul mate.'
The relationship was short-lived as Jackie, and her then-girlfriend Rebecca split after three months. They're 'best friends' now, and Rebecca has returned to dating guys.
Discover: Elena Gant Wiki: Mother Of Twins At Age 31, Net Worth & Weight Loss!
It was in the third season of Work Out when Jackie introduced her new girlfriend, Brianna Stockton. They were in a live-in relationship but broke up shortly after. When talking to After Ellen in 2010, Jackie opened up about her current relationship with her past girlfriends. She revealed that she wasn't that close with Brianna.
As of now, the fitness guru is single, or maybe she's too good at hiding her affair. She opened up about her desire to get married and start a family in 2015. But, it is unfulfilled till date.
Arrested Of Felony Assault
On 24 February 2017, Jackie was arrested on a charge of felony assault with a deadly weapon that sprung from a car wreck. She smashed her car into a pole and was taken into police custody in West Hollywood. When the police arrived at the scene, Jackie backed up into a squad car. That action almost hit a deputy, who jumped out of the way.
The Work Out star apparently had one martini on lunch. She went home and took a pill of sedative Ambien before going to sleep. When she woke up later in the hospital, Jackie had no recollection of the accident. Some sources suggested that she was sleep-driving because she was only wearing her underwear during the arrest. 
However, the law enforcement officers claim that the fitness star took a Breathalyzer test, that showed she was legally drunk. The analysis showed 0.08% of blood alcohol concentration. And, the California law states that it is illegal to use a vehicle with a BAC of 0.08% or higher. Jackie was bailed out of the jail only on $60,000.