Change in your path doesn't change your goal when, in the end, your ultimate objective is to master the art of your passion. 
There could be no better example than Qimmah Russo when it comes to the change in passion and mastering of art. 
There's no doubt on the fact that Qimmah was always passionate about physical activities ever since her initial days. Even during her school and college days, Qimmah played several sports. However, her favorite one was always basketball. 
As a result of her passion for basketball, Qimmah joined the professional basketball team during her college. As a sophomore guard, the lady displayed impressive performances in basketball. 
Later, Qimmah's passion for basketball started declining after college. Though the lady did not graduate in the subjects, she took up Sociology and Kinesiology as her subject of study during her college, which might be the reason for her change in passion. 
After all, Qimmah ended up developing her interest in fitness and weightlifting. As she started in weightlifting and fitness, she ultimately made it her passion. Ever since then, she has been fondly doing extravagant training and physical exercises. 
As of now, Qimmah has successfully made an image of herself as one of the most inspirational fitness professionals, trainer as well as a fitness model. Her heavy workout and diet routine have been able to motivate many in the path of fitness.
Moreover, the lady also runs Q-Flex Fitness to educate people about being healthy and fit. Besides, the Q-Flex Fitness plan costs $51. 
As a fitness instructor, it is speculated that the lady takes her salary on an hourly basis. From all her salary, she must have already made an incredible amount of net worth. 
Qimmah Russo Bio: Age, Parents & Brother
New York, USA born fitness instructor Qimmah Russo is 25 years of age. Born in the year 1993, the lady celebrates her birthday on 16 December every year.
Qimmah, who stands at the height of 5 feet 4 inches (1.64 meters), belongs to the mixed ethnic group as she has a Black, Italian White as well as West Indian roots. However, born in the United States, her nationality is American.
You May Also Like: Jennifer Widerstrom Husband, Diet, Married, Family - Bio Reveals
Besides, along with Los Angeles and New York, Qimmah's brother has mentioned himself to be Italian in his Instagram handle.
Qimmah's obsession with physical activities is no surprise as the lady has her family background in sports. Both of her parents have been athletes in the past. Qimmah's mother was a field hockey player while her father was a baseball player.
Besides, Qimmah's brother Tamir Russo was linked with football in the past. As of now, Tamir is also a fitness instructor, YouTuber, as well as a dancer.
Apart from their relationship, the professional link might be the reason why Qimmah is very close to her big brother, Tamir. Her bond with him is apparent in her Instagram profile, where she keeps posting pictures with him.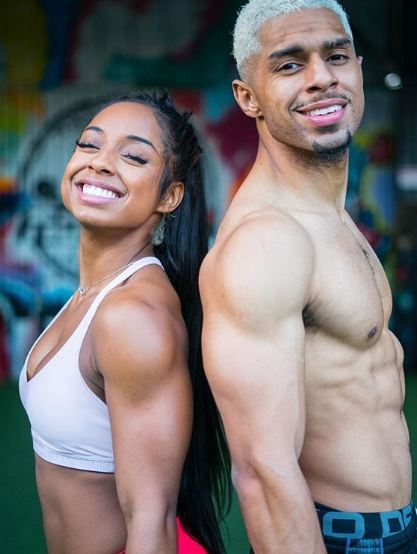 Qimmah Russo poses with her brother Tamir Russo on 29 January 2019 (Photo: Qimmah Russo's Instagram)
In this modern, self-centered world, this beautiful sibling bond is a treat to watch. Hopefully, the relationship keeps growing more in the coming years and ultimately help inspire others to regard family in the first position.
Boyfriend, Dating?
When it comes to her relationships other than family, Qimmah has remained very low-key. She has never opened up anything regarding her boyfriend.
See Also: Trey Kennedy Wiki, Age, Wife, Girlfriend
In 2015 Valentine's Day, the lady opened up through twitter that she was single.
It's hard to believe that such a hardworking and successful lady is still not dating anyone and leading a single life. However, if so, the only reason for this might be her dedication towards her passion.
Nevertheless, Qimmah's fans are always willing to see the gorgeous lady dating someone who makes her feel more special than she already is.