American health and fitness expert Jen Widerstrom is recognized for her appearance in the television show The Biggest Loser alongside Dolvett Quince. She bagged the show after replacing personal trainer and businesswomen, Jillian Michaels. She also debuted on various television shows like American Gladiators, The Talk, Home & Family, and Celebrity Page. 
Besides, she wrote a book about fitness which is titled Diet Right for Your Personality Type. She currently works in the show, Daily Blast Live. She has been a dedicated individual throughout her career. She amassed all her popularity and accomplishment with her diligent work and devotion.
Jennifer Widerstrom's Husband / Boyfriend
Jennifer is a confidential person when it comes to her personal life. Till date, she has never mentioned her love life, boyfriend or husband, to the media and public. However, she once quoted a man named Jacob as her boyfriend, but it turned out to be just a part of her joke.
Similar: Openly Gay Bob Harper Married Status, Wife, Boyfriend, Age
Moreover, she even quotes Hugh Jackman and her dog, Hank as her boyfriends in her social handles. But she never sheds any hint on her dating scenarios.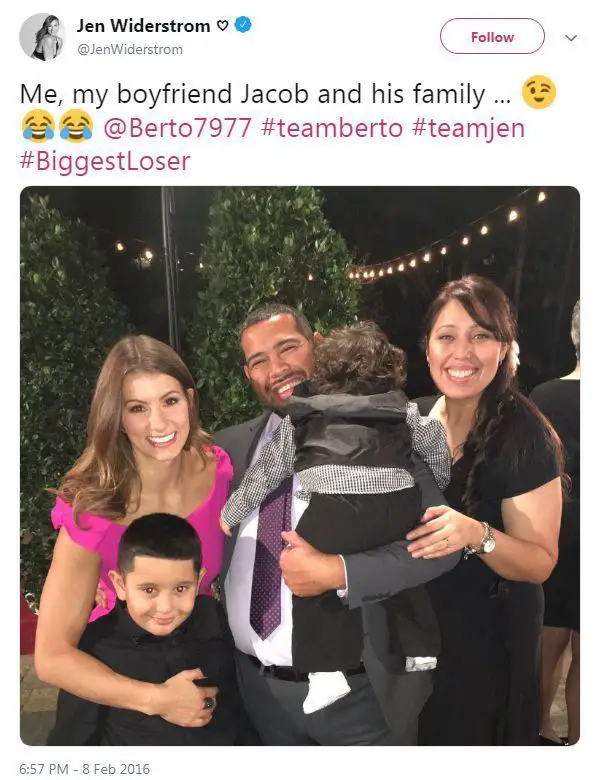 Jennifer Widerstrom's humorously states Jacob as her boyfriend on 8 February 2016 (Photo: Jennifer Widerstrom's Twitter)
On top of that, Jennifer doesn't have time to start a family with a husband. She is very busy with her works. She admitted the fact that she is engaged to her work via a tweet in December 2017. She cited that she was in a dating affair with her brand, Shape Activewear. 
Besides, she is a known face of platforms like Health, Women's Running, Oxygen, PEOPLE, FITNESS RX and so on.
Jennifer Widerstrom's Bio
She was born in 1982 in Downers Grove, Illinois. She celebrates her birthday every 24th August. She holds American citizenship while belonging to white ethnicity. 
Jennifer is the daughter of Norm Widerstrom and Lynn Widerstrom. Her mother is a former Naperville North Dean, and gymnastics coach while her father was an assistant principal and dean at St. Charles East High School. Currently, he is a personal trainer.
Growing up in the family with so much of fitness gave her interest in different physical activities. As a student, she participated in gymnastics, diving, and athletic events. After graduating, she enrolled at the University of Kansas and eventually became a Division I Hammer thrower. Thereon, she decided to pursue a full-time career in the field of fitness and started working hard to achieve her dream.
Height, Weight Gain, Diets
Jen at age 36 has incredibly kept up her physical makeup with impressive muscles and super conditioned abs. On top of that, she is blessed with immaculate facial structure polished by brunette locks, earthy brown eyes, and sweet smile. Her smile and simplicity have been winning the heart of millions. 
Check Out: Dhani Jones Wife, Net Worth, Family, Age - Get All The Details
But, Jennifer who stands at the height of 1.7 m (5 feet and 5 inches) and weight of 150 lb (68 kg,) gained a massive weight in January 2018. Due to her unhealthy eating routine and street foods she lost her muscles and increased a bloaty stomach. 
Nevertheless, she realized her weight gain in time and focused on being healthy. So, she followed a keto diet plan, and within 17 days, got back her abs via a healthy protein diet. 
As of now, she inspires the world to be healthy. During her free time, she also loves traveling. She moves and explores new, different places.