Emani Asghedom is the only daughter of the late rapper, Nipsey Hussle aka Ermias Asghedom. The celebrity kid got dragged to the center of the media's attention, following the brutal murder of her father on 31 March 2019.
Despite keeping the public updated on their findings on the case, the LAPD unbuttoned very less information as to what actually happened out there in the scene.
For that reason, there were several speculations of him being with Emani, while the other said he was with his little boy, Kross Asghedom, during the time of his death. The very speculations led the star-kids to be the subject of media and public eyes.
All his life, Nipsey, unlike many celebrities, chose to keep his kids out of the limelight. He rarely shared their pictures and the facts about them on his social media.
More Facts To Her Father, Nipsey Hussle
While he was living a healthy and thriving life, Nipsey Hussle was nominated for 'Best Rap Album' of the year, for his album- Victory Lap.
Enjoy Reading: Maesi Caes Bio, Age, Height, Boyfriend
Thus, the 2019's Grammy Awards was indeed very special for him. On his special day, he even chose his little Emani as his special date.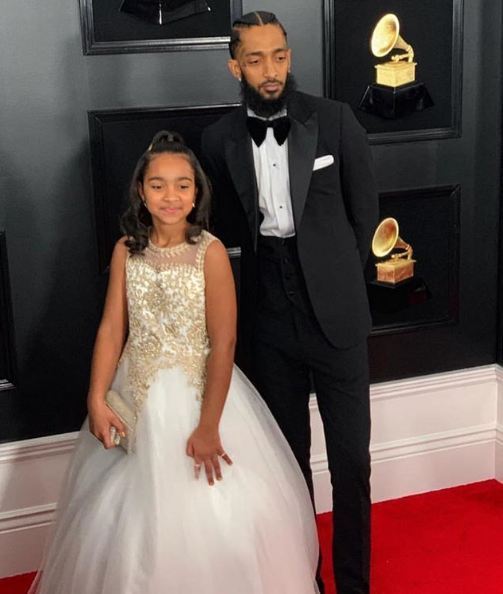 Emani Asghedom, as she makes her first official red carpet appearance with her late father, Nipsey Hussle, Ermias Asghedom on 11 February 2019 (Photo: Nipsey Hussle's Instagram)
The very red carpet appearance marked Emani's first official entrance in the media. She looked beautiful and pristine in her white ballgown, which amazingly flattered the height she stands upon. 
Nipsey shared the father-daughter moment from the event, which counts as rare few pictures he ever posted of his two adorable kids. The very snapshot has now become the home to dozens of condolences for the legendary musician.
Emani Asghedom's Wiki / Bio: Age, Parents & Siblings
Emani Asghedom was born in 2008 to her famous father, Nipsey Hussle, and her mother, Tanisha Asghedom. Emani celebrates her birthday every 9th of November. Her mother uses her father's last name, but it is not clear if Nipsey and Tanisha were ever married. 
Look For: Here's Benjamin Kapelushnik Net Worth At Age 19! Bio, Parents, Facts
Oddly enough, Tanisha always denied her split with Nipsey even though he was happily and openly in a relationship with Lauren London, the mother of Nipsey's only son, Kross Asghedom.
Tanisha is reported as having a bad-blood with Lauren. Meanwhile, unlike the adults, Emani and Kross, the half-siblings seemingly share a beautiful bond.
Emani, who plays the role of big sister to her baby brother, graduated from her elementary school in June 2019. While on occasion, Kross and her aunt, Samantha Smith (Nipsey's sister) cheered on her short speech.
Emani tributed her parents for their unconditional love and support, thus, acting way beyond her young age.
Her grandfather was an immigrant from East Africa while her grandmother is a U.S. native. Thus, some part of her ethnicity roots back to her grandparents' place of origin.
As of now, Emani reportedly lives with her aunt, Samantha.