It is indeed an overwhelming and surprising state to see how youngsters have created a way to become independent at an early age.
One good example of such a personality is the famed and successful young entrepreneur, Benjamin Kapelushnik. Know all fascinating facts about his age, net worth, and bio from the article below!
Benjamin Kapelushnik Biography
Born in 1999 in the United States, Benjamin celebrates his birthday every 14 October. His parents are initially from Russia. They had later moved to the United States.
As a child, Benjamin was profoundly interested in shoe collection. His love for shoes initiated after his mom bought a pair of LeBrons and Kobes, and he became the center of attention in the school for wearing them. Garnering positivity and appreciation from his schoolmates, Benjamin got encouraged to buy more branded sneakers.
Recommended: Elisa Johnson Wiki, Bio, Age, Married, Boyfriend, Net Worth
When he was in eighth grade, he bought a pair of shoe for 800 dollars. His father, who is a real estate broker, scolded him bitterly for buying such expensive shoes. Later, after wearing the shoes, he sold them for higher prices.
Career
Benjamin received global recognition after he began reselling sneakers through his social media to famous artists like DJ Khaled and P.Diddy.
While talking to CNBC on 2 October 2016, Benjamin briefly gushed about his business process. He stated that he decided to buy the bulk of shoes and resell them keeping a profit of 40% after realizing the craze and demand of branded sneakers in the market.
Interestingly, Benjamin sells the shoes with unique sizes before the actual release in the market. He said that his business was on the verge of touching the margin of a million. Moreover, Benjamin stated that he has sold shoes to the price of 20K dollars.
Apart from handling business, Benjamin goes to Fort Lauderdale High School for his academics. 
Net Worth- How Rich Is Benjamin Kapelushnik?
It is no surprise for a successful business person like Benjamin to make a hefty sum of net worth. On top of that, he maintains a website that goes by the name of Sneakersdon, which features various ranges of sneakers.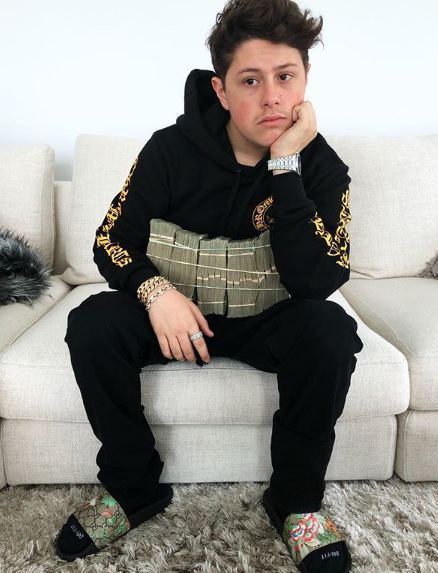 Benjamin Kapelushnik shows off his money to his Instagram family on 9 October 2018 (Photo: Benjamin Kapelushnik's Instagram)
With the passing time, Benjamin is deciding to expand his business along with his elevating net worth. Also, he is speculated flaunting his money on his social media that hints Benjamin has become an owner of a massive amount of money.
You Don't Wanna Miss: Savannah Soutas Age, Baby Daddy, Ex-Boyfriend, Pregnant, Wedding
Though the exact figure of net worth is yet to surface out, Benjamin is estimated to own a net worth more than a million. Well, who might have expected that a boy of age 19 would boast a whopping net worth that is pretty hard to believe.