Kross Asghedom, despite being a toddler, has more attention than some of the adults in the media industry. He the son of actress Lauren London and rapper Nipsey Hussle. 
So how is this young celebrity handling all the attention of people all around the world?
Kross Asghedom Wiki & Bio 
Kross Asghedom was born on 28 August 2016 to his famous parents, which undoubtedly would have gained huge media sensation but did not, because of his mother's secret nature. 
Kross' mother is actress Lauren London, known for her appearance in This Christmas and I love You, Beth Cooper. She likes to keep most of her private details a secret; she did not even tell the media about her pregnancy. If Kross's rapper father Nipsey had not mistakenly spilled the beans, the fans would have never known!
Similar To This: Julian Fuego Thicke Bio: Mom Paula Patton, Adopted Rumors & More
Even though Kross' mother does not post many family pictures, she does not fail to reveal the most special moments, so Kross can be occasionally seen in Lauen's Instagram photos.
On the other hand, Kross's father Nipsey regularly posts pictures with all his children, which shows how proud of a father he is. Nipsey also recently posted a photo with Kross on his birthday with a caption, "Happy 1st birthday Son, Kross tha Boss."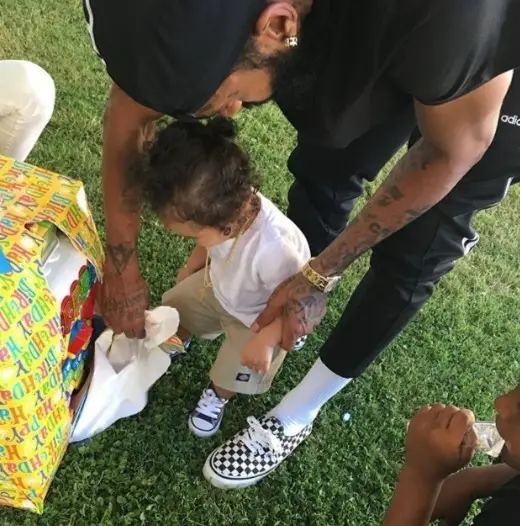 Kross Asghedom celebrates his first birthday with his family on 28 August 2017 (Photo: Nipsey Hussle's Instagram)
Kross also shares his parents with his half-brother, Cameron, and half-sister, Emani. At the age of two, Kross is very close to his siblings and his parents.
Because both of his parents also embrace mixed ethnicity, Kross' bio reveals that he is also from a mixed heritage.
Kross Asghedom's Parents, Nipsey Hussle
Kross's parents are one of the most famous names in the media industry. Been together for more than ten years, they are also one of the power couples of Hollywood.
Before meeting Nipsey Hussle, Kross' mother Lauren London was romantically associated with rapper Lil Wayne for some time. This relationship gave birth to Kross' half brother, Cameron Carter on 9 September 2009.
Similarly, Nipsey Hussle also has a beautiful daughter named Emani from his previous relationship, which has not been revealed to the media.
Even after a decade of being together and raising their children, the couple was not married. Because Nipsey was not popping up the question already, in November 2018, Lauren asked him to marry her or find someone else! Bold move.
Worth The Read: Amada Lee Gosling Wiki, Age, Net Worth, Parents
Wiki reveals that, because of this, the couple had separated for a while, but later Nipsey realized that he could not let this woman go from his life. So, after Nipsey realized his mistake, he proposed to her.
Now, the couple is happily together and is planning for their wedding!

Kross Asghedom's parents pose in front of the camera (Photo: Nipsey Hussle's Instagram)
Nipsey and Lauren, both regularly post pictures with each other, which shows their love for each other. It can be assured that they are good parents, and Kross will grow to be a gentleman raised in a happy family.
Sadly, his father Nipsey died in the fatal shooting outside his Los Angeles clothing store. The suspect during the shootout is described as a male black, and LAPD South Bureau Homicide is investigating to locate him and anyone involved. Besides him, two more men were also shot, and they were also declared dead. 
The murder suspect Eric Holder has been arrested. He had been on the run after fleeing the scene of the shooting in a waiting car.
Police Chief Michel Moore mentioned that Nipsey and Eric knew each other and the shooting occurred due to a personal dispute. He also told that the suspect had a verbal altercation with Nipsey and after the dispute, he left but came back with a gun and opened fire. 
His father's death has wholly shattered Lauren, and in her Instagram account, she wrote she is completely lost without him. Kross is also left beside without a father, and at the moment the family is going through a tragic moment.