People either gain popularity by their contribution to a specific field or by their relationship with the famous stars. Julian Fuego Thicke belongs to the latter team. The oldest son of notable pop star Robin Thicke and actress Paula Patton, Julian featured in several publications such as US magazine and People since a young age. 
Julian Thicke Fuego Bio, Parents
Julian Thicke was born on 6 April 2010, in Los Angeles, CA to actress Paula Patton and pop star Robin Thicke. Even at a young age, Julian has already gained a considerable media sensation and is a huge fashion icon. Following his songwriter dad's footsteps, he is also for his mesmerizing voice.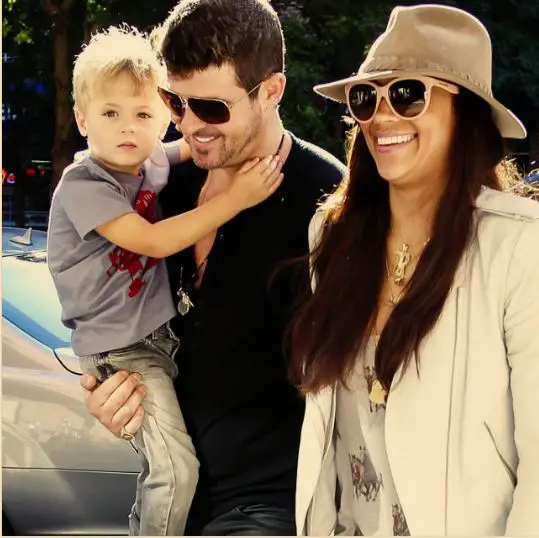 Julian Fuego Thicke with his parents Paula Patton and Robin Charles Thicke on the street in New York on 17 September 2017(Photo: alamy.com)
His mother, Paula Patton reached the height of stardom as soon as she began her career in movies in 2005. She starred in some of the hits like Hitch, Idlewild and Deja Vu. Julian's father, Robin Charles Thicke is the Grammy-winning songwriter mostly known for his hits  Lost Without U, Magic, and Sex Therapy.
You May Also Like: Young Lyric Pregnant At Age 17? Boyfriend Whereabouts And Parents
Interestingly, Julian's parents started dating when they were teenagers. After 12 years of dating, they finally tied the wedding knots in 2005 and welcomed Julian in their family five years later. Julian shares a close bond with both of his parents and continually appears on their parent's social media pictures.
Adopted And Has Down Syndrome?
Julian Thicke was born with blonde hair and blue eyes which showed no resemblance to both of his parents.
When the pictures of the newborn Julian surfaced out, public speculated Julian to be an adopted Russian child. However, his mother, Paula Patton, denied the rumors and assured the public that Julian was, in fact, her biological son. Paula also added that Julian would get a brown skin and have curly hair as he grows up.
Apart from being though to be adopted, Julian was also rumored to have Down syndrome. But, as the news was just a hoax, it eventually blew off.
Parents Divorce!
Julian - despite being an apple of his parents' eye - couldn't help to fix the broken relationship of his parents. When he was at the age of four, his parents could not compromise the differences between them. So, his mother, Paula filed for divorce in 2014 while accusing Robin of abuse and infidelity. She also registered for the joint custody of her son. 
In 2014, after the divorce was official, Robin started dating April Love Geary. He went on to welcome a baby daughter (Julian's half-sister) with his girlfriend on 22 February 2018 and got engaged with her on 2018's Christmas Eve.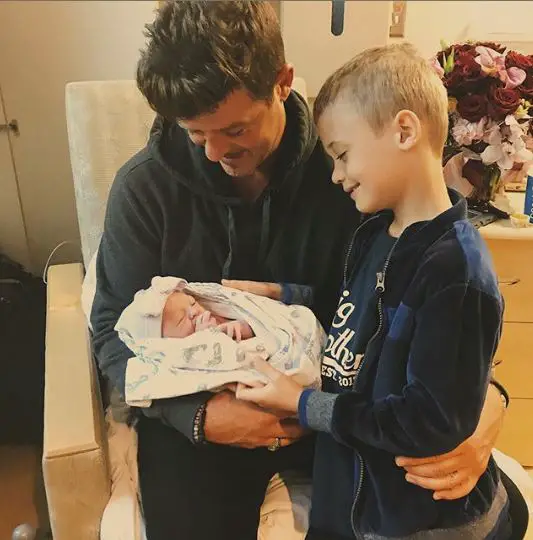 Julian Fuego Thicke smiles as he holds his baby half-sister Mia Love Thicke with father Robin Thicke in March 2018 (Photo: Robin Thicke's Instagram)
Julian's dad, Robin is a proud father. He continually posts pictures of Julian and his half-sister.
Worth The Read: Karen Fairchild Bio, Husband, Divorce, Married, Net Worth, Height, Family
His video of Julian and himself singing Franklin's Respect in his Instagram even gained millions of views. So, speculating the pictures, there is no doubt that Julian shares a close bond with his father despite the alleged abuse as registered by his mother.