If you have ever watched The One Show on the BBC, then you must be familiar to David Olusoga, a TV presenter at BBC. Apart, from being a presenter, David is also a historian, broadcaster, filmmaker, and writer. 
With his splendid writing skills, he has been able to establish his name in the media. David is strictly against racism and dedicates his inner voice through his smooth writings in his books.
Know all about the talented historian's bio, net worth and relationship status from the article below!
David Olusoga's Bio
David was born in 1970 in Lagos, Nigeria to a British mother and a Nigerian father. In his early age, Davi's parents separated, after which he relocated to the Newcastle, the UK with his mother. 
Not only did David face his parents' separation, but he also got to experience the pain of being born black. When he was at the age of 14, David along with his family was forced to leave his home as racists attacked his house more than once. The attacks were so severe that till date, David still has scars on his body that he suffered when he was very young. The violence was so much that his home even needed police protection.
You May Like: Erin Lim E! News, Age, Bio, Married, Husband, Ethnicity, Family
Due to all the hatred for his color, David became keen to know and understand the forces that turned his life upside down. He found himself interested in history. So, he attended the University of Liverpool to study the history of slavery.
In 2019, he was also recieved as an honorary graduate in Masters of Arts by the University of Leicester. His efforts to preserve the minority cultures in Britain were highly appreciated on this day and he was even called the best historian of Britain. He expressed his gratefulness to have been recognized for his work and said that he gained invaluable experience at the University of Leicester.
David Olusoga, today, is a Professor at The University of Manchester, who teaches Public History. He is an active spokesperson and he regularly talks about protection and promotion of ancient history and culture.
Either as a TV host or as a professor, it is clear that David Olusoga's motive is to end racism and promote his ancient culture. 
His Career Plus Net Worth
David's career started in January 2000 when he worked as a presenter on BBC Network. He also worked for programmes like Namibia Genocide and the Second Reich, The Lost Pictures of Eugene Smith and Abraham Lincoln: Saint or Sinner starting from the year 2005.
While working for BBC just like journalist Raphael Rowe, he also became a television presenter for The World's War: Forgotten Soldiers of Empire in 2014. Moreover, in 2015, Davis was announced as the co-presenter of a British art history documentation, Civilisations.
Related: BBC's Chris Stark Dating Status; Girlfriend, Gay, Family & Net Worth
Apart from his career as a television presenter, David also equally flourished in his career as a writer. In 2016, he wrote a book called The World's War, which also won First World War Book of the Year in 2015
In addition to this, he also published a book called Black and British: A Forgotten History. The book was awarded Longman-History Today Trustees Award and PEN Hessell-Tiltman Prize in 2017 as well.
With his award-winning career as a writer and producer, David must have amassed a handsome amount of net worth. As a historian, his salary ranges up to 45k dollars annually as per wiki.
David Olusoga's Partner Is White 
David is quite secretive about his partner and his relationship status.
However, his relationship surfaced out in 2018, when he spilled the beans regarding his love life.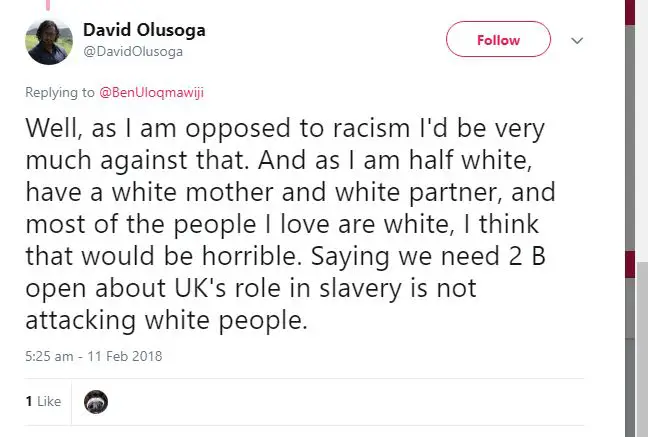 David Olusoga reveals about his partner in a tweet on 11 February 2018 (Photo: David Olusoga's Twitter)
On 11 February 2018, he gave a hint regarding his partner on Twitter. He stated that he has a white girlfriend. 
From Television Personalities: Philip Mudd CNN, Age, Wiki, Married, Wife, Family 
Even though he made the post about his lover, David has not attempted to post more regarding his relationship. Since David has never spoken about his girlfriend, it is quite hard to figure out if he is planning on getting married and quoting her wife.