Dave Castro is the director of the CrossFit Games, who has handled the responsibility of programming 129 individual Games events. 
He started the CrossFit Games on his parents' farm in Aroma, California. Since then, the game has grown worldwide. In 2018, they even welcomed more than 560 athletes from 52 countries to compete in CrossFit Games. 
Through his career as an athlete, Dave has undoubtedly accumulated a significant amount of net worth, as his passion pushes him to climb new heights of success. 
Dave Castro Wiki-Like-Bio, Age 
Dave Castro was born on 20 July 1977 in San Jose California. He moved to Aromas, California along with his family when he was a second-grader.
Dave graduated from Watsonville High School located just outside of Santa Cruz in 1996. High school was an exciting experience for him. Although he was Mexican, he didn't grow up speaking the language, so he became an outcast.
But he found a place for himself while playing football. He wasn't a star, but he was a wide receiver and started a couple of games.
His parents were very simple-minded and down to earth kind of people, who owned a farm in Aromas, California.
Know About: Nick Faldo Salary, Net Worth, Wife, Divorce, Bio
When Dave started training for SEALs and told his parents about it, they didn't like the idea because Dave had been accepted to California State University. 
Dave entered into the college but dropped out after three months, as at a young age, he realized that it was a "now or never" situation. 
After leaving college, he went to boot camp in early 1997 and got through BUD/S (Basic Underwater Demolition/SEAL training) in one try. In 1998, he was assigned to his first SEAL team.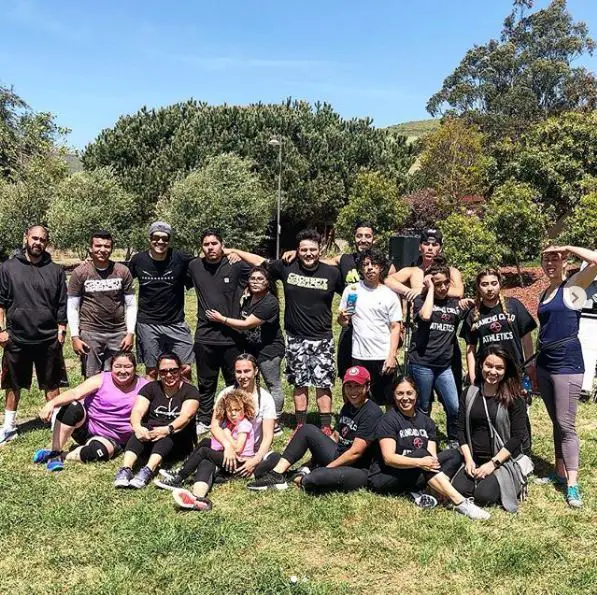 Dave Castro with his CrossFit crew on 2 May 2019 (Photo: Dave Castro's Instagram)
After that, Dave created his own team through his game, CrossFit, and grabbed the attention of many athletes from different nations.
Dave Castro Married To Wife?
Most of the story related to Dave usually has some connection to SEALs, and his romantic affair was no different.
The summer after Dave graduated from high school, he went to see the movie, The Rock, with his girlfriend. He found it quite cheesy, but more than the date, he seemed to enjoy the film since there was a group of Navy SEALs called in to save the hostages.
Mind Find Interest In: Jess Lockwood PBR, Age, Wiki, Net Worth, Girlfriend, Height, Family
Most typically, after a date, you go home and remember the good moments shared with your special one. But it was a completely different case for Dave.
Dave went home that night and started searching online about SEALs. The cool equipment and the uniforms and sneaky moves in the movie had a significant impact on him. So much that, he even went to the library and read everything in the books.
Other than that particular date, Dave has not revealed much about his love life. Most of his conversations always revolve around SEALs.
However, he might have thought about getting married sometime in the future and living his life with his wife. But for now, most of his private life has remained secret.