Daniela Rajic is a former stripper and model. She worked as a stripper at Tootsie's Cabaret in Miami, one of the most notorious strip joints of America. Also, the club is a famous junction for professional athletes. 
Currently, she co-owns a swimsuit line NUDESWIM with her Los Angeles based business partner, Sarah Nasser.
Life With Partner, Paul George
Daniela Rajic and her partner Paul Clifton Anthony George live in the Pacific Palisades mansion, in one of the richest neighborhoods in Los Angeles, with their two daughters, Olivia, and Natasha.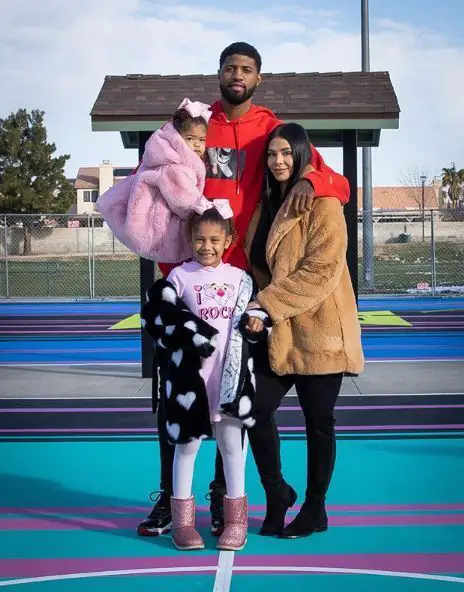 Daniela Rajic and her partner, Paul Clifton Anthony George with their children, Olivia, and Natasha on 6th January 2020 (Photo: Daniela Ranijic's Instagram)
The four-membered family's upgraded home includes a temperature-controlled wine room, gym, home theatre, indoor spa, two pools, seven bedrooms, ten bathrooms, and not to forget, a clear view of the Pacific Ocean.
Paul also owns a $7.4 million worth house in Hidden Hills.
Their Love Story
Daniela Rajic and her beau first met during the summer of 2013 while Daniela was still a stripper. Then after a few months of dating, Daniela found out that she was pregnant with his child, which led her to file a paternity suit against Paul.
This became quite a public knowledge in 2014 as Paul was deemed to have cheated on his then-girlfriend, Callie Rivers, the daughter of Clippers head coach, Doc Rivers; also Paul's head coach in recent times.
More Of Star Basketballer's Stars: Gloria Govan Wiki, Bio, Married, Husband, Divorce, Boyfriend, and Net Worth
Daniela then said that she had declined Paul's offer of $1 million to abort the child.
Eventually, on 1st May 2014, Daniela gave birth to Olivia, and after the paternity test, it was confirmed that Paul indeed was the baby's father.
Paul, therefore, filed suit against Daniela for full custody of their daughter; however, both landed joint custody of the young one. Daniela, then, moved from Miami to New York so that Paul also could be closer to Olivia, all the while playing for Oklahoma City Thunder.
In the process of parenting, the duo fell back in love, and in 2017, they announced they were welcoming a child, for the second time. Their youngest one, Natasha, was born the same year on 1st November.
Partner, Paul George's Info.
Daniela Rajic's partner Paul George is an American professional basketball player playing for the Los Angeles Clippers in NBA.
He was born to Paul George Sr. and Paulette George on 2nd May 1990, in Palmdale, California.
He used to practice basketball with his two older sisters: Teiosha and Portala, who played basketball at the collegiate level. Also, he grew up idolizing the legend, late Kobe Bryant (Vanessa Laine Bryant's husband), until Paul himself started playing basketball with the National Basketball Association.
You May Like To Peek Into The Journey Of Another Instagram Model: Catherine Paiz Dating, Engaged, Children, Plastic Surgery
After high school, he recruited to California State University– Fresno, where he was listed as one of Sports Illustrated's "Top 16 Most Entertaining Players in College Basketball".
Later in 2010, he began his professional career with Indiana Pacers, which lasted until 2017; the year he joined Oklahoma City Thunder. There he played his last game until he was traded with the Clippers on 10th July 2019.
More Facts On Daniela Rajic
Daniela Rajic was born on 12th Born in 1990 in Queens, New York.

She is of Serbian descent and holds an American nationality.