Catherine Paiz is a fitness model, aspiring TV host, and social media sensation, with an impressive 7.5 million fanbase on her Instagram and 17.8 million subscribers on her YouTube channel entitled, The ACE Family, after her adorable small family of four.
She and her boyfriend-turned-husband, Austin McBroom, started the channel in 2016. The joint venture soon became a huge success for its contents based on pranks, humor, family fun, and so many beautiful experiences in their life.
Catherine Paiz's Wiki: Age, Nationality, Brother
Catherine was born as 'Dolores Catherine Johnston Paiz' on the 24th of August 1990 in Montreal, Canada. Her parents are Panamanian.
She acquires a French-Candian nationality and mixed ethnicity,
Also, A Famous YouTuber: Sylvia Gani Age 23, Dating Status With Boyfriend; Birthday, Ethnicity, Net Worth
Catherine spent most of her time growing up in Montreal with her father. But later, she moved to Tampa, Florida, in the United States to live with her mother, who owned a hair salon there.
In the family, she has two younger brothers: Ryan Johnston and Josh, and also a younger sister who is much younger than her age.
Like Catherine, her brother Ryan is also a model and Instagram star.
Children Info.
Catherine and her husband, Austin McBroom, are soon-to-be parents of three.
On the 3rd of January 2020, the YouTuber announced the exclusive news of her pregnancy, flaunting a photo of her growing belly bump with a caption-
I wanted to keep you to myself for as long as I could and now after all these months of privately enjoying some time with our family, I am filled with so much joy to share you with the world. You were the missing puzzle piece, I can't wait to meet you son.
Likewise, her spouse Austin feels the same about the arrival of their third baby. He thus assured the baby inside the bump that he (baby) is blessed with an amazing, beautiful mother and a father, who will protect him forever, no matter what.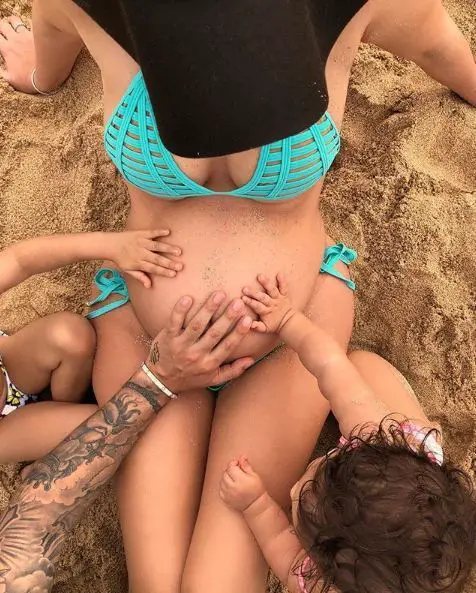 Catherine Paiz announces her pregnancy with baby no. 3, a son, on 3 January 2020 (Photo: Catherine Paiz's Instagram)
The couple's joy is outrageous, but this is not their first time experiencing parenthood. Catherine and Austin are already the best pair of parents to their two children, Elle McBroom (born on 28 May 2016) and Alaïa McBroom (born on 17 October 2018).
Getting Married
With the new year, came many big announcements from Catherine. A day before she announced being pregnant, she tweeted that she and Austin tied the knot a "couple of years" ago in their backyard.
Another 1990-Born YouTube star: Carli Bybel Wiki: Who Is New Boyfriend? Age, Ethnicity, Net Worth
Once secretly married pairs, Catherine and her spouse Austin look forward to having some beautiful ceremony in the future, the one her parents, friends, and family would attend.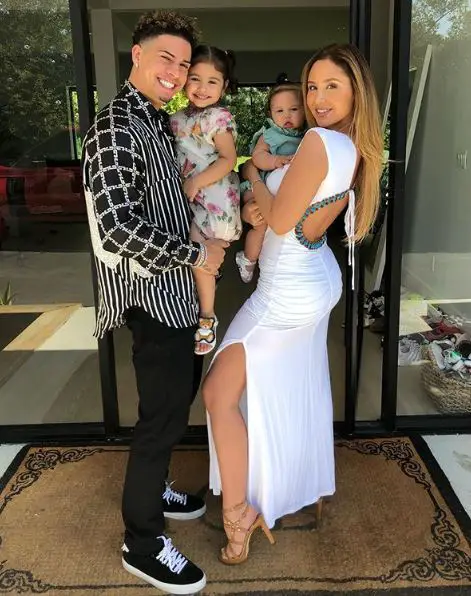 Catherine Paiz poses for a family photo with husband, Austin McBroom and two daughters, Elle McBroom and Alaïa McBroom (Photo: Catherine Paiz's Instagram)
Before this confession, they had never hinted on their wedding vows.
The couple first met in 2015. After flourishing the two years of dating relationships, they got engaged in August 2017.
Interesting Facts
Catherine also acted on small roles in movies Lilin's Brood (2016), Monday Nights at Seven (2016) and You Can't Have It (2017).
She has been open about the plastic surgery procedures that she went through, back in 2010. It was with saline, under the muscle, an incision through armpit that she underwent breast augmentation. And luckily, she had little to no scars because it was done on the crease of her armpit.
She accepted that she did not need to have go through the procedure. And, at the same time, she also said that she had no regrets.