"A mother who fathered her own children" is a statement that would literally suit Christine McGinn, a Doctor of Osteopathic Medicine. Born as a boy, Christine realized that she was born in a wrong gender only at the age of 30 and transitioned to become a beautiful woman at the age of 31.
Today, Christine is not only a medical surgeon but a motivation to all out there struggling to figure out their real identity and left unannounced about themselves due to the lack of awareness.
Christine McGinn As Transgender
After her transition, Christine founded the Papillon Gender Wellness Center to help people undergoing treatment for Gender Reassignment.
In the time being, she serves on the National Advisory Council on Sexual Health and has been actively promoting the inclusion of gender studies in the field education and research. 
In July 2017, Christine started to provide free surgery to transgender males and females in the military after US President Donald Trump's announcement that transgenders would not be allowed in the US military as they would rather focus on their medical cost and not in the victory. 
Her Wiki, Age
Christine McGinn was born as Chris McGinn on 31 May 1969. The lady, aged 49, has given more than two decades of her life in the field of medical surgery. She did her degree in the medical field from Philadelphia College of Osteopathic Medicine.
Currently, she is practicing at Doylestown Hospital, Doylestown and Lower Bucks Hospital, Bristol in Pennsylvania.
She formerly worked as a flight surgeon for US Navy and was also nominated for the Flight Surgeon of the year in the entire US Navy in 2000, the year when she began her transition.
You May Also Like: Shereen Nanjiani Married, Husband, Partner, Lesbian, Personal Life
Christine has been working as a surgeon for more than 20 years and within the period, also served in the US Navy. She is a plastic and reconstructive surgeon in two hospitals in Pennsylvania and also the founder of Papillon Centre. She also featured in several documentaries and talk-shows.
From all these, Christine must be enjoying a satisfying amount of net worth. 
Christine McGinn Married, Partner
Christine is now a biological mother of twins who was given birth by her wife, Lisa. This might sound a bit sound confusing, but it is a fact. 
Christine dated both males and females but found out that she was more drawn to women. She took the help of online dating, where she found out the love of her life, her wife, Lisa. Christine had some terrible dates before she met Lisa but with Lisa, it eventually "clicked up" on the very first date.
Christine had a rule that before kissing someone, she would reveal to her partner about her past as a transgender. But before and after the revelation, things have stayed the same or even more intense between Christine and Lisa.
It drew them closer to each other and added more to their bonding. Lisa was interested in knowing more about Christine and was more into the fact that she was gorgeous, intelligent and articulative.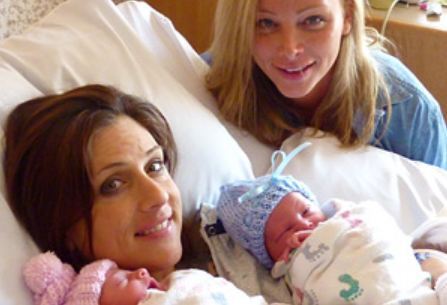 Christine McGinn's wife Lisa gives birth to twins (Photo: Oprah)
In 2010, Lisa gave birth to their twins Eden and Lucas. Before her transition into a female, Christine had frozen her sperm which gave access to the couple to have their biological babies. Christine even breastfed the babies, who were born from her sperm by simulating pregnancy with hormones.
See Also: Scott Gill Wiki At Age 55: Family, Job, Net Worth, Wedding & More Facts
When the couple moved in together, the LGBTQ+ marriage was not legalized in the USA. Besides, there have been no media reports on them getting married. They might have got married after the supreme court of legalized Lesbian marriage; however, the fact is still unknown.
Married or not, but Christine and Liza live as a lesbian couple in a modern and happy family of four.