Camille Olivia Cosby is widely recognized as the wife of comedian Bill Cosby, a multi-talented African-American is one of the world's greatest entertainers, who is famous for television shows like I Spy and The Bill Cosby Show. 
Besides being known through her famous comedian husband, Camille is also an American television producer, author, philanthropist. Moreover, she happens to be a distant cousin of American actor and filmmaker Thomas Jeffery Hanks. 
Camille Cosby's Bio: Age, Family
Guy A. Hanks Sr. and Catherine C. Hanks welcomed thier first child, Camille Hanks on 20 March 1944. She grew up in Norbeck, Maryland, just outside Washington alongside her siblings in a family of six. Both of her parents were working; her father worked as a chemist at a hospital, and her mother worked at a nursery. 
For her education, Camille attended Catholic schools and later joined St. Cyprian's and S. Cecilia's Academy. Academically, she was excellent and graduated with flying colors. Then, she enrolled at the University of Maryland to study Psychology. 
Camille Cosby Married To Husband, Children
Camille Cosby's love life started with a blind date. During her sophomore year, Camille met her future husband, Bill Cosby. During that time, Bill was a struggling stand-up comedian. Camille went on a blind date with him, and soon, the fling between them turned into love. 
Take Time To Read: Astrid Menks Bio: Net Worth, Age, Husband
After she fell in love with him, Camille quit her college and went to live with Bill. At the age of nineteen, she exchanged her wedding vows with love of her life in 1964. After her life somewhat got settled, she went back to the university to complete her graduation.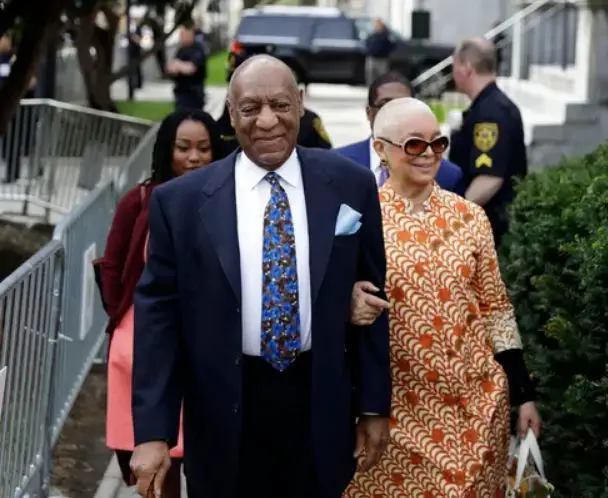 Camille Cosby arrives at Montgomery County Courthouse on 24 April 2018 with her husband, Bill Cosby (Photo: USAToday.com)
Camille also welcomed five children, Erika, Erinn, Ennis, Ensa, and Evin with her husband. Unfortunately, the couple lost their two children. The only son Ennis Cosby was murdered in an attempted robbery in LA in 1997, and another daughter, Ensa passed away on 23 February 2018, from renal failure while awaiting a kidney transplant. 
Both of her children are buried in a plot of land known as Ennis Garden in Massachusetts. 
Files For Divorce With Husband?
While Camille was mourning for her dead children, she faced another unfortunate moment. Her famous husband, in a rather sad twist, Bill Cosby's legendary status became tarnished. Bill was surrounded by numerous accusations like rape, drug-facilitated sexual assault, sexual battery, child sexual abuse, and sexual misconduct. 
Bill repeatedly denied all the allegations while maintaining his innocence. But later, in January 2004, Bill was found guilty of three counts. During all the bad days, Camille defended her husband against all the accusations.
Look For: Candice Kumai Age, Husband, Net Worth
Afterward, Camille addressed that she was aware of her husband's cheating nature, but she denied him being a rapist. 
In late 2018, Bill started serving a 3-10 year sentence on sexual assault charges.
As of today, Camille has finally realized that she had been in denial for a decade of her husband's horrendous crimes. Camille was also absent during her husband sentencing in a Pennsylvania courtroom in September 2018. 
Some sources claimed that Camille was going to deliver a devastating blow by filing for divorce from her husband. 
Net Worth
As Camille is known through her husband, she has also reached the height of success on her own feet. 
During Camille's career, she has produced several films and TV. 
However, she has not disclosed the actual figure of her net worth, through her career, today she might be enjoying the value millions.