Latvian-American philanthropist Astrid Menks spent a considerable part of her early life in her home town, Latvia, only moving to the US later to pursue her proverbial American dream.
But before anything, Astrid is more known as the wife of the business mogul, Warren Buffett.
Astrid Menks Husband, Wedding
Astrid was lucky when it came to her romantic encounter at a young age.
She met her husband, Warren Buffett at a cocktail bar where she worked as a waitress.
Incidentally, Warren's first wife Susan Thompson worked at the same bar as a nightclub singer. Warren loved his first wife with all his heart.
But, it wasn't meant for long. The problem in Warren's married life started to occur after he met Katharine Kay Graham, who was the publisher of the Washington Post.
He started spending so much time in Washington and began keeping spare sets of clothes in Katharine's guest room.
In addition, Susan got depressed about her married life and believed Katharine was pursuing her husband.
Katherine was even seen tossing her door key to Warren at a charity event. Even though they were just friends, Susan had already maintained a distance with her husband.
Take Time To Read: Nadine Caridi Wikipedia, Children, Today, Divorce
Gradually, Susan started spending less time with her family at home and more time at jazz clubs and traveling as she was focused on establishing her own career.
During that time, Susan became good friends with Astrid. When Susan was leaving for San Francisco to pursue her career in music, she asked Astrid to look after her husband, Warren.
On the other hand, Warren was devasted and called Susan to come back.
While Warren was suffering from heartbreak, Astrid looked after him and even cooked for him.
Eventually, Astrid started to grow feelings for him, but she respected his love for his first wife and accepted Warren would never marry her.
Susan never tried to mend her relationship with her husband, but she appeared on events with him. Warren was getting the best of both worlds, and both the women were also comfortable with each other.
Unfortunately, Susan was diagnosed with cancer in 2003; however, she got through surgery and radiotherapy and was announced clear in 2004. Sadly, she died in the same year due to stroke, and Warren mourned for a long time.
Luckily, Astrid was always by his side. Two years after Susan's death Astrid exchanged her wedding vows with Warren on his 76th birthday in an unfussy civil ceremony.
During her wedding, she wore a turquoise blouse and white trousers and Warren wore a business suit.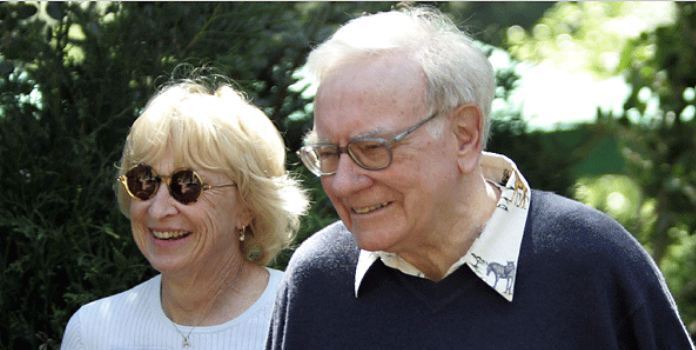 Astrid Menks appears in an event with her husband Warren Buffett in 2006 (Photo: nytimes.com)
The two have relished their marital bliss for the last three decades.
Astrid is not only a good wife to him, but she also a loving mother to her stepchildren, little Susan, Howard, and Peter.
Net Worth
Astrid has summoned a considerable amount of earnings from her previous work as a waitress.
After she got married to Warren, she held the title of a wife of a billionaire while enjoying her husband's net worth. Her husband has a net value of $83.1 billion.
Find More: Harumi Maekawa Wiki: Age, Family, Shinsuke Nakamura
They are said to be the third wealthiest couple in the world.
Her husband is one of the most successful investors of all the time. He has promised to give away over 99% of his fortune and so far he has donated $35 billion to the charity foundations.
Short Bio
Astrid's bio reveals that she was born in 1946 in Latvia. However, she has not disclosed her birthday.
Not surprisingly, there is also very less information about her family and childhood. Astrid, age 73, later moved to the United States to pursue her career.