Her career as a chef opened the path for Candice Kumai to work on every small-big thing that she always wished to do. Taking a glance at her life, it seems like, as Candice started working on her dreams, she forgot to set a boundary line for herself.
A culinary chef and a fitness enthusiast at the same time, Candice Kumai is a dedicated lady. She started working on her passion for food and wellness at a very young age.
She was the youngest chef candidate to compete on the famous Bravo! series, Top Chef. Followed by her articles for the national magazine, her commitment to healthy food made her write a cookbook named Cook Yourself Thin at the age of 26. Her very first book was a New York Times #1 bestseller.
Her hard work was already a significant influence for many, which led her to become one of the regular judges on the show, Iron Chef America when she was just 29.
Further, she created recipes for numerous books including The Skinny Bitch Cookbook, Recipe Rehab, Novak Djokovic's Serve to Win, Pretty Delicious, Clean Green Drinks and so on. In addition to writing books, Candice also contributed to E! News and Access Hollywood Live as a health journalist.
Dive In: Antonia Lofaso Married, Husband, Daughter, Net Worth, Bio, Family
All her life, Candice has actively worked in the field of creating food along with making it healthier to eat. Undoubtedly, "The Golden girl of the wellness world" as named by ELLE, has summed up an incredible amount of property and net worth.
Candice Kumai Age, Birthday & Family
Candice Kumai, who celebrates her birthday on 24 February, is a professional Chef born to a Japanese mother and a Polish-American father. Born in San Diego, California, the popular cooking show host, is 36 years of age. Despite being born in a family of mixed ethnicity, Candice was culturally raised with the faith and optimism inserted within her.
As a result of that, Candice credits the height of her success to her family for their support throughout. Further, Candice, who is very close to her mother, refers to her as her biggest inspiration.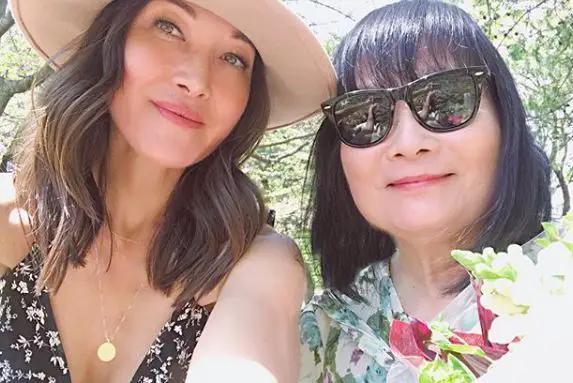 Candice clicks a selfie with her mother during Candice's shoot in their hometown in Oita, Japan on 22 April 2019 (Photo: Candice Kumai's Instagram)
When it comes to her education, Candice attended the prestigious Le Cordon Bleu California School of Culinary Arts and received the degree of the Professional Culinary Chef. Soon after she gained professional training, she started working in several California based restaurants.
Candice Kumai Husband, Married
In her Twitter post in 2011, Candice mentioned herself to have got married to her work. It was a thoughtful lady inside her working in the night, writing those words. However, her hardcore fans always wish her for the best future husband.
Peek Inside: What Is DWTS Juniors' Addison Osta Smith Age? Parents, Siblings, Bio
The much outspoken Candice has opted to conceal her personal life and relationships. Although in 2015, she once mentioned the STAT media PR founder Dean Statteman to be her boyfriend, no further information regarding their relationship was ever reported.