Bridget Lancaster is widely recognized for the different cooking shows she has starred in, such as America's Test Kitchen and Cook's Country.
More than just TV shows, Bridget also gained popularity for sharing her cooking methods and tricks on the radio.
If the name doesn't ring any bell, here are some new wikis on Bridget's biographical facts on age, family, net worth from career, and married life with her husband and children.
Bridget Lancaster Biography - Age, Family
Bridget Lancaster was welcomed to this world by her parents Jim and Linda Sapp in 1967, according to her bio. She was born in Cross Lanes, West Virginia, United States of America. At the age of 51, Bridget blows out her birthday candles every 30 November, maintaining her average weight.
The American nationality holder attended the Nitro High School in the United States for her high school education in 1987. She then enrolled in the Ohio State University located in Columbus, Ohio.
Worth The Read: Tanya Hyjazi Bio, Age, Net Worth, Relationship
Bridget's interest in cooking began after she and her sister baked cookies and cupcakes for Christmas celebrations. She has mentioned how decorating the baked goods with her sister was one of the best moments of her childhood.
After learning to cook from scratch at an early age, Bridget's family helped her with her culinary skills. 
Her Net Worth / Salary
Bridget Lancaster kick-started her career in cooking by working in a few restaurants. She got her first professional work in 1998 with Christopher Kimball's magazine.
She also became a part of Kimball's America's Test Kitchen which started airing in 2001. Since then, Bridget has remained one of its hosts together with Julia Collin Davison.
Bridget was also chosen as a cast member of Cook's Country with Christopher Kimball, Adam Ried and more, which later began on PBS in 2008.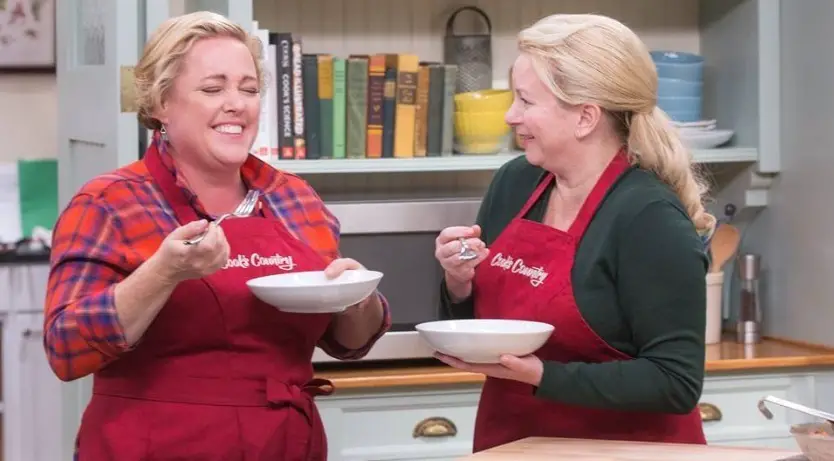 Bridget Lancaster with co-host Julia Collins Davison on season 10 of Cook's County on 2 October 2017 (Photo: Bridget Lancaster's Instagram) 
Apart from her career in the television, Bridget also took on to the radio with America's Test Kitchen, where she gave unique tips and methods to her listeners on cooking, taking her career to another great height. 
Don't Miss: Shayna Taylor Biography, Net Worth, Relationships
As of now, Bridget serves as America's Test Kitchen Online Cooking School's lead instructor. Her extensive career has helped her garner a total net worth of $2 million, which shows how far she has come from being just a home cook to a renowned television and radio personality, earning a considerable salary.
Bridget Lancaster Married To Husband, Children
Bridget Lancaster is happily married to her longtime husband Stephen Lancaster who is also a professional chef in Boston.
Although the details on their marriage are confined, the couple has two children together named Tom who was born in 2002 and James, who was born in 2008.
Having such highly celebrated chef parents, Tom and James also take food quite seriously and are adventurous eaters.