Versatile personality Shayna Taylor is a model, chef, physical trainer, and a fitness freak. She rose to fame after getting linked to the world-renowned host and anchor, Ryan Seacrest.
The duo announced that they were dating in 2013; however, their relationship was not just cupcakes and rainbows as they had to go through some hard times and get separated only to get back together again in 2017.
Shayna Taylor Biography, Net Worth
Shayna Taylor was born on 24 March 1992 as Shayna Theresa Taylor in New Mexico, America. Shayna, who is now of age 26, stands tall at the height of 5 feet and 9 inches. She holds American nationality and embraces Mexican-American ethnicity that her family comes from.
For her education, Shayna, who was always interested in cooking and food, joined The Art Institute of California, aiming to be a chef. She achieved her dream and became a chef at the Ritz Carlton in Southern California.
Worth The Read: Hannah Bagshawe Bio, Age, Job, Net Worth
Shayna runs an Instagram account called "ShaynasKitchen," where she posts her recipes for healthy food. She encourages people out there to eat healthy for a healthy mind and teaches them techniques on how to cut off unhealthy carbs. Shayna has also appeared in different shows like Live with Kelly and Ryan, where she has shown her chef skills.
Apart from cooking, Shayna is also a cover girl for many magazines. She got into modeling in 2012 after getting signed by Wilhelmina Models agency. As of now, Shayna is continuing her modeling job along with running her blog-type Instagram account, ShaynasKitchen. Her extensive career has amassed her huge sum of net worth, which she likes to keep confined.
Shayna Taylor Split With Ryan Seacrest
Shayna and Ryan have been an on-off couple for years. This duo started dating in 2013 after their mutual friends introduced them to each other.
Ryan fell for Shayna after she asked to make gluten-free pancakes for him. "The way to a man's heart is food" indeed turned out to be right. They started dating but then split ways around 2014 after an eighteen-month long relationship. Their fans were devastated, but what happened two years later was unexpected.
The duo got back together in 2017. Shayna and Ryan went to travel together from then and were spotted together in Greece, Paris, and many places together.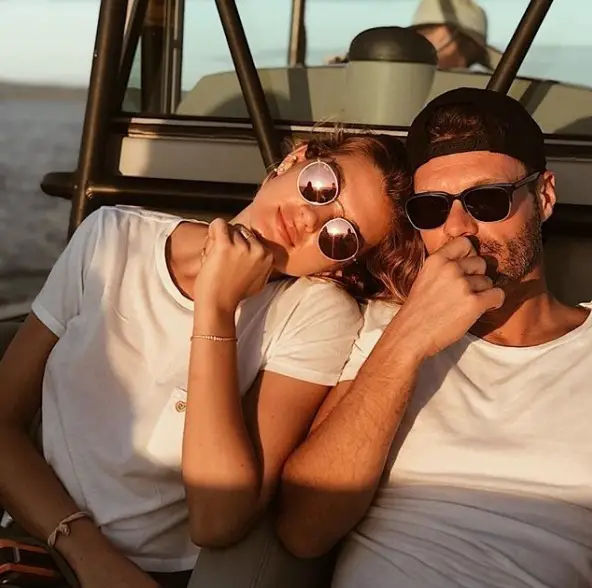 Shayna Taylor wishes Ryan Seacrest a Happy Valentine's Day on 14 February 2019 (Photo: Shayna Taylor's Instagram) 
They even moved along in an apartment in Manhattan in 2018. However, after three long years of being in a relationship, Shayna and Ryan parted ways on 27 February 2019.
Don't Miss: Amada Lee Gosling Wiki, Age, Net Worth, Parents
A source close to Shayna and Ryan mentioned that Shayna wanted to take their relationship onto the next level with marriage, but Ryan wasn't ready for that kind of commitment yet, which led the couple to break up.
While many of Shayna and Ryan's fans still wondered about the real reason for their split, the couple was again spotted together on a vacation trip to Italy. They were seen enjoying their times together and having fun on the Italian high seas.
Although there has not been any confirmation of Shayna and Ryan reuniting as a couple, their lives, nearly after six months of their past split seems more joyful. It appears like, Shayna and Ryan had a harsh time living away from one another for the past six months and are all prepared to start up their relishing days again.
The first official appearance of Shayna and Ryan together after their third reunion as a couple was in late September 2019 at New York City Ballet Fall Fashion Gala. They seemed extremely delighted with the other's back to one's life.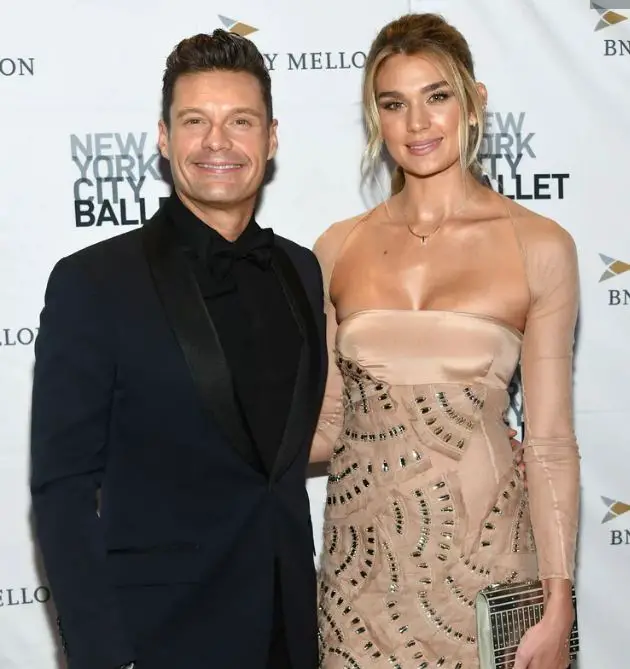 Shayna Taylor poses with her longterm on and off boyfriend, Ryan Seacrest on 26th September 2019 (Photo: people)
Hopefully, the term "break-up" or "split" never cross the romantic way of this beautiful couple, Shayna and Ryan again.