Sherry Cola is known for her multi-hyphenate talent. She is a comedian, writer, and actress, all at once. Here are some enthralling wikis on Sherry's age, ethnicity, height, nationality, her family, personal life, and her role on Good Trouble.
Sherry Cola's Personal Life
When it comes to Sherry's personal life, she successfully keeps the matter in the shadows. The only thing that is transparent in her life is her career. And she prefers to keep it that way. As far as the information suggests, Sherry is not involved in any romantic affair.
However, there was a time when she mentioned her married status on Twitter. In the November 2009 tweet, she put out her question, 'why did i get married?' She didn't elongate the tweet. A strong possibility suggests that she might have tweeted that as a joke. 
Discover: Who Is Nephew Tommy Wife? Married Status, Age, Mother
The comedian is more focused on shaping up her career than her dating status. 
Wiki, Age & Ethnicity
Comedian Sherry Cola was born on 10 November 1989 in Shanghai, China as per her wiki. At the age of 29, she embraces an American nationality and belongs to the Chinese-American ethnicity. Sherry moved to the United States with her family when she was four years of age. However, there is no information related to her family as she chooses to keep the matter private.
Maintaining her educational background, Sherry graduated from California State University Fullerton, where she majored in Entertainment and Tourism Studies. During her college days, the actress worked for the campus' radio station, Titan Radio. Her inherited ability to make people laugh and bring stories to life was undeniable. The students were more than interested in listening to her funny commentary on celebrity news, fresh music picks, and many more topics.
Sherry's Career & Good Trouble
After graduation, Sherry joined AMP Radio 97.1 FM. There, she promoted social media, board operations and even made her way to the street to talk with music fans passersby. With the help of American television host Carson Daly, Sherry launched her own Sunday night show. In her show, she interviewed artists including Noah Cyrus, Fifth Harmony, and Khalid.
During her working period in radio, she gained the knowledge on writing and creating characters. She along with her two friends launched a web series called Luber, a parody of Lift/Uber drivers, where her important aspect Lil Tasty got recognition.
In 2017 she got her first break when she made her appearance on Amazon's I Love Dick alongside Kevin Bacon and Kathryn Hahn. Later, she worked on the comedy series including Safeword, Claws, and Life in Pieces.
Exclusive: Lloyd Griffith Wiki, Age, Height, Family, Net Worth
Sherry Good Trouble
Sherry, with an average height, stars on Freeform's brand new series, Good Trouble. In Good Trouble, she shines as Alice alongside Maia Mitchell, Cierra Ramirez, Zuri Adele, Ken Kirby, and Roger Bart. In the series, Sherry portrays as a first-generation Asian-American, who manages the apartment complex the ladies are living in.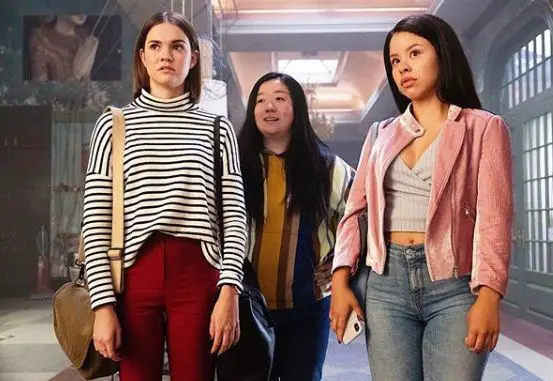 Sherry Cola in her Good Trouble's shoot alongside Maia Mitchell and Cierra Ramirez on 26 December 2018 (Photo: Sherry Cola's Instagram)
Good Trouble is an American family drama TV series which premieres on January 8. The California Film Commission approved $6.6 million of tax credits for a potential second season of The Fosters on 10 December 2018.