American actor Roger Bart was born on 29 September 1962 in Bernardsville, New Jersey. He is the son of a chemical engineer and a teacher while his uncle is a renowned journalist and film producer, Peter Bart. Roger, age 56, earned his BFA in Acting in 1985 from Mason Gross School of the Arts at Rutgers, which is the State University of New Jersey.
Is He Gay?
There have been countless assumptions made on Roger's sexuality. People often end up to the conclusion of him being gay. There is a very convincing reason behind the gay speculations.
The obvious reason is his portrayal as a gay in two movies. In The Producers, Roger played as Carmen Ghia. His character was a gay man, who appeared alongside his partner, Roger De Bris. Roger's gay partner in The Producers was portrayed by Gary Beach.
Don't Miss: Rutledge Wood Married, Wife, Gay, Family, Net Worth, Bio
If that wasn't enough, Roger added another gay character to his television credits. He played as a flamboyant gay named Roger Bannister in The Stepford Wives. He also had his gay partner, Jerry, who was represented by David Marshall Grant.
Considering everything, it was only feasible for people to make speculations on him being gay. But, sadly for the gay men out there, Roger is not gay.
Roger's Wife & Children
When it comes to Roger's romantic affairs, they are not fairytales. He often juggles his way between different women. While he never had a wife, he got blessed with two children. He has two daughters, 32-year-old Ali Kendal, and 17-year-old Eller Vereen. His first daughter came from the relationship he had with Jennifer Kendall.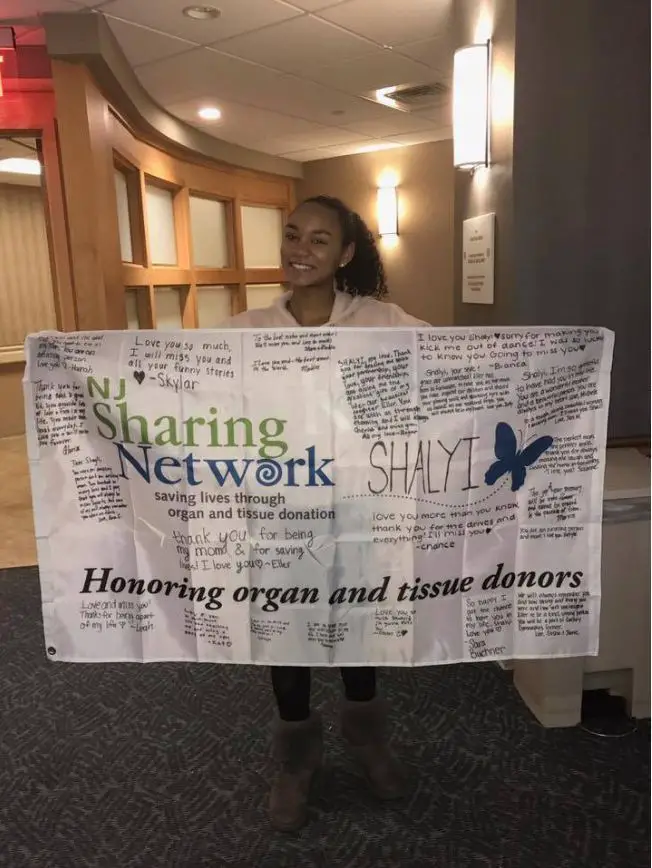 Robert Bart's daughter Eller hands up a banner to honor her mother on 2 December 2016 (Photo: Seth Rudetskys' Facebook)
Another blessing hit his way when he welcomed his second daughter, Eller in 2001 with Shalyi Vereen. Roger and Shalyi didn't have a long-term relationship. Shalyi was raising Eller as a single mother. Unfortunately, Shalyi passed away in November 2016. And Eller did her best to honor her mother for donating her organs.
Roger helps with his daughters' education and life expenses as well.
Coming back to the topic of Roger's possible wife, he once romantically involved himself with YouTuber, Trisha Paytas for two years. And the relationship only made it to the spotlight in 2015.
Apparently, Roger was already in a relationship with another woman for five years. The woman confronted Trisha at a Halloween party and told her that she had been Roger's 'other woman' for two years. Trisha also claimed that Roger ended their relationship over email, as he wrote, 'Hey Trish, do yourself a favor and never contact me again.'
As of now, there hasn't been any talk on Roger's romantic affairs. People are speculating that he is secretly married because of his escalating age. But his married status is well-hidden.
Roger Bart Movies & Net Worth
The first time when Roger stepped in to make his Broadway debut was in 1987. He played as Tom Sawyer in Big River. More of his theatre credits include Harlequin in Triumph of Love, Jonathan in King David, and Snoopy in You're a Good Man, Charlie Brown, among many others. His role as Snoopy brought him the Drama Desk Award and a Tony Award.
Roger then headed to doing TV shows, and his stint on Desperate Housewives brought him a vast audience. In the series, he played as George Williams, who was the homicidal pharmacist in love with Marcia Cross' character, Bree Van de Kamp. This role earned him a SAG Award. His other TV shows include George Carlin's son on The George Carlin Show (1994), Paul Newman on Bram and Alice (2002), and The Lost Room (2006).
You May Like: Reynolds Wolf Married, Wife, Girlfriend, or Gay and Salary
The actor has also done several movies like The Stepford Wives, The Producers, Hostel: Part II, American Gangster, Spy School, and many others. He also appeared in the movies, Harold & Kumar Escape from Guantanamo Bay and Midnight Meat Train.
From his contributions to TV shows and movies, Roger has an estimated net worth of $3 million.