Born with the name Gary Gibson, the British media star made himself known with his stage name, Sidney Sloane.
From stockbroking to acting, Sidney has experienced quite an exciting journey. 
Initially, he bagged a lead role in the Belgrade Theatre Company's production of The Twits, a humorous children's book. Subsequently, Sidney helped to launch CBeebies, the British children's television channel in the year 2002.
Sidney served as the channel's presenter from the start till he left the presentation team on 12 April 2013. Besides, he served as a weekends presenter on BBC Southern Counties Radio.
Apart from flaunting his skills with voice-over and radio dramas at the BBC network, Sloane toured with his live production 'Sid's Show,' which ran across the UK until June 2013.
Sidney Sloane's Biography
British radio and television actor Sidney Sloane was born as Gary Gibson in 1967 in England. He is a son of his Afro-Caribbean parents, who came straight from Jamaica.
Sidney, who is of black ethnicity, grew up in the Wimbledon and Wandsworth borders of South London.
He has a close-knit bond with his family members. He timely posts tweets regarding his family and hints that they always come first in his priority list. He even shares how much he misses his family when he is far from them. 
Read Also: Christian Fraser Married, Wife, Personal Life, Family, BBC, Age, Bio
Back on 16 December 2011, Sidney expressed his happiness at being able to meet his family. He tweeted,
 If I say it's going very well are you going to say oh no it isn't?...'cause it is...missing my family but they're coming next week
Besides, he also posted a query via his Twitter on 19 February 2014. There he asked if others agreed that the family was the most important thing in the world. Admittedly, all do agree with the fact.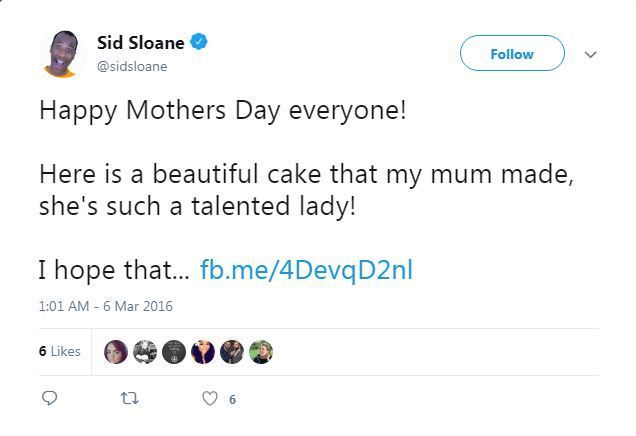 Sidney Sloane wishes Mother's Day to his mom via Twitter on 6 March 2016 (Photo: Sidney Sloane's Twitter)
For his academics, Sloane attended Southmead Primary School and John Griffiths R.C. Secondary School. With much passion for acting, he studied acting at the Academy of Creative Training in Brighton, England in 1997. There is where Gary Gibson became Sidney Sloane.
Since then, Sidney has made his family proud. 
For his continuous media presentation, Sidney Sloane receives a commanding salary as well. As per some reports, his net worth is estimated to touch the figure of $700K.
Don't Miss: Eddie Mair Married, Gay, Health, Cancer, Illness, Weight Loss
Is Sidney Sloane Married Or Dating?
It is surprising to see that a recognized radio and TV presenter/actor still leads a single life. However, is Sidney Sloane hiding his relationship life from media? The question always surfaces around the minds of his fans and followers.
Glancing at his tweet posted on 5 September 2011, it can be concluded that Sidney may have enjoyed the romantic bliss in the past. We are not saying that! His statement 'had a girlfriend from Lytham St Annes so know all about the northern charm' somewhat gives a hint, doesn't it?  
Besides, another interesting fact of his secluded relationship surfaced on the social media on 2 January 2016. The Twitter page of Award-winning Bangladeshi and Nepalese restaurant Saffron Curry posted the caption with the picture of Sidney and a mystery girl. The caption read,
A pleasure to welcome @CBeebiesHQ star @sidsloane back to the restaurant tonight to celebrate his wife's birthday!
However, replying to the tweet a day later, Sidney cleared that she was not his wife. Eventually, what made the matter most exciting was his added phrase, 'but you never know.'
You May Also Like: Tina Daheley Married, Husband, Single, Height, Family, BBC Radio 1
So was the mystery girl his girlfriend? Are they dating still? As far as Sidney keeps his lips shut in this matter, there is no point in concluding anything at the moment.
It's only a matter of time when he will surely hint on his dating status, and we will serve the details to you.