Christian Fraser is an award-winning journalist and writer who specializes in news and current affairs. He co-presents Beyond 100 Days beside Katty Kay, collectively for the BBC News Channel, BBC World News, BBC Four, and PBS at 7 pm.
He started his career at BBC in 2000: his very first day as an investigative reporter for Radio Five Live.
Christian Fraser At BBC
From 2002 to 2004, Christian spent a lot of time in Afghanistan and Iraq, embedding with the British troops allotted there, most of the time. 
Also Shows Affiliation To BBC: Sarah Keith-Lucas Married, Husband or Partner, Pregnant, Children
Of all, there were incredible times like his winning the Gold at the Sony Radio Awards (2005) for BBC Radio 5 live's rolling coverage on the Indian Ocean tsunami: the one he presented through the night.
The same year, he was posted to Nairobi, where he covered the disputes in the Democratic Republic of Congo and southern Sudan. A year later, he was nominated in the category of 'News Journalist of the Year' at the Sony Radio Awards (2006). 
Again, in mid-2006, he was reassigned to Rome as BBC's correspondent for two complete years before relocating to Cairo. Then followed his job as a correspondent in Gaza and Paris. 
Christian's Age
Christian was born on the 13th of November 1973.
Married To Wife?
Christian is married to Topaz Amoore, who, as per her profession, has been serving as the head of Speechwriting & Editorial Strategy, Cabinet Office in the United Kingdom since August 2019. She is the most sought-for political analyst, media analyst, not to mention a television as well as radio pundit as per her LinkedIn bio, where the list to her incredible working experiences and achievements keeps going on. 
Although, she is not as much open about her personal life. And the same goes for her husband, Christian.
Christian sure mentions Topaz and their two kids regularly on his tweets. However, the tweets rarely carry any further information about them.
The only fact that is apparent thus far is that he has a 12-year-old daughter (as of the 21st of December 2019) and a son.
Yet Another Award-winning Anchorman: Carl Quintanilla Married, Divorce, Wife, Children, Ethnicity, Net Worth, Bio
Recently, Christian went candid on his personal life was when he retweeted his wife's writings on her father, indicating that the man was no more alive.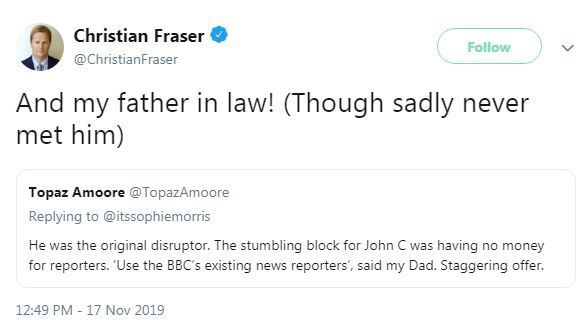 Christian Fraser talks about his father in law on 17 November 2019 (Photo: Christian Fraser's Twitter)
This proves that the couple is still bonded in the marriage.
Quick Facts On Christian