Justin Lukach has not only surprised his fans with an outstanding acting performance but also with his excellent academic qualification. He is an actor and an engineer.
He rose to fame after being the host of the show Departure. Departure is an adventurous television series, which features him traveling to infinite numbers of places in the world with a high school friend and a cameraperson.
Justin Lukach Bio
Born in 1980, Justin, age 38 celebrates his birthday every 8 July.
He was raised alongside his sister, who is already married. Though Justin does not prefer to talk much about his family, he is sometimes seen expressing his love for his family via social media accounts.
For his academics, he went to Sena College of Applied Arts and Technology and graduated with a degree in Engineering and Fire protection. After graduation, he started working at engineering companies just like Marty Lagina. But his career took a turn in 2007 after Justin received a call from his best friend Scott Wilson asking him to star in the show Departure.
Well, who wouldn't love such an interesting idea to travel around the globe? But for Justin, It was not that easy. After his friend Scott Wilson and Andre Lupis asked him to join the cast, he was in a dilemma while choosing between his engineering career and a television career. Thinking for his career, he ultimately chose the television part, which actually happened for good.
You Don't Want To Miss: Laura Coates Bio, Age, CNN, Married, Husband, Family, Salary
Therefore in January 2007, he started his adventure with his best friends. During his three years of journey in the show, Justin gained experiences traveling to 30 countries including Cambodia, Chile, Mongolia, and Northern Canada.
At first, the team was quite scared to explore places, but with the sway of time and initial success, Justin along with his team dared to visit places ranging from the most difficult to the most exotic ones. Out of the long of visited places, the team found Papua New Guinea to be an interesting one.
With his exclusive experience, Justin began his own business Mountain Shadow Production in January 2010 after leaving Departure team. Since then, Justin has been serving as a director of the production.
Apart from his shows and hectic life, Justin is also a social person. Well, digging into his Instagram, it has come to highlight that he is quite excited for Christmas as he uploaded a picture on 6 December 2018 stating everyone should love the festival.

For a personality like Justin, there is no doubt that he amasses a substantial amount of net worth along with fame. Though his net worth remains confined, Justin is estimated to own near to a million.
Justin Lukach Wife- Family
Justin is one of those celebrities, who is vocal about his love life. As per wiki, his love life started back in high school days. Moreover, before fame, he resided with his girlfriend in 2008 in Hawaii. 
However, he tweeted back on 5 October 2012 stating that his girlfriend, Gisele got engaged to someone else after she returned from a vacation. The surprising part was that it was Justin, who convinced Gisele to quit her job and go for the vacation. As a result, Justin and Gisele parted ways.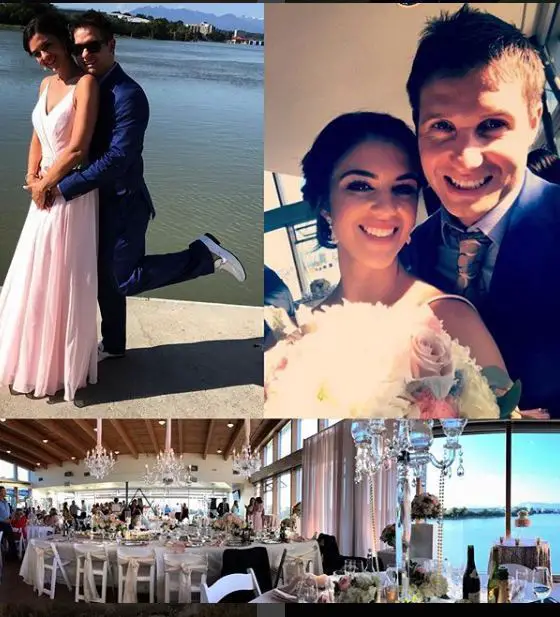 Justin Lukach shares wedding moments with wife Lauren Lynch on 10 July 2017 (Photo: Justin Lukach's Instagram)
Nevertheless, the split happened for best as Justin got blessed with someone new in 2014. He started dating Lauren Lynch and lawfully turned her into his wife by exchanged wedding vows.
Recommended: Robin Quivers Cancer Battle Story | Married, Boyfriend Status Now
Though the actual date of their wedding is yet to surface out, it has come to the light that Justin and Lauren got married at John M.S. Lecky UBC Boathouse. As of today, the pair is relishing their married life at best as husband and wife.
They timely go for vacations and Justin even shares the ecstatic moments with his wife on Instagram. On September 2018, the married duo went to the Game Of Thrones tour in Northern Ireland.