Marty Lagina is a reality TV star, best known for featuring on the reality television series, The Curse of the Oak Island, that first premiered in Canada on the History Network on 5 January 2014.
Besides, a television celebrity, Marty is also a man of hard science as he is a successful engineer and a businessman. He not only has bliss in his career but, even in his personal life as he is happily married to his wife with whom he shares two children. 
Marty Lagina's Bio
Marty was born on 26 August 1955 in Kingsford, Michigan, and ages 62 years currently.
He is the son of George Jacob Lagina and Ann Lagina. He grew up with his brother, Rick Lagina, and sister, Matina Lagina. 
Marty graduated from Michigan Technological University and earned a degree in Bachelor of Science in 1977 as per wiki. In 1982, he attended Law School at the University of Michigan, where he did consulting work for engineering companies.
Career / Net Worth
Marty founded Terra Energy Ltd., an oil and gas exploration and production company in 1982. His company became a pioneer in extracting natural gas from shale in the 1990s and became a huge success. 
Don't Miss: Steve Bacic Married, Wife, Children, Family, Net Worth, Bio
But, in 1995 Marty sold his company to CMS Energy in 1995 for $60 million.
After, selling the company, Marty and his brother, Rick got interested in the Oak Island situated in Canada. The brothers were fascinated with the island after they heard the famous theory of Oak Island having several hidden treasures. 
They even read the 1965's issue of Reader's Digest magazine that featured an article on the Restall family's work to investigate the so-called "Money Pit."
With their curiosity on the mystery land, Marty with his brother obtained a controlling interest in Oak Island Tours, which reportedly owns most of the island.
The brothers were later approached by Prometheus Entertainment to do a reality show. Affirming the request, the brothers became the star of the reality TV series The Curse of Oak Island: Drilling Down beginning in 2016.
Later, they even became the executive producers of the show and starred while attempting to find the buried treasure of Oak Island.
More to his accomplishments, Marty was interested in developing ways to grow grapes for wines using green energy and providing extra light and warmth through tunnels. So, he established a winery through which he produces royal wine all over the States.
The series sister shows The Curse of Civil War Gold confirmed to be returning for a second season. During the show, Marty helps fund a search for lost confederate bullion-along with Alone, Swamp People, Mountain Men and Truck Night in America. 
Not only that, but he also owns a large wind turbine company that is the largest in the state of Michigan.
Marty Lagina's Net Worth
As a successful businessman, engineer, and a reality star, Marty has accumulated enormous wealth. So, it's apparent that Marty rejoices a substantial figure of net worth. 
Entertain Yourself With: Marcus Rosner Wiki, Age, Married, Wife, Partner, Height, Net Worth
But, when the reality show of Marty originally aired in 2014, Marty had a net worth of only $2 million.
However, due to his business tactics and also abilities, Marty enriched his income with huge profits from the business. As of now, he relishes in the hefty figure that is estimated to be $100 Million.
Married Life
Marty Lagina is enjoying his blissful married life with his wife, Olivia Lagina. His wife completed her high school from Ewing High School and graduated from Rutgers. In her Facebook profile, she has written her work as Petroleum Geologist at Wiser Oil Co. However, the detail information about their wedding remains confined to the media.
Nevertheless, it came to the limelight that Marty with his wife has two children: a son named Alex Lagina and a daughter named Maddie Lagina.
Marty's son, Alex followed the footstep of his father as he is already an engineer. Presently, he is a general manager at an Italy wine manufacturer, Villa Mari vineyard located in Michigan, owned by his own family. Alex has also appeared on "The Curse of Oak Island".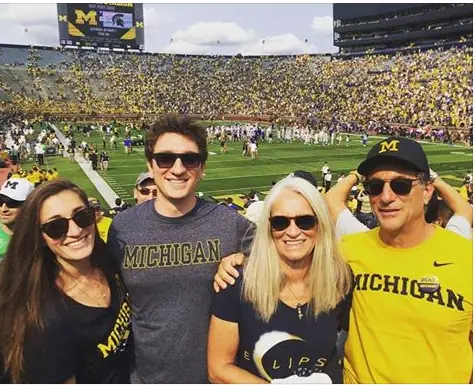 Marty Lagina enjoying baseball match in Michigan Stadium on April 2018 (Photo: Maddie Lagina's Facebook)
Though the information of Alex is available, not much about Marty's daughter, Maddie has surfaced out. However, once his wife posted a picture of her daughter and Marty on 31 August 2010, wherein caption she mentioned her daughter's high school graduation. 
See Also: Jon-Michael Ecker Married, Wife, Divorce, Girlfriend, Parents, Height
Nevertheless, she timely posts pictures of her family in her social media accounts. Usually, his wife keeps her followers updated about her life. During his wife's birthday on 21 February, she posted a picture with her daughter on her Facebook account.
The family of four supports each other wholeheartedly and spends most of the quality time together. Despite their busy schedule, no one fails to manage time for each other which makes their bond strong. 
Back on 10 April 2018, she uploaded the family picture, of four enjoying baseball, in her Facebook. So, speculating at the posts, it's quite clear that Marty is relishing his life with his wife and children.