Being an award-winning journalist and standing up to the expectations of the public is not easy. However, Vanessa Borge reached a wide array of an audience with her reliable news. Vanessa is a renowned Emmy award-winning journalist, who works as an anchor and reporter for FOX 11 of KKTV channel. 
Vanessa Borge Fox 11 / Salary
Vanessa kick-started her career as soon as she graduated by joining CBS news in 2009 as an assignment desk editor. She then joined NewsRadio WIOD as a reporter but then returned back to work on CBS4 News This Morning. In late 2016, Vanessa became the anchor for the Saturday and Sunday evening news.
After around ten years of working at CBS news, Vanessa moved to Fox 11 as a news anchor in April of 2018. She was taking a huge risk and getting out of her comfort zone, but after joining FOX, Vanessa said how she felt welcomed and adapted to the new environment very soon.
Along with anchoring the daily news, Vanessa has also hosted dozens of events for organizations, and charities including The Tunnel to Towers 5K, The United States Conference on AIDS, Susan G. Komen Race for the Cure, and The American Heart Association Gala.
Don't Miss: Fox News Kathleen Bade Bio & Age; Is She Married?
As a FOX 11 news anchor, Vanessa earns an average salary ranging from $67K to $91K.
Single Or In Relationship?
There's no denying that Vanessa is a gorgeous woman with a beautiful personality, so it is evident that many have been head over heels for her. While there were many people out there fawning over her, she had eyes on only one, her now husband, Chris Paul Borgo. Vanessa met the man of her dreams, Chris around 2015-2016. Vanessa who was a CBS anchor then and Chris who is a model and fitness aficionado based in Miami met and eventually became friends.
The connection between them couldn't be denied which eventually turned their friendship to relationship and Vanessa was no longer single on 12 February 2016.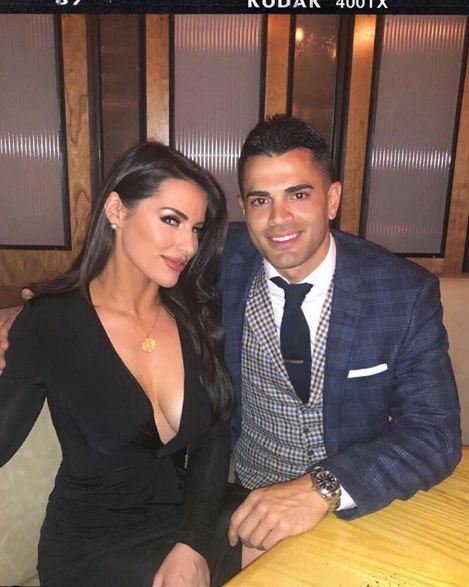 Vanessa Borge celebrates her birthday with her boyfriend Chris Borgo on 4 February 2019 (Photo: Vanessa Borge's Instagram)
She currently lives with her boyfriend in Miami, Florida. This couple has been in a relationship for two years now but is yet to be married. Fans are really looking forward to the great news of their wedding and wish the couple a happy life ahead.
Recently, she celebrated her love life with her partner in a romantic way on Valentines Day. She mentioned that when they first met Christopher made his first move towards her, and she felt for his charm.
Two years later, he asked her to move with him to Atlanta but she did not give him an answer. Then again without losing hope, he asked her to shift with him to Los Angeles, and luckily she agreed with him.
Even now, she and her boyfriend look like newly in relationship couple. While flaunting her romantic picture with him on her Instagram account, she is also keeping her differences aside and making her love life stronger. 
Vanessa Borge Age, Family
Born in 1987, Vanessa Borge celebrates her birthday every year on 4 February. She was raised in South Florida, the United States alongside her family. Her hometown is Miami, but her parents are originally from Cuba, who later moved to the United States which is why she holds a Cuban ethnicity.
She also has an adorable nephew Gordo, who turned two this year and she shares an immense love to him. She even shares his pictures on her Instagram account showing love and care. 
Worth The Read: Washington Post's David Fahrenthold Bio: Wife, Family, Salary..
Vanessa attended the Our Lady of Lourdes Academy in South Florida. Vanessa was interested in journalism from a very young age. Her love for journalism led her to join the University of Florida, Gainesville in 2005. After studying for three years, Vanessa graduated magna cum laude with a Bachelor's of Arts degree in Broadcast Journalism with a minor in English literature in 2008.
Now of age 32, Vanessa stands at an average height of 5 feet 3 inches (1.62 meters).