From reporting about Trump through pictures on his notepad to writing a Pulitzer Prize-winning book, David Fahrenthold has proved to be one of the most reliable and top journalist. His investigative and accurate news has made him an example of how the press should cover topics. Below you can find about his family, education and many more.
David Fahrenthold Washington Post
David has loved writing and reporting since he was a small kid. His passion for writing urged him to pursue his career as a journalist. He got his start in professional journalism with a summer internship at Seattle Times where he covered about the city of Seattle switching from incandescent bulbs to LEDs in its traffic lights.
David joined The Washington Post in 2000. He went from reporting about the District of Colombia Metropolitan Department, the federal government, U.S Congress to the now-President of the States, Donald Trump. David covers Trumps' family and business interests where he has exposed the businessman many times.
He presented the President by verifying the donations Trump claimed to have made. After contacting more than 400 significant charitable organizations, David reported that only one institute received a personal donation from Trump in between 2008 and 2016.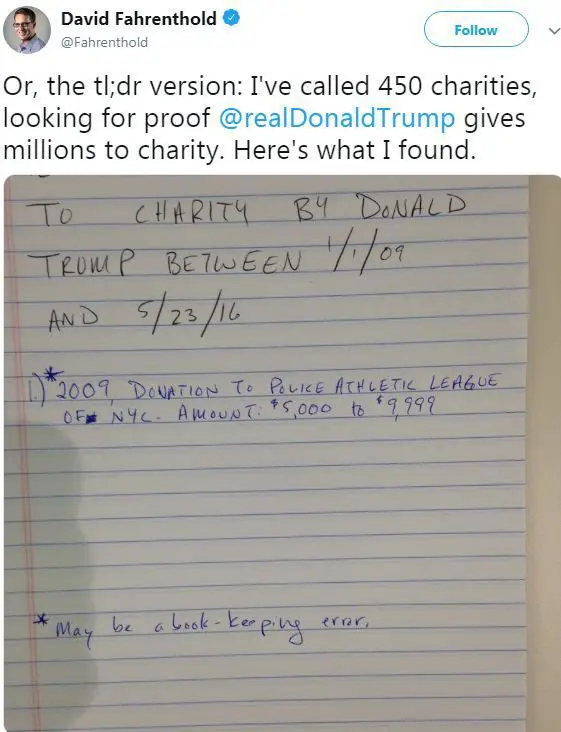 David takes on Twitter to expose Donald Trump's lies on charity donations. (Photo: David Fahrenthold's Twitter)
Don't miss: Carl Quintanilla Married, Divorce, Wife, Children, Ethnicity, Net Worth, Bio
On 7 October 2016, David broke the internet by publishing a tape where Donald Trump said that a celebrity allowed him to "grab them by the pussy" without consequence. After getting a call from an unnamed source in the morning about the tape's existence, David released the tape at 4 in the afternoon which became "the most concurrently viewed article in the history of The Post's website."
On 2017, David released Uncovering Trump: The Truth Behind Donald Trump's Charitable Giving, a book full of a collection of articles from The Washington Post. This next level of reporting made David win The Pulitzer Prize for National Reporting.
The salary of a Washington Post journalist ranges from  $45,720 - $172,343.
David Fahrenthold Bio
As per his bio, David was born on 3 January 1978 and raised on the land of Houston, Texas. For his education, he attended the Memorial High School. During his schooling years, David used to write for the student newspaper. He later went to the Harvard University where he majored in history. There, David also wrote for The Harvard Crimson. He graduated magna cum laude in 2000.
You may also like: Kelly Evans Boyfriend, Dating or Married and Husband
David loves to read in his free time. Every year on December he re-reads Charles Dickens' A Christmas Carol.
David Fahrenthold Wife, Gay
David is a happily married man to his longtime girlfriend and wife Elizabeth Lewis. The couple first met at Harvard University. After turning from friends to a couple, they decided to tie knots in 2005. As of now, David has two daughters with Elizabeth which makes it evident that he is not gay. Elizabeth and David are living a blissful married life.