Born in 1960, Tracy Grimshaw is a renowned Australian journalist and television presenter.
She was raised up in Melbourne, Victoria, and now resides at Sydney, New South Wales. Her father was a self-taught graphic designer. She shared her childhood with her two brothers.
Tracy is the daughter to Barbra Grimshaw, who lost her battle against lung cancer on 7 September 2011, at the age of 76. It was a most challenging moment for Tracy to keep herself up after her mother's passing. 
The indescribable grief and pain were not that fast leaving the heart of Tracy. She had trouble coping up even after 18 months of her mom's passing. The memories attached to her mother most often haunted Tracy and it still does.
However, as they say, 'time heals everything,' Tracy has also been able to get her out of the indefinable pain as she has achieved a tremendous career height.
See Also: Miriam Corowa Wiki, Married, Husband, Pregnant, Baby, Bio, Age
Tracy Grimshaw Receives Insult From Chef: Claims Apology Later
The famous television chef, Gordon Ramsay, who is often known for his loud mouth and hot temper, openly insulted Tracy Grimshaw labeling her a lesbian at the Good Food and Wine Show in Melbourne.
It was on Saturday on 6 June 2009, Ramsey raised the eyebrows of the audiences after he showed a photograph of a naked woman with a pig's face and claimed it to be Tracy.
Also, Ramsay mentioned that he and Tracy had been secret lovers for 20 years at the show on following days. However, he dismissed the statement claiming it to be a joke.
After his outrageous accusation against Tracy, the Australian media hit back at him furiously. Moreover, the gay groups expressed their anger at the comment section, which forced Prime Minister Kevin Rudd to label Gordon as a new form of low life.
Breaking her silence on the matter, Tracy branded Ramsay as a narcissist bully. She also put forth his marital status, which was rocked in 2008 following his long-running extra affair.
Finally, Gordon apologized for his remarks referring to Tracy as gay and a pig. He spoke to Nine Network News' Tony Jones in order to apologize to the journalist.
Later on, Grimshaw informed the viewers via her show that she had accepted the apology of Gordon Ramsay. She also noted that both of them had a polite and genuine conversation over the phone.
Tracy Reveals About Relationship Life
After keeping her private life out of the prying eyes for so long, the 58-year-old Tracy finally spoke about her relationship to the public in June 2018.
Speaking to the Stellar magazine on 24 June, Tracy stated that she enjoyed long-term affairs in the past.
Also claiming that she hadn't ruled out being in the relationship in future, she stated,
Anything can happen and if the right bloke knocked on the door then it still might. You never know. You just never know how things might play out.
As of now, the veteran journalist is yet to get married and settle down with her partner. However, she is a proud mother of an adopted son, Chris Williams.  
Don't Miss: Jeremy Fernandez Wiki, Bio, Age, Married, Wife, Gay, Girlfriend
What Is Tracy Grimshaw's Professional Salary?
Tracy Grimshaw has garnished her media career since joining National Nine News in Melbourne in 1981.
Initially serving as the news bulletin presenter, she was appointed as the host of National Nine Morning News in 1987. Australian media personality Craig Hutchison is also famed for his association with the Nine Network.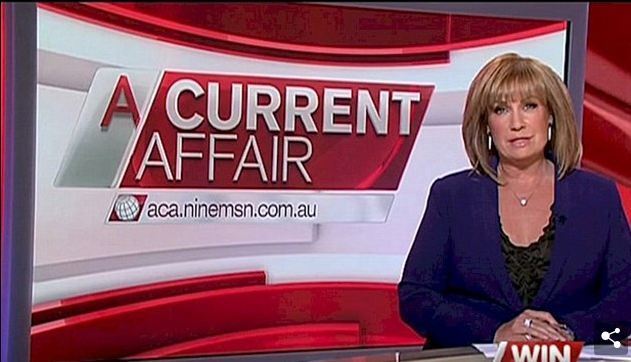 Tracy Grimshaw reports on A Current Affair in December 2015 (Photo: dailymail.co.uk)
Besides, in the 1990s, Tracy began to report for an Australian current affairs program, A Current Affair. Since then, it has been all cherries for the veteran journalist.
Ranked 8 in the list of highest paid Australian TV stars in 2015, Tracy Grimshaw was reported to earn the contract worth $700,000 with the Nine Network. Besides, her average salary at the Australian network touches the figure of 69K AUD.